U.S. Postal Service Partners with Christkindlmarkt to Make Holiday Shopping at the Market Easier Than Ever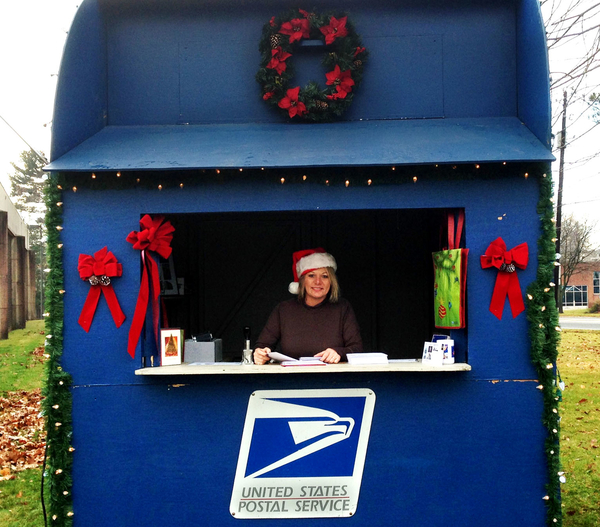 USPS bringing 'Big Blue Box' and new package check service to holiday marketplace for event's 25th anniversary
When guests visit Christkindlmarkt Bethlehem this holiday season, they'll find the iconic blue of the United States Postal Service prominently located amid the red, green and gold colors so often associated with the holidays. As part of Christkindlmarkt's 25th anniversary celebration, the United States Postal Service is bringing its 'Big Blue Box' Post Office to the market, making it easier than ever for the event's 70,000 attendees to share holiday cheer with family and friends from coast to coast.
A 12-foot tall by 8-foot wide temporary Post Office that looks like a giant mailbox, the Big Blue Box will be open 11 a.m.-5 p.m. every day of Christkindlmarkt. The box, which will be located in the Christkindlmarkt courtyard, will be staffed by a postal employee eager to help shoppers ship their Christkindlmarkt purchases directly to family and friends; Flat-Rate shipping options, holiday stamps and packing supplies are among the many products and services that will be available.
"The Bethlehem Post Office is prepared to deliver this year's holiday cheer," says Bethlehem Postmaster Dan Mazzeo. "We'll be at customers' doorsteps, even on Sundays; ready at our area Post Offices; and offering convenience at this year's milestone Christkindlmarkt event."
For 2017, the United States Postal Service is also partnering with Christkindlmarkt to offer a Package Check (open all Christkindlmarkt hours), where guests can drop off their packages while they enjoy the live music, dining, ice carving, glassblowing demonstrations and everything else Christkindlmarkt has to offer. Patrons can also bring their holiday cards, and children can visit the Banana Factory craft area to write letters to St. Nick or Santa Claus, and then mail them at the Big Blue Box. All letter and cards mailed from Christkindlmarkt will receive the official "Christmas City – Bethlehem, PA" pictorial postmark, a wonderful reminder of a holiday experience in Bethlehem, known as Christmas City, USA since the 1930s.
"Visitors love Christkindlmarkt for its holiday charm and its special shopping experience, with our artisans literally offering thousands of unique gift ideas," says ArtsQuest Sr. Director of Business Development Nicole Dotta. "Thanks to the United States Postal Service, these guests will now be able to share some of the magic of Christkindlmarkt and Christmas in Bethlehem with family and friends across the nation."
Established in 1993, Christkindlmarkt is a one-of-a-kind holiday experience that brings the spirit of Bethlehem, the Christmas City, alive with the season. Twice recognized as one of the top holiday markets in the nation by Travel + Leisure, this heart-warming holiday event features aisles of handmade works by the nation's finest artisans, as well as live Christmas music; an authentic German St. Nicholas; and European favorites like wursts and strudel.
Christkindlmarkt Dates:
Nov. 17-19 & 24-26
Nov. 30-Dec. 3
Dec. 7-10, 14-17 & 21-23
Hours:
Thursday & Sunday, 11 a.m.-6 p.m.
Friday & Saturday, 11 a.m.-8 p.m. (Dec. 23, closes at 6 p.m.)
Location:
PNC Plaza at SteelStacks, 645 E. First St.
Admission:
$9 – ages 13 and older
$5 – children ages 6-12
Free – ages 5 and under
For more information, visit www.christmascity.org or call 610-332-3378.