Low Cut Connie, Singer-songwriter Megan Davies, Comedian Ophira Eisenberg & More Coming to SteelStacks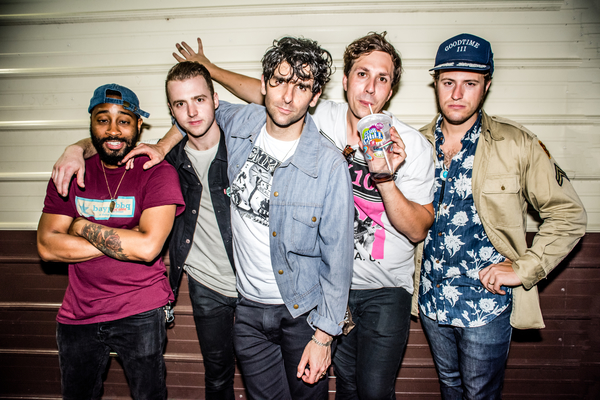 Singer-songwriter Megan Davies, NPR's Ophira Eisenberg and Musikfest favorite Low Cut Connie are among the 10 new performances announced for the ArtsQuest Center at SteelStacks, located at 101 Founders Way, Bethlehem. Tickets for the shows go on sale Tues., Nov. 14, 10 a.m., to ArtsQuest Members and Fri., Nov. 17, 10 a.m., to the public at www.steelstacks.org and 610-332-3378.
On Jan. 12, 8 p.m., Harrisburg native Megan Davies takes the stage at the Fowler Blast Furnace Room. Best known for her acoustic covers and mashups on YouTube where she has more than 1.1 million subscribers, Davies is a Nashville-based, Alt-Pop singer-songwriter. As a Spotify featured artist, Davies' three-song mashup "See You Again/ Love Me Like You Do/ Sugar" reached #1 on both the U.S. and Global Spotify Viral 50 charts in 2015. Her unique sound has been influenced by a combination of commercial pop, indie folk and experimental rock as seen on her debut original project, Bad Poetry EP, which she performed opening for rock band Boyce Avenue this year. Tickets for her show are $12 advance and $15 day of show.
On March 2, 8 p.m., the Fowler Blast Furnace Room presents comedian, writer and host of NPR's hit trivia comedy show, "Ask Me Another," Ophira Eisenberg. She has interviewed and played silly games with the likes of Sir Patrick Stewart, Connie Britton, Weird Al, Josh Groban, George Takei, Ethan Hawke, Ellie Kemper, Lewis Black, Uzo Aruba and more, and has appeared on HBO's "Girls," Comedy Central, "The Late Late Show," "The Today Show," and VH-1 specials. Her debut memoir, "Screw Everyone: Sleeping My Way to Monogamy," was optioned for a feature film with Zucker Productions and has two comedy specials "Inside Joke" and "BANGS!" Tickets for her show are $19 for ArtsQuest Members and $21 for the public.
On March 3, 8 p.m., the Musikfest Café presented by Yuengling welcomes the Philadelphia-based rock band Low Cut Connie. A Musikfest crowd favorite, Low Cut Connie was recently called "the essence of what rock 'n' roll should be" by Greg Kot of NPR's Sound Opinions and The New York Times has hailed its live shows as "a phenomenon." Low Cut Connie has been a rolling DIY caravan with an explosive live act bubbling under the surface of the music industry for five years, building an obsessive fan base from all walks of life. The group is distinguished by a focus on the piano with Adam Weiner's pounding keys, giving the piano its proper rock 'n' roll due. Tickets are $15-$20.
The complete list of newly announced shows is:
Megan Davies
Jan. 12, 8 p.m.
Fowler Blast Furnace Room
Tickets: $12 advance; $15 day of show
Lehigh Valley Underground 2nd Birthday Spectacular
Jan. 19, 7:30 p.m.
Fowler Blast Furnace Room
Tickets: $10 advance; $12 day of show
Splintered Sunlight
Jan. 19, 7:30 p.m.
Musikfest Café presented by Yuengling
Tickets: $10-$15 advance; $12-$17 day of show
Strand of Oaks
Jan. 25, 7:30 p.m.
Fowler Blast Furnace Room
Tickets: $20
Ophira Eisenberg
March 2, 8 p.m.
Fowler Blast Furnace Room
Tickets: $19 ArtsQuest Members; $21 general admission
Low Cut Connie
March 3, 8 p.m.
Musikfest Café presented by Yuengling
Tickets: $15-$20
Scythian
March 10, 7:30 p.m.
Musikfest Café presented by Yuengling
Tickets: $18-$28
I Love a Piano: Kate and Dennis Varley Cabaret
March 8, 7:30 p.m.
Fowlwer Blast Furnace Room
Tickets: $18
Freekbass
April 6, 7:30 p.m.
Folwer Blast Furnace Room
Tickets: $10 advance; $12 day of show
Kashmir – The Live Led Zeppelin Show
April 6, 7:30 p.m.
Musikfest Café presented by Yuengling
Tickets: $24-$28