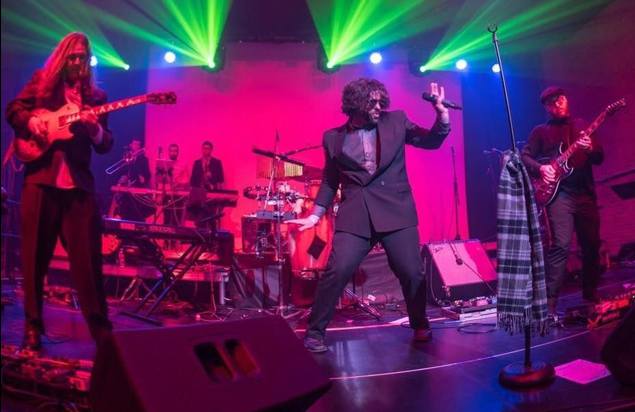 Nik Greeley and the Operators
Saturday, February 25 · view days & times
Price: $10 ADV / $12 DOS
Venue: Fowler Blast Furnace Room

Buy Tickets
You might have caught Nik Greeley and the Operators' set this past Musikfest at the Americaplatz stage. We're excited to welcome them back to Bethlehem for a special show in the Fowler Blast Furnace Room!
Nik Greeley is known for being arguably the best frontman and performer in Philadelphia, and just in the last few years has established himself as one of the most entertaining and hard working musicians in the area, often being compared to the likes of James Brown, Joe Cocker, and Jim Morrison.
Greeley released his solo debut EP Town Gypsy in Spring 2015, and has performed live sessions and received airplay on radio stations such as Radio 104.5, 88.5 WXPN, 93.3 WMMR, 93.7 WSTW and 95.9 WRAT. Greeley is also a member & singer in Philly's premiere funk band, Swift Technique, where he shares lead vocal duties with his female counter-part, Chelsea ViaCava. Members of ST also perform in The Operators, including the talented ST horn section.
The Operators is a collective of some of the finest musicians in Philly and who all happen to be friends, too. It includes Producer/Drummer Joe Baldacci, longtime friend & Bassist, Freshy, Lead/Rhythm Guitar player Andrew Warren, and members of Prog-Fusion juggernauts, Out of The Beardspace such as Zach LoPresti (Lead Guitar) and Sam Gutman (Keyboards) and the Swift Technique horn section, "The ST's" Greg Rosen (Trumpet), Ian Gray (Trombone) and Jason O' Mara (Saxophone).
Greeley has had the pleasure of opening for respected artists such as George Clinton & Parliament Funkadelic, Gene Ween (Ween) Robert Randolph & The Family Band, Shuggie Otis, Bernie Worrell (P-Funk, Talking Heads) Fishbone, Moon Hooch, Rebirth Brass Band, Big Sam's Funky Nation, Karl Denson's Tiny Universe, Rusted Root and many more.
Schedule
Venue Information
Fowler Blast Furnace Room
ArtsQuest Center
101 Founders Way
Bethlehem, PA 18015
610-297-7100
map & directions