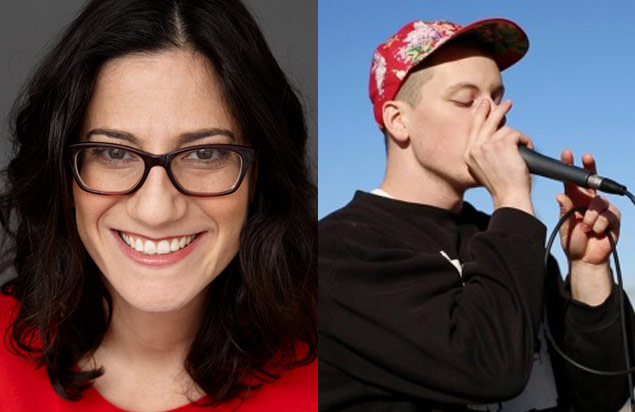 Intro to Hip Hop Improv with North Coast
Thursday, January 25 · view days & times
Price: $39 | $35 ArtsQuest Member
Venue: Banko Gallery

Buy Tickets
Thursday, January 25 |7pm-10pm
New York City's premier hip hop improv comedy team, North Coast, is a unique collaboration of improvisational comedy, hip hop, beatboxing, and music. This musical improv workshop will get even the most beginner performers comfortable and confident with freestyle rapping and will teach you how to really drill into the deal of your scene and its' characters. Learn how to set yourself up, find your flow, and weave your rapped verses in and out of your improv scene-work.
Students must have completed an Improv 201 class or have equivalent training in order to enroll in this workshop. If you have a question as to whether you have the experience required to enroll, please contact Ryan Hill at rhill@artsquest.org.
Instructors:
Rachel Rosenthal is comedian and improviser with over 17 years of experience. She is also a free-style rapper. In addition to touring and performing w/ Hip Hop improv team, North Coast, she can be seen performing in Off-Broadway improvised show Blank! The Musical, or around the country with international touring company, Big Bang. Rachel is also an award-winning improv instructor who has worked with The People's Improv Theater (2014 Teacher Of The Year), Miami Ad School, Reckless Theatre and at various theaters around the country.
Rachel has been featured on Vh1 and on several podcasts and radio shows including This American Life, Risk!, Slate's The Gist, WBUR's You're the Expert, and Myq Kaplan's Hang Out With Me podcast. The Huffington Post once called her an "improv whirlwind." Say what? More at theraeroshow.com or on twitter at @raeroshow.
Ethan Scott, known as Exacto on stage, is a traveling artist and performer currently based in New York City. Focused on beatboxing, improv, stand-up, and painting, Ethan hopes to inspire the community to dance, sing, study, and overall enjoy life to the fullest. "Exacto" has performed on stage for a variety of shows, ranging from poetry slams and break dance battles throughout the USA and Canada, to "Tourette's Without Regrets" in Oakland, CA and America's Got Talent in San Francisco.
At a young age Ethan found visual and aural media to be the strongest forms of communication, and is determined to create a new look and sound with his work.
Students must be 18 or older at the time of the workshop. Workshop durations are approximate and may go longer or shorter based on the amount of students enrolled.
Schedule
Venue Information
Banko Gallery
Banana Factory
25 W Third Street
Bethlehem, PA 18015
610-332-1300
map & directions