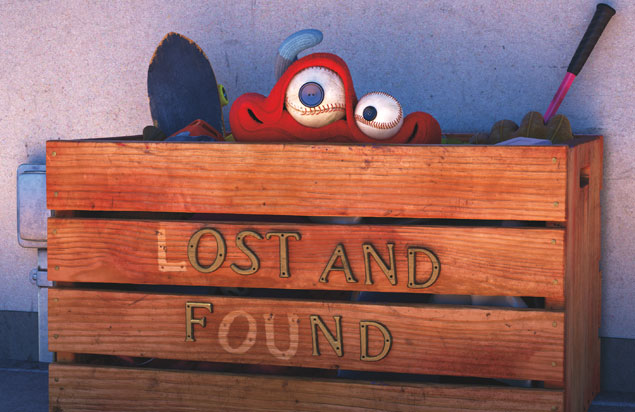 Oscar Nominated Shorts: Animation
February 20 – February 22, 2018 · view days & times
Venue: Frank Banko Alehouse Cinemas
Individual Screenings are $10 | $8 student & senior | $ 7.50 ArtsQuest member.
A film pass is available for all of the shorts screenings.
Pricing: $33 | $27 student & senior | $25 ArtsQuest member.
Friday, February 16, 2018 5:15 pm
Saturday, February 17, 2018 2:00 pm
Tuesday, February 20, 2018 2:00 pm
Thursday, February 22, 2018 7:45 pm
Running Time: 83 minutes
Approximate rating: PG for all films except Garden Party, which is not suitable for young children.

Dear Basketball – Glen Keane and Kobe Bryant, USA, 5 minutes
Synopsis: Basketball great Kobe Bryant collaborated with visionary animator Glen Keane and legendary composer John Williams on an animated short film that explores what it means to achieve your dream, and then leave it behind. The animated film is an adaptation of Bryant's NBA retirement announcement after 20 years with the Los Angeles Lakers. Narrated by Bryant, the film's hand-drawn animation and emotional score will touch fans of all ages with its universal message about love and loss. Director's Biography: A 38 year veteran of Walt Disney Feature Animation, Glen Keane trained under Walt Disney's 9 Old Men. Glen Keane went on to create many beloved Disney characters, such as "THE LITTLE MERMAID", "ALADDIN", "THE BEAST", "TARZAN", and "RAPUNZEL". In 2012, Keane departed Disney to begin Glen Keane Productions as a way to further his artistic explorations in animation, design and film.
Negative Space – Max Porter and Ru Kuwahata, France, 6 minutes
Synopsis: My dad taught me how to pack.
Lou – Dave Mullins and Dana Murray, USA, 7 minutes
Synopsis: When a toy stealing bully ruins recess for a playground full of kids, only one thing stands in his way: the "Lost and Found" box.
Revolting Rhymes – Jakob Schuh and Jan Lachauer, UK, 29 minutes
Synopsis: REVOLTING RHYMES interweaves Dahl's retellings of classic fairy tales with playful twists and surprising endings. The all-star voice cast comprises of Dominic West, David Walliams, Rob Brydon, Tamsin Greig, Bertie Carvel, Rose Leslie, Bel Powley, Gemma Chan and Isaac Hempstead Wright. Based on the book written by Roald Dahl and illustrated by Quentin Blake, REVOLTING RHYMES was directed by Oscar nominees Jakob Schuh ("THE GRUFFALO") and Jan Lachauer ("ROOM ON THE BROOM"), co-directed by Bin-Han To and produced by Magic Light Pictures' Martin Pope and Michael Rose ("THE GRUFFALO", "ROOM ON THE BROOM", "CHICO" and "RITA"). The animation was created at Magic Light's Berlin studio and at Triggerfish Animation Studios in Cape Town.
Garden Party – Victor Caire and Gabriel Grapperon, France, 7 minutes
Synopsis: In a deserted rich house, a couple of amphibians explore their surroundings and follow their primal instincts.
ADDITIONAL FILM: Lost Property Office – 9 minutes
ADDITIONAL FILM: Weeds – 5 minutes
ADDITIONAL FILM: Achoo – 6 minutes
Schedule
Venue Information
Frank Banko Alehouse Cinemas
ArtsQuest Center
101 Founders Way
Bethlehem, PA 18015
610-297-7100
map & directions