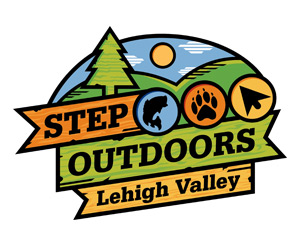 Step Outdoors Lehigh Valley
June 3 & 4, 2017
Saturday: 10 a.m. – 5 p.m.
Sunday: 10 a.m. – 4 p.m.
Step Outdoors Lehigh Valley, now in its third year, is a free family festival celebrating all things outdoors! Filled with dynamic presentations, hands-on activities and tons of fun, this event is designed to introduce children and their families to the wonders of the world around them. Activities include archery, biking, birding, fishing, hiking, nature photography, visual arts, wildlife presentations and more. This year, guests will enjoy activities and presentations by more than 25 different organizations focusing on conservation, wildlife and outdoor recreation.
The Keystone DockDogs® are Back!
10 a.m.-7 p.m. Saturday
10 a.m.-5 p.m. Sunday
"Fetch" might be the oldest trick in the book, but when you add a 40-foot pool of water and a few courageous canines, it becomes a dynamic day of nonstop entertainment. On June 3-4, the Keystone DockDogs® will offer a competition filled with leaping dogs including events focusing on Big Air Dogs®, Extreme Vertical® and Speed Retrieve.®
New for 2017
K9 Aquatics
For ages 8 and older
Bring your own dog and try three DockDog Disciplines: Big Air, Speed Retrieve & Extreme Vertical. Scheduled times are Saturday and Sunday, 9-10 a.m.
Plus:
Archery
Birding
Cycling/Biking
Fishing
Hiking
Nature Photography
Shooting Safety – BB Gun Inflatable – NEW!
Tomahawk Throwing – NEW!
Visual Arts
Wildlife Presentations
Enjoy a bite from the wild side with these special menu items available only during Step Outdoors.
Mike & Ike Bistro:
Alligator Bites with Cajun Ranch Dipping Sauce
Sesame Pheasant Confit Chopped Asian Salad

Mack Café:
Alligator Bites with Cajun Ranch Dipping Sauce
Walking Taco with Ground Venison
Sesame Pheasant Confit Chopped Asian Salad