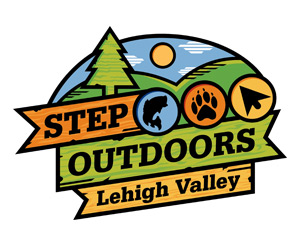 Step Outdoors Lehigh Valley
June 2-3, 2018
Saturday: 10 a.m. – 5 p.m.
Sunday: 10 a.m. – 4 p.m.
Step Outdoors Lehigh Valley, now in its fourth year, is a free family festival celebrating all things outdoors! Filled with dynamic presentations, hands-on activities and tons of fun, this event is designed to introduce children and their families to the wonders of the world around them. Activities include archery, biking, birding, fishing, hiking, nature photography, visual arts, wildlife presentations and more. This year, guests will enjoy activities and presentations by more than 25 different organizations focusing on conservation, wildlife and outdoor recreation.
NEW! Your First Mud Run
June 3, starting at 10 a.m.
Navigate a fun and challenging two-mile course on the Levitt Pavilion Lawn and PNC Plaza that features as many as 10 obstacles including a 6-foot-high wall, 50 old tires, a set of tubes, heavy jump ropes, mud pit, cargo net and a secret obstacle.
New! Nature-Themed Artisan Show
Featuring 20-plus nature and wildlife artists
ArtsQuest Center Fowler Blast Furnace Room
The Keystone DockDogs® are Back!
"Fetch" might be the oldest trick in the book, but when you add a 40 foot pool of water and a few courageous canines, it becomes a dynamic day of nonstop entertainment. On June 2-3, they'll offer a competition filled with leaping dogs including events focusing on Big Air Dogs®, Extreme Vertical® and Speed Retrieve.®
Plus:
Archery
Birding
Biking
Fishing
Hiking
Laser Sporting Clays
Nature Photography
Visual Arts
Wildlife Presentations
and more!