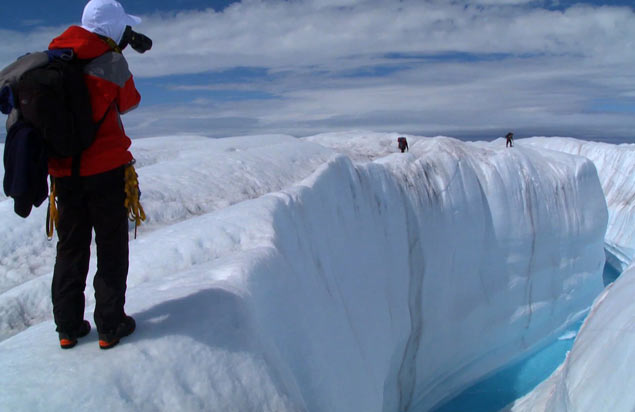 Free Environmental Film Series to Screen at SteelStacks in April
Directors, Producers & Environmental Activists to Speak After Each Film
March 21, 2017
April is Earth Month, and in honor of our increasingly fragile planet, the ArtsQuest Center's Frank Banko Alehouse Cinemas are presenting a series of documentary films that shine the spotlight on global environmental issues including climate change, declining natural resources and food sustainability. All four Environmental Film Series screenings are free to the public and feature introductions and talkbacks with the filmmakers or activists who play a significant role in protecting our planet and its oceans.
This film series is made possible thanks to James Donahue, a New York City resident who worked with the films' producers to make these screening free to the public. Donahue has had a lifelong passion for raising awareness of climate change, ocean conservation and sustainable food systems. He is a member of the Blue Sphere Foundation, a nonprofit dedicated to safeguarding the planet's oceans, marine species and habitats.
The Environmental Film Series kicks off April 5 with "Chasing Ice," which follows acclaimed photographer and former climate change skeptic James Balog. In "Chasing Ice," Balog deploys revolutionary time-lapse cameras to capture a multi-year record of the world's changing glaciers. This screening features a talkback with director Jeff Orlowski who was invited to screen the film at the White House, the United Nations and the United States Congress. In all, Orlowski won 40 awards from film festivals around the world and received an Academy Award nomination for Best Original Song.
On April 12, the series shows "The Age of Consequences," which is examines the social impacts of climate change. Whether a long-term vulnerability or sudden shock, the film looks at how water and food shortages, extreme weather, drought, and sea-level rise function as accelerants of instability and catalysts for conflict on our earth. This screening features a talkback with executive producer Sophie Robinson, a former grassroots climate organizer who has changed paths to pursue filmmaking for social change.
From "The Cove" director Louie Psihoyos comes "Racing Extinction," which screens April 19. Created in concert with the Oceanic Preservation Society, the film is about the ongoing mass extinction of species and the efforts from scientists, activists and journalists to document it. This screening includes a talkback with Denielle Sachs, who leads The Tembo Group, a social impact consultancy that advises a range of organizations, including companies, family offices and nonprofits that are looking to build, enhance or launch a major social impact efforts.
On April 26 the series concludes with "Food Chains," an exposé about an intrepid group of Florida farmworkers attempting to defeat the $4 trillion global supermarket industry through the Fair Food program, which partners with growers and retailers to improve working conditions for farm laborers in the United States. This screening features a talkback with director Sanjay Rawal, who has assisted in the development, launch and management of a number of high-profile celebrity philanthropic endeavors both domestically and abroad.
"We're excited to produce this series and extremely grateful to James Donahue for his hard work in getting the people that made these important movies to the ArtsQuest Center, where we'll continue the important conversations that these films started," says ArtsQuest Programming Director Ryan Hill.
Tickets for each film in the Environmental Film Series can be reserved for free by calling the ArtsQuest Center box office at 610-332-3378 or in person at the ArtsQuest Center, 101 Founders Way, Bethlehem. Tickets cannot be reserved online.
The complete schedule is:
Chasing Ice
April 5, 7:15 p.m.
Talkback with director Jeff Orlowski
The Age of Consequences
April 12, 7:15 p.m.
Talkback with executive producer Sophie Robinson
Racing Extinction
April 19, 7:15 p.m.
Talkback with social impact consultant Denielle Sachs
Food Chains
April 26, 7:15 p.m.
Talkback with director Sanjay Rawal