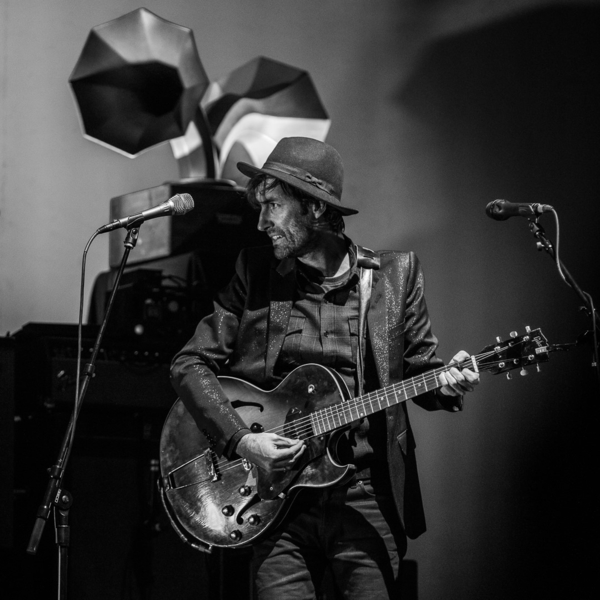 Andrew Bird & Esperanza Spalding Coming to ArtsQuest Center at SteelStacks July 26
Slingshot Dakota also playing at the arts center this summer
April 18, 2017
Popular indie singer-songwriter Andrew Bird along with GRAMMY winning jazz singer Esperanza Spalding performs July 26, 8 p.m., at the ArtsQuest Center at SteelStacks' Musikfest Café presented by Yuengling. Tickets for the performance go on sale April 18, 10 a.m., to ArtsQuest Members and April 21, 10 a.m., to the public at www.steelstacks.org and 610-332-3378.
A native of Illinois, Bird updates the traditions of small-group swing, German lieder and New Orleans jazz, mixing Gypsy, folk and rock elements into his distinctive style. Trained by the Suzuki method for violin from a young age, he released his first solo album, "Music of Hair," in 1996. Vastly different from his later releases, the album showcases his violin skills and pays tribute to his fascination with both American and European folk traditions, as well as jazz and blues. Later, with numerous albums and side projects including collaborations with the Squirrel Nut Zippers under his belt, Bird matched his critical acclaim with commercial success, including appearances on late night shows like David Letterman and Conan O'Brien, as well as original songs and music for movies like "The Muppets" and "Crazy Stupid Love," as well as FX's "Baskets." His song "Capsized" reached No. 6 on Billboard's Adult Contemporary chart in 2014.
Joining Bird on stage is the GRAMMY winning contemporary jazz bassist Spalding. Hailed as a prodigy on the acoustic double bass within months of first touching the instrument as a 15-year old, Spalding has emerged as a fine jazz bassist, but she has also distinguished herself by playing blues, funk, hip-hop, pop fusion and Afro-Cuban styles as well. During her career, she has won several GRAMMYS, including "Best New Artist" of 2010. Spalding has also appeared on Bird's "Live From the Great Room" online series, playing her own "Apple Blossom," Bird's "Truth Lies Low," Herbie Hancock's "Ostinato (Suite for Angela)" and Antônio Carlos Jobim's "Inútil Paisagem." Tickets for the Bird and Spalding show are $35-$50 in advance and $39-$54 day of show.
On July 15, 7:30 p.m., SteelStacks is also pleased to present the return of Bethlehem's own Slingshot Dakota.
Before their first appearance at Musikfest in 2014, the husband-and-wife team of Slingshot Dakota were still relatively unknown outside of the Lehigh Valley after more than 10 years of tearing up the local rock scene. Now the Bethlehem-based pop-punk duo has hit their stride with the release of their third album and first music video; features in national publications including NPR, VICE's Noisey and Brooklyn Vegan; and standout shows in Austin, Texas for SXSW in 2016 and 2017. Their energy, paired with poetic and catchy tunes, has made the band a Musikfest crowd favorite. Carly Comando shreds an 88-key digital piano and Tom Patterson keeps the beat while crushing his drums, producing a truly electrifying performance. Catch Slingshot Dakota as it plays the Fowler Blast Furnace Room with indie rock bands Ratboys, out of Chicago, and the Bethlehem-based Sing, Bird of Prey. Tickets for the show are $10 in advance and $12 day of show.
For more information, visit www.steelstacks.org.