'Girl Scout Cookie Crunch' Returns to SteelStacks for 4th Year Feb. 25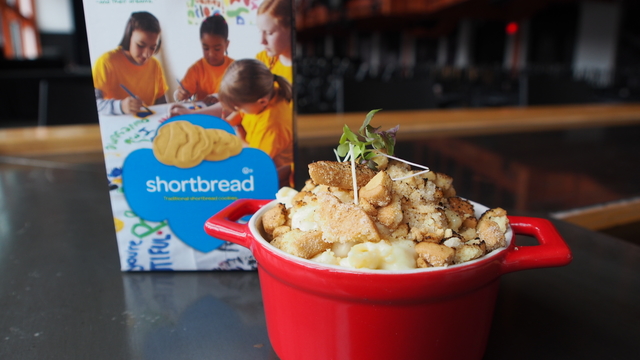 Unique culinary fundraiser features area restaurants serving up dishes made with Girl Scout Cookies
Girl Scouts of Eastern PA (GSEP) and ArtsQuest™ are proud to announce the return of the popular 'Girl Scout Cookie Crunch' on Sunday, Feb. 25, 1-3 p.m., at the ArtsQuest Center at SteelStacks, 101 Founders Way, Bethlehem. The dynamic culinary fundraiser, which sold out in 2017, serves as a benefit for both GSEP and ArtsQuest's Art Education Fund, which provides quality arts and education programs for area students. Tickets, which go on sale today, are $30 for adults, $25 for ArtsQuest Members, and $15 for children ages 12 and under and active Girl Scouts ages 17 and under. They're available at www.steelstacks.org and 610-332-3378.
At Cookie Crunch, the region's top chefs and restaurants come together to create delicious and unique dishes, all made with Girl Scout Cookies. From amazing appetizers to decadent desserts, each selection features one (or more) of the nine Girl Scout Cookie brands: Thin Mints®, Peanut Butter Patties®, Caramel deLITES®, Shortbreads®, Lemonades®, Peanut Butter Sandwiches®,Thanks-A-Lots®, Gluten-Free Trios® and Girl Scout S'Mores®, released last year to commemorate the 100th anniversary of Girl Scout cookie sales.
During the event, attendees can sample all of the culinary creations, as well as vote for their favorites in both the 'Sweet' and 'Savory' People's Choice categories. In addition, for the first time ever, the event will crown the Cookie Crunch Champion, selected by the event's official judging panel. Plus, kids ages 17 and under can get in on all the action by voting for the Kids' Choice Award winner.
"We are thrilled to host the fourth annual Girl Scout Cookie Crunch with ArtsQuest," says Liz D'Angel, Interim Director, Marketing & Communications for Girl Scouts of Eastern Pennsylvania. "This delicious event is a fun way to celebrate the Cookie Program, which is the largest girl-led entrepreneurial program in the world, and support art education in the local community."
Leading the list of culinary participants at the 2018 Cookie Crunch are 2017 winners Bethlehem Dairy Store, which wowed the crowd with its Lemon Chiffon Crunch ice cream, and Aramark at SteelStacks, which captured the 'Savory' and 'Kids' Choice' awards for its Bacon Macaroni and Cheese.
Other restaurants confirmed to participate include:
• Emeril's Chop House, Bethlehem
• Iron Lakes Country Club, Orefield
• The Steel Pub, Bethlehem
The complete list of participating restaurants will be announced early in 2018. All cookie brands used in dishes at the event will be sold by local Girl Scouts, providing attendees the opportunity to leave with plenty of their favorite cookies or opt to donate a box to our Armed Forces with Operation Cookies from Home.
Girl Scouts of Eastern Pennsylvania and ArtsQuest are also looking for additional restaurants and sponsors to be part of this exciting culinary event. Any restaurant or business interested in learning more may contact ArtsQuest's Nick Michael at nmichael@artsquest.org or the Girl Scouts' Jordan Hanchulak at jhanchulak@gsep.org.