Top Songs of 2017:
ArtsQuest Staff Picks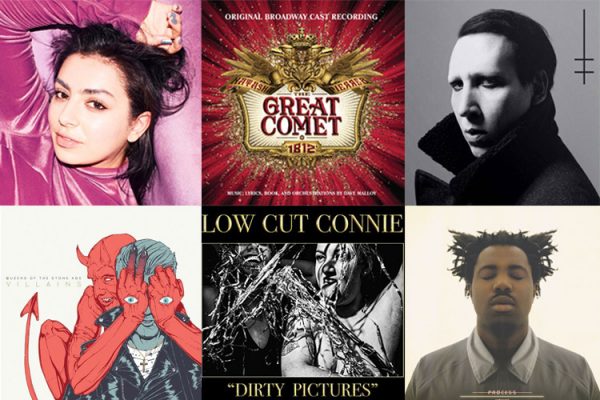 None of the ArtsQuest staff would work here if they didn't live for music and the arts. To share our passion, we put together a list of top song choices from 2017. We hope you'll enjoy our eclectic mix of musical tastes and discover some great new tunes!
EDITOR'S NOTE: Since he's in charge of booking our major acts throughout the year, we let Patrick pick his Top 5 and gave him top billing. The rest of our staff picked their favorite song and they're listed in order of when the pick was submitted (slackers are at the bottom).
CLICK HERE FOR OUR SPOTIFY PLAYLIST
Patrick Brogan – Chief Programming Officer & Manager of the ArtsQuest Center
I think that there was some great mainstream music produced in 2017 by both established and new artists. But I'm going to save the singles from the likes of Drake, Cardi B, Ed Sheeran, Father John Misty, Calvin Harris, etc to others and give you the top five songs that I wore out this year on my own Spotify, metaphorically speaking.
5. Overcoats – "Hold Me Close"
NY elctro-pop duo Hana & JJ released their debut album as the group Overcoats and this first single off it is hauntingly tremendous. The crescendos into the chorus combined with the two women's harmonies throughout made this a catchy song I spent the early part of the year listening to quite a bit.
4. Humming House – "Companion"
A favorite group of mine, Humming House put out a new album this year and the title track single, "Companion," is easily my favorite track on another great album from them. The sing-song pop nature, with hints of calypso and their authentic acoustic history as a group, make for an irresistible tune. Looking for a wedding song in 2018 or even just a song for your special someone, look no further.
3. The Wrecks – "Favorite Liar"
LA-based The Wrecks explode onto the music scene with their 2017 debut single "Favorite Liar." I love the driving almost punk rock nature of this anthem which is a clean, polished single from an otherwise untidy and extremely messy live band.
2. Middle Kids – "Edge of Town"
I came across this alt-indie rock band from Australia as I was doing some research and prep for a trip to SXSW music festival early in the year and this song may be my most played song all year. I love the sound of lead singer Hannah Joy's voice as she carries you through a lush rock anthem. I particularly enjoy the back and forth call and response during the last third of the song.
1. Low Cut Connie – "Dirty Water"
I've not been shy that Low Cut Connie is one of my favorite bands, and their entire 2017 album "Dirty Pictures Part 1" is really my entry for the top of this list. But since I had to pick just one single, it's the fun old-time rock & roll of "Dirty Waters." I had to find a live recording of it from YouTube so you can get a little taste of the live Connie experience, but nothing does lead man Adam Weiner justice like seeing him live in concert (at which time he may likely touch you, kiss you or at minimum sweat all over you) he is a master showman who leaves it all out on stage every show, not to mention how strong the whole band is behind him. Their cover of Prince's "Controversy" is simply spectacular and a must listen as well off this album.
Ben Youngerman – Marketing Manager
Avatar – "A Statue Of The King"
If you're looking for a good, groovy headbang, Avatar is for you. Stumbling across their energetic, theatrical metal circus during the band's midday set at Carolina Rebellion in 2016 was one of the best musical discoveries I've had at a festival. "A Statue Of The King" from their upcoming album is a delightful mix of heavy, fun and frantic (oh man, that bridge)! As a singer, I'm extremely jealous of Johannes Eckerström's ability to hit both the high falsettos and low death growls. After picking "Ghost" as my favorite song in 2015, I'm realizing I may have to move to Sweden to fully embrace their theatrical metal culture.
Ryan Hill – Programming Director
Sampha – "(No One Knows Me) Like The Piano"
As someone who found out more than a bit about himself as a kid banging away at a piano in his grandparents' house, this song absolutely floored me. Among the most powerful songs and voices I've ever heard; grab a case of tissues for when you read about the story behind the song.
Jason Merola – Manager of Experiential Programming
Queens of the Stone Age – "The Way You Used to Do"
It jams!
Michelle Veresink Richmond – Membership Manager
Natasha, Pierre & the Great Comet of 1812 – "Dust and Ashes"
When it came down to choosing my favorite song of 2017, I just had to choose something from this year's "Original Broadway Cast Recording of Natasha, Pierre & the Great Comet of 1812." It's a musical adaptation of Tolstoy's "War and Peace," but it totally breaks down any presumptions you might make based on that. I had the chance to see the show in February, and it was such an energetic, crazy, over-the-top production with phenomenal performers and a beautifully written score. I went with "Dust and Ashes" because it showcases Josh Groban's awesome Broadway debut, but I really encourage you to listen to the whole album. You will find so much inspiration, musical complexity and beautiful storytelling.
Alyssa Ascher – Visual Arts Customer Service Assistant
Newton Faulkner – "Hit the Ground Running"
Newton Faulkner has been one of my favorite musicians and guitarists since I first heard of him seven years ago. His new album "Hit the Ground Running," titled after this song, is a great mix of intricate guitar playing, vocals and positive vibes.
Emily Cummins – Public Relations Coordinator
Charli XCX – "Boys"
Honestly, I can't talk about how much I love this song without mentioning its hilarious music video. Featuring all of the "internet's boyfriends," including my personal favorite Riz Ahmed, "Boys" pairs its playful pop sound with a laugh out loud take on the male gaze, turning this catchy radio favorite into a feminist anthem, tongue firmly in cheek.
Matt Gotzon – Partnership Activation Specialist
Brent Faiyaz – "Stay Down"
Brent Faiyaz finessed my attention with the release of his studio album, Sonder Son, which dropped this year. It was very tough for me to choose just one song from this record. Sonically this song is fantastic, like each song on this collection, but the Spanish guitar on this track hooked me.
Alicia Rohrbach – Sr. Marketing & Sponsorship Coordinator
Old Dominion – "No Such Thing as a Broken Heart"
This song is absolutely my favorite song of 2017 – I loved it when I first heard it live before it was even released. The song is a prime example of what this band does so well – creates upbeat songs with a serious message to 'keep your chin up' in a world that can be filled with negativity. I have many favorite parts of the song lyrically – but my favorite line is "Chase after the dream – don't chase after the money". It was an added bonus this year that I was able to see them perform it live as part of the Yuengling Summer Concert Series.
Amber Galdamez – Communications Coordinator
DJ Snake & Lauv – "A Different Way"
This year has been full of so many great music collaborations, and there's nothing I love more than a solid dance/electronic beat featuring a super talented vocalist. This co-op between DJ Snake and Lauv somehow hits that perfect middle ground between a club banger and chill coffee shop acoustic… which are two of my favorite things.
Nicole Dotta – Senior Director of Business Development
Brett Young – "In Case You Didn't Know"
Brett Young is my favorite new country artist of 2017. Not only does he have a great voice and is an unbelievable song-writer, but he is also pretty easy on the eyes. It didn't take long for his hit, "In Case You Didn't Know," to become my favorite song of 2017.
Adam Lattimore – Volunteer & Internship Programs Coordinator
Elliot Moss – "Without The Lights"
I came across Elliott Moss a few years ago as one of his songs "Slip" was becoming popular on Spotify (definitely check that one out too). This year Moss released his new EP "Boomerang" and while all of the tracks are amazing, "Without the Lights" to me is by far the most superior. It has a relaxed tempo, emotional lyrics, soaring synth riffs and an amazing breakdown in the back half. I'm typically drawn to trance music as I find it strikes a balance between relaxed and stimulating. "Without the Lights" fits this description perfectly.
Juliann Masenheimer – Lead Creative
Beck – "Up All Night"
This song makes me feel like its Musikfest all day long! You just can't listen to it and not be happy. #ImA90sGirlAtHeart #LoveBeck #SongOnRepeat
Helen Smith – Talent Buyer
LCD Soundsystem – "american dream"
It's the synths again. This song could have been released in 2017 or it could have been released in 1985. Leisurely and ever-present, it slowly builds up until the climax at the end and makes me want to hit the repeat button. There's something soothing about the melody and James Murphy's vocals, and although it's #8 on the track listing, it's my favorite song off of this album; a great return after their five year hiatus.
Lisa Harms – Director of Education & Outreach
Bjork – "The Gate"
Bjork has long been a favorite of mine. Her cosmically trippy songs hold up over time and always evoke something strangely familiar that you can't quite put your finger on. "The Gate" is a song about heartbreak, which feels very raw and beautiful.
Amelia Thomas – Accounting Disbursements Manager
Roger Waters – "Smell the Roses"
My favorite song of 2017 is "Smell the Roses" by Roger Waters from his "Is This The Life We Really Want?" album. It's like listening to Pink Floyd's entire career in one brilliant, modern day song about our uncertain world. The entire album is absolutely brilliant.
Cory Stelzman – Performing Arts Coordinator
The Wild Reeds – "Fruition"
I like to pick a song from a band that I saw live during the year. The Wild Reeds were by far one of my favorite live performances of 2017. With tight harmonies, a fun energy on stage and beautiful lyrics, they quickly made their way into my heart. The song "Fruition" is lyrically amazing, and I found myself playing it on repeat after hearing for the first time. There were many wonderful songs of 2017, but this is the one that stuck with me this year.
Alexa Gerstenberg – Box Office Assistant
Luke Combs – "When It Rains It Pours"
This song puts a whole new meaning to the classic saying "when it rains it pours." The best lyric in the song is when Combs sings "What I thought was gonna be the death of me was my saving grace." Once you get rid of negative people and energy, life will "shower" you with bliss. I just love this song!
Coryna Barberis – Volunteer Programs Assistant
Arcade Fire – "Everything Now"
Although it's not as genius as "Wake Up," it's a wonderful collaboration between Arcade Fire and Daft's Punk's Tom Bangalter. This song just makes me feel happy. I almost think that they were writing it as a tribute to Bowie (I can totally hear him singing it).
Curt Mosel – Chief Operating Officer
Dirty Heads – "Vacation"
I really appreciate the song's lyrics and how they describe what it's like to work at ArtsQuest…
"…I'm on vacation / Every single day cause I love my occupation."
Linda Colonna – Accounts Payable Specialist
Bleachers – "Don't Take the Money"
I'm typically not a fan of love songs, but this one begs to be played on repeat. It's one of those "drive with the windows down, wind in your hair-feel all the feels" type of songs. I love it.
Lawrence Milano – Cinema Coordinator
Marilyn Manson – "KILL4ME"
Manson rarely ever disappoints, and his new album this year proves he still has the attitude that we all fell in love with during his early years.
Hillary Harper – Senior Manager of Visual Arts
Sylvan Esso – "Kick Jump Twist"
I'm not typically a synth music fan, but I love the energy Sylvan Esso has in their music. A co-worker and I went to see them live this year, and for a two-person group, the physicality of their performance was crazy. Highly recommended.
Stacie Brennan – Senior Director of Visual Arts
Maggie Rogers – "Alaska"
I love the vibrancy and unique sound of Maggie Roger's voice. She has a timeless sound and has only just begun her career. I am excited to hear what's next for her.
Nicole Gencarelli – Visual Arts and Education Coordinator
Grouplove – "Good Morning"
I've really liked this band since their first album, and this song from their new one just stuck with me!
Jon Lunger – Director of Marketing
Mr. Chicken – "Despacito Chicken Version"
In these troubled times, it's important to remember there's good in this world. To say this song was everywhere is an understatement, but how many of you have heard it in all it's true glory? I love this, and I hope you do too.
Here's the list in Spotify form for your binge-listening pleasure!