The Infamous Stringdusters, Delta Rae, Dar Williams & More Headline SouthSide Arts & Music Festival April 20-21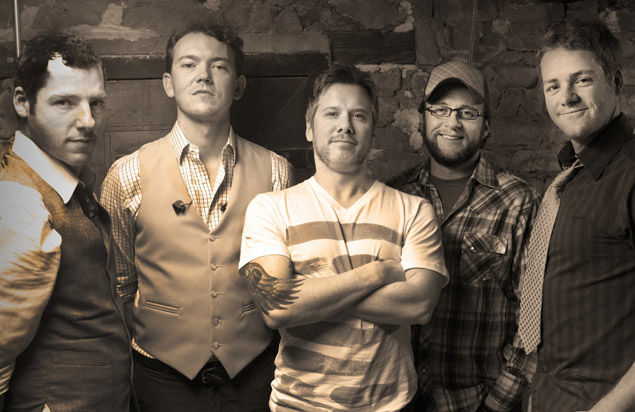 Festival, presented by Capital BlueCross, features two days of music and art experiences designed to shine spotlight on Bethlehem's SouthSide Arts District
Bethlehem, PA—Bluegrass sensations The Infamous Stringdusters, Indie rockers Delta Rae, folk singer-songwriter Dar Williams, popular Talking Heads Tribute "Start Making Sense" and blues guitarist Mr. Sipp highlight the 2018 SouthSide Arts & Music Festival taking place April 20-21 in Bethlehem. The festival, presented by Capital BlueCross, offers attendees a dynamic mix of music and art experiences and is designed to shine the spotlight on Bethlehem's SouthSide Arts District. Tickets are $30 per day or $50 for both days; they go on sale today, noon, at www.steelstacks.org and 610-332-3378.
The SouthSide Arts & Music Festival features two days filled with visual arts experiences, live music and family programming, all designed to encourage guests to visit South Bethlehem's shops, restaurants and arts venues. By purchasing a ticket to the festival, attendees enjoy access to 10-plus musical acts each night at Godfrey Daniels, National Museum of Industrial History, Lehigh Valley Charter High School for the Arts, Banana Factory Arts Center and the ArtsQuest Center's Musikfest Café at SteelStacks. This year, ArtsQuest is also partnering with Lehigh Valley Underground to offer five free performances each night at other SouthSide venues such as Color Me Mine, Domaci, Molly's Irish Grille & Sports Pub and Sotto Santi, pushing the total number of musical acts at the festival to more than 30 in all.
"As a community based health insurer, Capital BlueCross is a strong supporter of the arts and their ability to bring people together from across the community," says Susan Hubley, Vice President of corporate social responsibility, Capital BlueCross. "We are thrilled to support the SouthSide Arts & Music Festival as it brings so many talented musicians and artists to Bethlehem. We look forward to its success for years to come."
On April 20, 10 p.m., the SouthSide Arts & Music Festival welcomes 2018 GRAMMY nominees The Infamous Stringdusters to the Musikfest Café. Hailing from Charlottesville, Va., this five-piece band is a favorite at bluegrass and jam band festivals nationwide. This year's Infamous Stringdusters tour has the group performing at events ranging from the Telluride Bluegrass Festival in Colorado and FloydFest in Virginia, to the Pot of Gold Music Festival in Arizona and Dark Star Jubilee in Ohio.
Delta Rae, which performs April 21 at the Musikfest Café, was formed in North Carolina in 2009 and has gained a widespread following, performing at festivals ranging from Lollapalooza and Bonnaroo to the Austin City Limits and Hangout festivals. Now signed to Big Machine Label Group's "The Valory Music Co.," the popular folk-rock band will bring its intriguing sound and larger-than-life performance style to SteelStacks for an 8 p.m. headlining show.
In addition to great, live music, the SouthSide Arts & Music Festival showcases visual and performance art in expected and unexpected places. On Friday night and Saturday during the day, attendees can stroll the ArtsWalk featuring artisans and fine art vendors; check out art installations and sculpture throughout the SouthSide's business district; sample delicious eats from awesome food trucks and more.
ArtsQuest's Banana Factory, located at 25 W. Third St., will come alive with a variety of interactive art activities for all ages, including a live community installation. The arts center will also offer tours of its resident artists' studios and host a skateboard competition presented by Homebase610. New this year, local artists will take part in a competition in advance of the festival to design the obstacles that skateboarders must navigate during the competition.
In the days leading up to the SouthSide Arts & Music Festival, motorists and pedestrians may also have unexpected encounters with an enormous red ball as the renowned RedBall Project comes to Bethlehem starting April 17. A 250-pound, 15-foot tall sphere, the RedBall is a traveling public art piece created by Kurt Perschke. Considered the world's longest-running street art work, the ball has been to more than 25 cities around the globe including Barcelona, Calgary, Montreal, Paris and Sydney, Australia. The RedBall moves through a city with a new site each day. On any given day, you may find it squeezed between buildings, in a park, or even adorning the SteelStacks campus, drawing attention to sometimes overlooked spaces that have architectural and historical significance.
Other highlights of the 2018 SouthSide Arts & Music Festival include:
"Split Infinity"
This cast bronze sculpture of Albert Einstein was created by James West, a Pittsburgh-based sculptor who has done major commissions across the nation, including Pittsburgh's "Point of View," a bronze sculpture of George Washington and Seneca leader Guyasuta. The 2,000-pound "Split Infinity" will be on display in the ArtsQuest Center's Capital BlueCross Creativity Commons April 19-May 20, with an opening reception April 19.
"Lehigh Valley Art Wars" Finale, April 21, 7 p.m.
These live art events presented by iDreamMachine feature artists creating their work in a competitive environment, presenting the creative process as a form of entertainment. At each battle, the artists have two hours to create their piece of work based on a theme. The artwork is then voted on by the audience and jury, with one person ultimately crowned the Lehigh Valley Art Wars Champion and win a $1,000 cash prize.
SouthSide Arts & Music Festival Hours are 6-11:30 p.m. Friday and 2-11:30 p.m. Saturday. Additional details on the festival will be announced over the coming weeks. For more information, please visit www.steelstacks.org.
SOUTHSIDE ARTS & MUSIC FESTIVAL PERFORMANCE LINEUP
(Additional performers to be announced)
APRIL 20
Musikfest Cafe presented by Yuengling
6 p.m. Mike Mains
8 p.m. Mr. Sipp
10 p.m. The Infamous Stringdusters
Lehigh Valley Charter High School for the Arts
6 p.m. Charter Arts Big Band
7:30 p.m. Chelsea Reed and the Fair Weather Five
9:30 p.m. Michael Blume
The Banana Factory
6 p.m. And The Kids
8:30 p.m. Bencoolen
Godfrey Daniels
6:30 p.m. Ona
9 p.m. Dar Williams
APRIL 21
Musikfest Cafe presented by Yuengling
6 p.m. The Novel Ideas
8 p.m. Delta Rae
10 p.m. Start Making Sense: Talking Heads Tribute
National Museum of Industrial History
6:30 p.m. Grandchildren
9 p.m. Young Mister
Lehigh Valley Charter High School for the Arts
6 p.m. The Lesson Center
7:30 p.m. Madaila
9:30 p.m. Wild Adriatic
The Banana Factory
6 p.m. Maybird
8:30 p.m. Albert Castiglia
Godfrey Daniels
6:30 p.m. Queen Hilma
9 p.m. Girls, Guns and Glory
For tickets, click here.