Bacon Cheeseburger Chowder, Thai Lobster Soup, Buffalo Chicken Bisque & More to Highlight ArtsQuest's 9th Annual Souper Bowl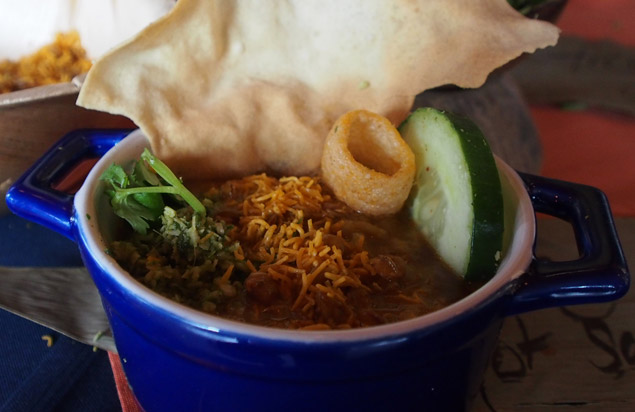 Tickets still available for popular culinary fundraiser at SteelStacks Jan. 27
Warm up your winter and join ArtsQuest for a "souper" tasty fundraiser as more than 20 Lehigh Valley chefs bring their best creations to SteelStacks' annual Souper Bowl Jan 27. Sample everything from savory classics like Beer Belly Bisque and Clam & Chorizo Chowder to the daring flavors of Crème Brûlée and Kefir Yogurt Fig soups.
Tickets for the popular event, presented by the Restaurant Store, are on sale at www.steelstacks.org and 610-332-3378, but act fast as only a limited number remain. General admission tickets are $30 for ArtsQuest Members and $35 for the public; VIP tasting tickets for the 11-noon VIP session are sold out!
During Souper Bowl, which takes place from noon-3 p.m., the public can taste all of the delicious soups presented by restaurants and caterers from throughout the region. After sampling, guests can then vote for their favorites, with the winning restaurant named the Souper Bowl Champion! In addition, a panel of judges will sample all the soups and award the best entries in six different categories including Vegetarian, Seafood-Based, Cream-Based, Meat-Based, Ethnic and Most Original.
The afternoon also features live entertainment from the Dan DeChellis Trio and a raffle that includes prizes donated by the participating restaurants.
The complete list of 2018 Souper Bowl participants, and some of the soups they will be sharing, is:
• Aramark at SteelStacks, Bethlehem-Chef Ashley's Famous Harvest Turkey Chili
• Bethlehem Area Vocational-Technical School, Bethlehem-Cheesy Baked Potato & Bacon Soup and Thai Coconut Curry Soup
• Café The Lodge, Bethlehem
• Cathy's Creative Catering, Catasauqua-Clam & Chorizo Chowder and Spanish Rice & Bean Soup
• Copperhead Grille, Allentown
• Daisy Hill Deli & Grill, Allentown-Chicken Cheddar Chowder, Greek Mountain Stew and Fava & Sausage
• Emeril's Fish House, Bethlehem
• Forks Mediterranean Deli, Forks Township-Beef Barley Soup and Kefir Yogurt Fig Soup
• Iron Lakes Country Club, Allentown–Andouille Chicken Gumbo and King Crab Bisque
• Joe's Tavern, Bethlehem
• Johnny's Bagels and Deli, Bethlehem-Lobster Bisque & Chili and Broccoli Cheddar
• Mainland Grille, Harleysville-Buffalo Chicken Bisque and Bacon Cheeseburger Chowder
• Molly's Irish Grille & Sports Pub, Bethlehem-Bangin' Crab-n-Corn Chowder
• Roosevelt's 21st, Bethlehem-Beer Can Chicken Chowder
• Social Still, Bethlehem-Crab Stew and Mulligatawny
• Southside 313, Bethlehem-Shrimp Bisque
• The View at Morgan Hill, Easton-Thai Lobster Soup and Crème Brûlée Soup
• Volpe's Sports Bar & Grill, Emmaus & Allentown-Beer Belly Bisque
• Whole Foods, Allentown
Proceeds from the Souper Bowl presented by the Restaurant Store, in association with media partner WLEV, support ArtsQuest's art and education programs for area students. Since the first Souper Bowl in 2010, more than $100,000 has been raised from the event to support local arts programming.
SOUPER BOWL IX
Saturday, Jan. 27
Noon-3 p.m.
Musikfest Cafe presented by Yuengling