Record 21 High Schools to Compete in 7th Annual Jazz Showcase at SteelStacks Feb. 11 & 18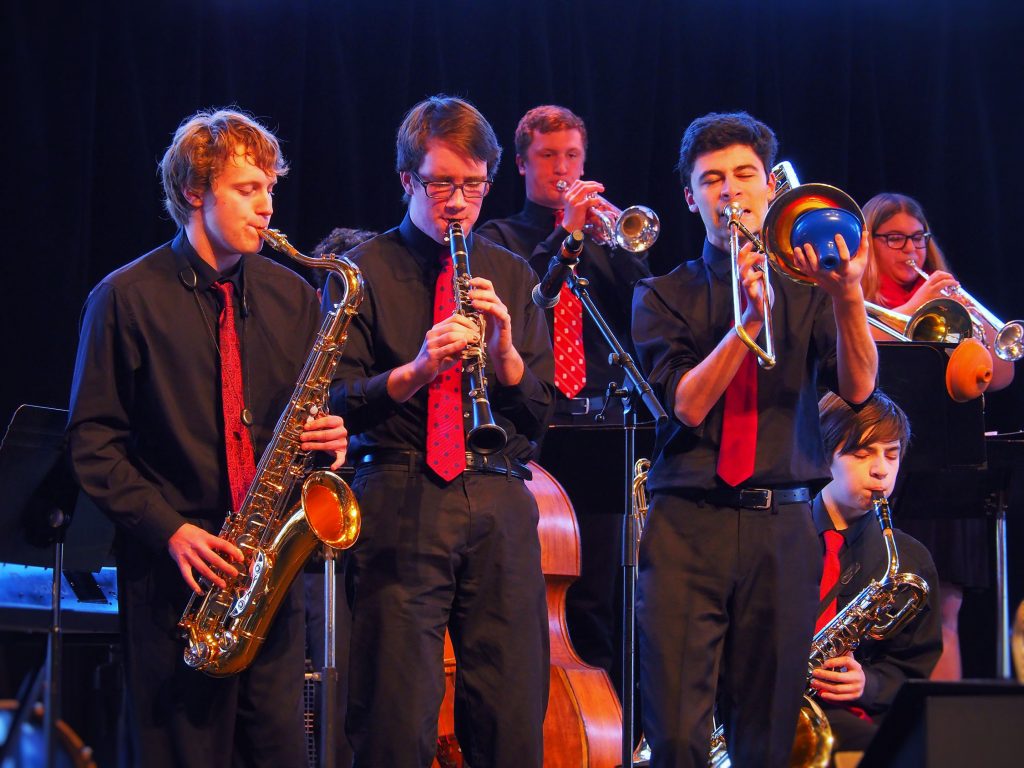 Photo by David Happel
BETHLEHEM, PA—The smooth sounds of jazz will fill the ArtsQuest Center's Musikfest Café at SteelStacks, 101 Founders Way, Bethlehem, as a record 21 high school jazz bands perform during the 7th Annual SteelStacks High School Jazz Band Showcase presented by King, Spry, Herman, Freund & Faul Feb. 11 &18 starting at noon. Tickets for the event's preliminary rounds are $7 per session and on sale now at www.steelstacks.org and 610-332-3378.
The jazz band showcase features talented scholastic jazz groups from Pennsylvania and New Jersey performing in front of a live audience and judging panel of music educators. Following the preliminary rounds, the top six groups, as determined by the judges, will advanced to the finals March 11 at the ArtsQuest Center. Following the finals, the top three finalists will earn the chance to open for artists at the RiverJazz series at SteelStacks this summer.
"We're thrilled that for the first time in the history of the jazz showcase, we have more than 20 high school bands performing as part of this educational experience, "says ArtsQuest Chief Programming Officer Patrick Brogan. "Lead judge Dr. Neil Wetzel of Moravian College and all the adjudicators do a tremendous job of providing good, constructive feedback to the students, and the school band directors tell us repeatedly how valuable that input is. Plus the students, and their families and friends, all really appreciate the opportunity to perform in a professional music venue like the Musikfest Café. We thank King, Spry, Herman, Freund & Faul for all of their support and for making this experience possible for well over 250 students."
The complete list of Jazz Showcase participants is:
Feb. 11, 12 p.m.
Belvidere High School
Bernards High School
Freedom High School
Phillipsburg High School
Warren Hills High School
Wilson High School
Feb. 11, 4 p.m.
Brandywine Heights High School
Fleetwood High School
Kutztown High School
Pocono Mountain East High School
North Penn High School Columbia Jazz Band
North Penn High School Navy Jazz Band
Feb. 18, 12 p.m.
Delaware Valley High School
Easton High School
The Hill School
Saucon Valley High School
Feb. 18, 4 p.m.
Joe's Jazz Café
Lehigh Valley Charter High School for the Arts
Quakertown High School
Upper Moreland High School
William Tennent High School
"KingSpry is proud to support the High School Jazz Band Showcase for the seventh straight year," says John Freund, Education Law Practice Chair for KingSpry, "ArtsQuest and its partners do a fantastic job bringing together top talent from high schools throughout our area, and we are thrilled we get to listen as these students demonstrate their musical achievements."
The SteelStacks High School Jazz Band Showcase is a music-in-education program of ArtsQuest and the Moravian College Music Department's Jazz Studies Program and is made possible thanks to King, Spry, Herman, Freund & Faul, LLC. For more information, please visit www.steelstacks.org or call 610-332-3378.