Braised Thin Mints® Short Ribs, Peanut Butter Sandwiches® Zeppoles & More Highlight 4th Annual Girl Scout Cookie Crunch Feb. 25 at SteelStacks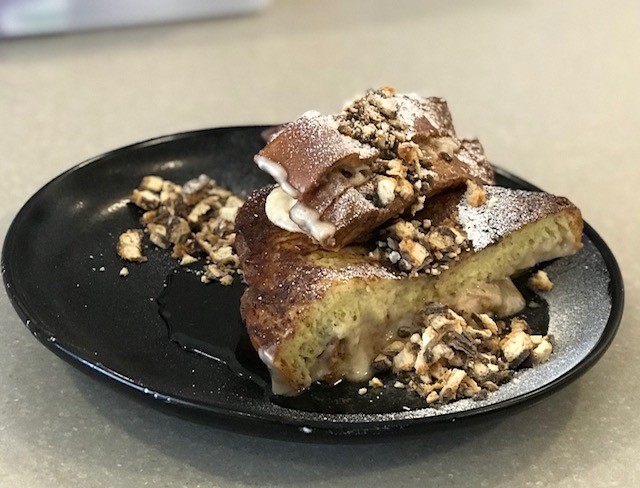 Tickets for fundraising event benefiting ArtsQuest and Girl Scouts of Eastern PA on sale now at steelstacks.org
BETHLEHEM, PA—The Lehigh Valley's most daring and creative chefs will serve up culinary masterpieces made with Girl Scout Cookies during the 4th Annual Girl Scout Cookie Crunch at SteelStacks Feb. 25, 1-3 p.m. Included are savory delights like chicken fingers with a lemon cookie breading, as well as sweet treats like coconut panna cotta shortbread clusters. Tickets, which are on sale now, are $30 for adults, $25 for ArtsQuest Members, and $15 for children ages 12 and under and active Girl Scouts ages 17 and under. They're available at this link and 610-332-3378. All proceeds from the unique culinary fundraiser benefit both Girl Scouts of Eastern PA (GSEP) and the ArtsQuest Art Education Fund, which provides quality arts and education programs for area students.
More than a dozen area restaurants and eateries will bring nearly 20 decadent dishes to the event this year. The Cookie Crunch participants and a sample of their offerings include:
Aramark at SteelStacks, Bethlehem – Caramel deLITES® Stuffed French Toast
BabaNonna Kiffles, Allentown – Kiffles made with Caramel deLITES®, Lemonades® and Thin Mints®
Bethlehem Area Vocational-Technical School: Culinary Arts, Bethlehem – Lemonades® Pepper Chicken Bites with Mango Salsa AND Thin Mints® Chocolate Chip Cheesecake Bites
Bethlehem Area Vocational-Technical School: Baking, Bethlehem – Chocolate Cake with Coconut Buttercream and Caramel Topped with Caramel deLITES®, Chocolate Pieces and Toasted Coconut AND Chocolate Peanut Butter Pie
Bethlehem Dairy Store, Bethlehem – Peanut Butter Ice Cream with Peanut Butter Patties®
Carmel, Allentown – Braised Thin Mints® Short Ribs
Emeril's Chop House, Bethlehem – Caramel deLITES® Cannoli AND Thin Mints® Pops
Iron Lakes Country Club, Allentown – Thin Mints® Chicken Mole
Saucon Valley Country Club, Bethlehem – Coconut Panna Cotta Shortbreads® Clusters Topped with Carmel Coconut Walnuts & Spiced Rum Hot Fudge
The Riegelsville Inn, Riegelsville
The Rockhill Filling Station, Perkasie – Chicken Fingers with Lemonades® Breading AND Peanut Butter Sandwiches® Zeppoles with Fresh Fruit Compote
Trail's End Cafe, Bear Creek Mountain Resort, Macungie – Garlic Lemon Shrimp with Lemonades® & Shortbreads®
During the Cookie Crunch, attendees can sample all of the delicious creations, as well as vote for their favorites in 'Sweet' and 'Savory' People's Choice categories. Kids ages 17 and under can also get in on all the action by voting for the Kids' Choice Award winner. New this year, the event will crown the Cookie Crunch Champion, selected by the event's official judging panel which includes Anne Baum, First Vice Chair, Girls Scouts of Eastern PA Board of Directors and Lehigh Valley executive and vice president, distribution channels & labor relations for Capital BlueCross; Alexandra Hogan, WFMZ Morning Show Reporter; Megan Toolan, City of Foodidelphia; and Bill White, The Morning Call. Plus, attendees can enjoy live music by all-girl band Space is Crunchy formed at the Lehigh Valley Girls Rock Camp in 2017.
Each dish will feature one or more of the Girl Scout Cookie brands: Thin Mints®, Peanut Butter Patties®, Caramel deLITES®, Shortbreads®, Lemonades®, Peanut Butter Sandwiches®, Thanks-A-Lots®, Gluten-Free Trios® and Girl Scout S'Mores®, released last year to commemorate the 100th anniversary of Girl Scout cookie sales.
Girl Scouts of Eastern Pennsylvania and ArtsQuest are also looking for additional restaurants to be part of this exciting culinary event. Any restaurant or business interested in learning more may contact ArtsQuest's Nick Michael at nmichael@artsquest.org by Feb. 9.
Media partner for the Cookie Crunch is 100.7 WLEV. For more information, visit www.steelstacks.org.