Nick Lowe with Los Straitjackets, Splintered Sunlight & More Coming to SteelStacks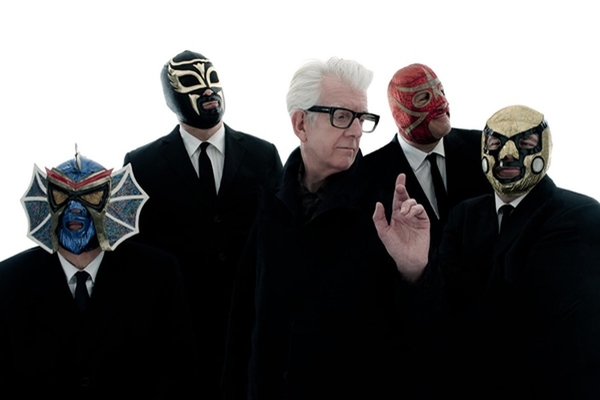 New wave icon Nick Lowe with Los Straitjackets and Splintered Sunlight, returning for its annual summer residency, are among the seven new performances announced for the ArtsQuest Center at SteelStacks. Tickets for the performances go on sale Feb. 27, 10 a.m., to ArtsQuest Members and March 2, 10 a.m., to the public at www.steelstacks.org and 610-332-3378.
Following the release of its latest tribute album "What's So Funny About Peace, Love and Los Straitjackets," surf-rock guitar instrumentalists Los Straitjackets join forces with legendary producer and singer-songwriter Nick Lowe for an unforgettable on stage collaboration June 26, 7:30 p.m., in the Musikfest Café presented by Yuengling. A noted figure in pop and new wave music, Lowe is best known for his songs "Cruel to Be Kind" and "I Love the Sound of Breaking Glass," as well as his production work with Elvis Costello, for whom he wrote "(What's So Funny 'Bout) Peace, Love, and Understanding." In his solo career, starting with 1995′s "The Impossible Bird" through to 2011′s "The Old Magic," he has turned out a fantastic string of albums.
Clad in trademark Lucha Libre Mexican wrestling masks, Los Straitjackets honored Lowe's amazing melodies with a 13-track tribute album in 2017. Using the music of the Ventures, The Shadows, and with Link Wray and Dick Dale as a jumping off point, this band has taken its unique, high-energy brand of original rock 'n roll around the world, delivering its signature guitar licks to 16 albums, thousands of concerts and dozens of films and TV shows. Tickets for Nick Lowe with Lost Straitjackets are $39-$49.
The Musikfest Café is also pleased to present the return of the popular Splintered Sunlight residency May 31, June 28, July 12 and Aug. 30, 8 p.m. Formed in 1992, Splintered Sunlight quickly became the most popular Grateful Dead tribute band in the Philadelphia region, gaining praise from Dead Heads and others alike. Following its success the last two years as the Musikfest Café's first-ever Artist in Residence, the group is returning to the venue to recreate classic Dead shows from the 1970s-'00s on the dates they were performed. Included are a May 31, 1992 show at Sam Boyd Silver Bowl in Las Vegas, Nev.; June 28, 2015 Fare Thee Well show at Levi Stadium in Santa Clara, Calif.; July 12, 1989 at RFK Stadium in Washington, D.C. and Aug. 30, 1981 at Compton Terrace Amphitheatre in Tempe, Ariz. Tickets for each show are $10-$15 in advance and $13-$18 day of show.
The complete list of newly announced shows is:
Splintered Sunlight Recreates 5/31/92 at Sam Boyd Silver Bowl
Musikfest Café presented by Yuengling
May 31, 8 p.m.
Tickets: $10-$15 advance; $13-$18 day of show
Nick Lowe with Los Straitjackets
Musikfest Café presented by Yuengling
June 26, 7:30 p.m.
Tickets: $39-$49
Splintered Sunlight Recreates 6/28/15 at Levi Stadium
Musikfest Café presented by Yuengling
June 28, 8 p.m.
Tickets: $10-$15 advance; $13-$18 day of show
Splintered Sunlight Recreates 7/12/89 at RFK Stadium
Musikfest Café presented by Yuengling
July 12, 8 p.m.
Tickets: $10-$15 advance; $13-$18 day of show
Splintered Sunlight Recreates 8/30/81 at Compton Terrace Amphitheatre
Musikfest Café presented by Yuengling
Aug. 30, 8 p.m.
Tickets: $10-$15 advance; $13-$18 day of show
The Stranger – A Tribute to Billy Joel
Musikfest Café presented by Yuengling
Sept. 8, 7:30 p.m.
Tickets: $25