Oscar Predictions by the Frank Banko Alehouse Cinemas Staff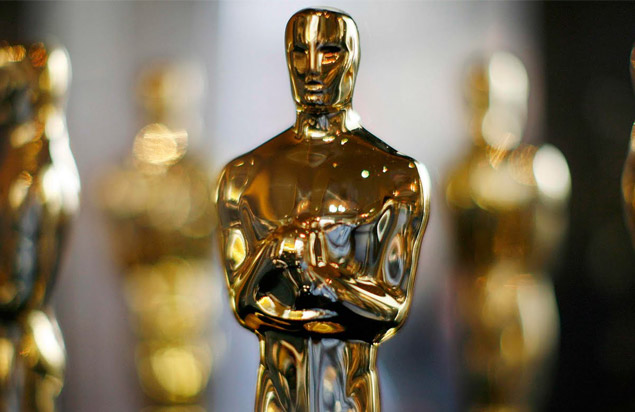 By Ryan Hill – Programming Director; Anthony DeSanctis – Cinema Coordinator; Lawrence Milano – Cinema Coordinator; Addyson Young – Cinema/Comedy Assistant
The Frank Banko Alehouse Cinemas have been the home to most of the year's Academy Award nominated films. On Sunday, our big screen is the place to watch Hollywood's biggest night at the Red Carpet Party presented by Whole Foods Market.
As the staff members in charge of choosing our films, promoting the movies and tearing your ticket stubs, the Frank Banko Alehouse Cinemas staff live and breath cinema. Who will raise the golden trophies? These are their expert predictions.
BEST PICTURE
Will win:
The Shape of Water (Ryan, Anthony)
Three Billboards (Addy)
Lady Bird (Lawrence)
Should win:
Get Out (Ryan)
Three Billboards (Addy, Lawrence)
The Shape of Water (Anthony)
Ryan: I'm not gonna be mad when The Shape of Water wins, but the programmer in me says that Get Out not only should win, but needs to win in order to swing the Oscars back towards something that can actually be relatable to the entire American movie-going public. It helps that it was an incredible accomplishment; I am gonna be mad, however, if the film walks away without a single win.
Anthony: I wouldn't be surprised if Three Billboards won, but it doesn't have a Best Director nomination and films almost never win Best Picture without being nominated for Best Director. I think it's happened like twice in the history of the Academy Awards. Plus The Shape of Water is, quite frankly, the better film.
Lawrence: Lady Bird struck a chord with audiences. It's delightful, relatable, and touching. Something about it just screams "I'm going to sneak in here and steal this Oscar. Thanks."
Addy: I didn't love how angry Three Billboards made me, but I respect a film that can garner intense emotions from its audience.
BEST ACTRESS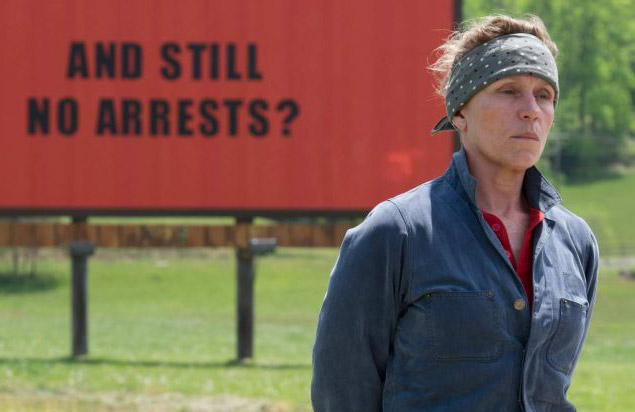 Will win:
Frances McDormand, Three Billboards (Ryan, Anthony)
Saoirse Ronan, Lady Bird (Lawrence)
Sally Hawkins, The Shape of Water (Addy)
Should win:
Hawkins (Ryan, Lawrence)
McDormand (Anthony)
Ronan (Addy)
Addy: Saoirse's performance really connected with me; I think she does the most accurate portrayal of an angsty female teenager I have ever seen.
Anthony: I've always known McDormand was one of the best out there, but I've never seen her so raw. To put it simply: she's badass.
BEST ACTOR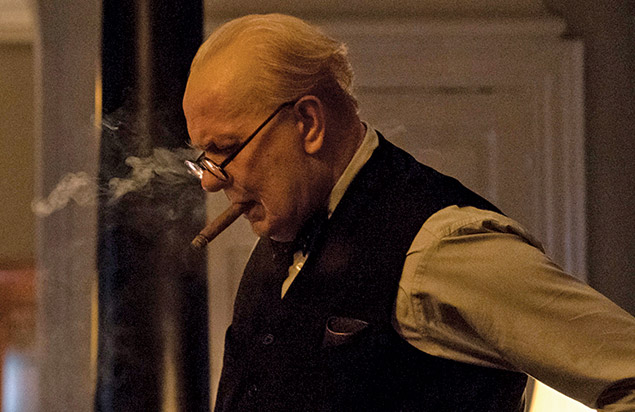 Will win:
Gary Oldman, Darkest Hour (Ryan, Anthony, Lawrence)
Timothee Chalamet, Call Me By Your Name (Addy)
Should win:
Oldman (Anthony, Lawrence)
Chalamet (Ryan, Addy)
Ryan: Timothee Chalamet, along with fellow nominee Daniel Kaluuya, is the revelation of 2017 in actor-world. His face during the end credits of Call Me By Your Name tells the entire story of that movie.
Lawrence: Will someone give this beautiful man (Oldman) an Oscar already?
BEST SUPPORTING ACTOR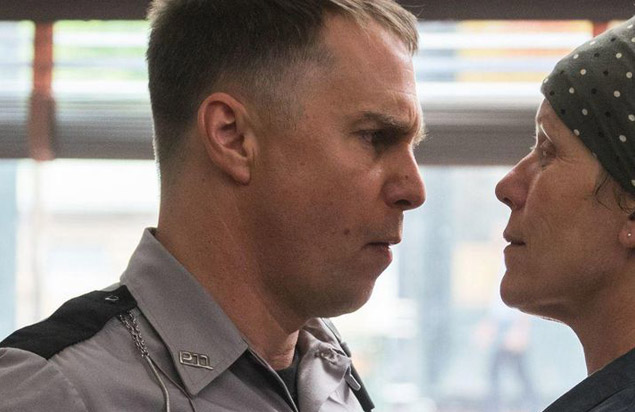 Will win:
Sam Rockwell, Three Billboards (Ryan, Addy, Anthony)
Should win:
Willem Dafoe, The Florida Project (Ryan, Anthony)
Woody Harrelson, Three Billboards (Addy)
Anthony: Dafoe has always been one of the most underrated actors in Hollywood, mostly known for his characters with a dark side. His character in the Florida Project was warm, generous and incredibly likable and one of my favorite characters of 2017. I absolutely love Rockwell, but Dafoe should be going home with the Oscar.
(For some reason Lawrence doesn't count the Supporting Actor/Actress categories as major and therefore didn't answer as to who will/should win. Please notify the Screen Actors Guild as to his insubordination.)
BEST SUPPORTING ACTRESS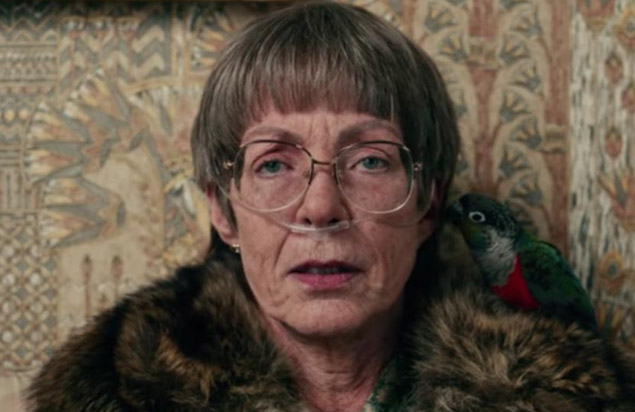 Will win:
Allison Janney, I, Tonya (Ryan, Anthony)
Laurie Metcalf, Lady Bird (Addy)
Should win:
Janney (Anthony)
Metcalf (Ryan, Addy)
Addy: A lot of times in films, moms are either seen as the enemy or the heroine, with little in between. Laurie's performance captures the tension that can form between mother and daughter while also showing their bond and love for one another. Like Saoirse's performance, it just feels very real.
Ryan: [posts the Meryl Streep clapping enthusiastically GIF in response to Addy's comment despite the fact that he can never truly know what she means]
BEST DIRECTOR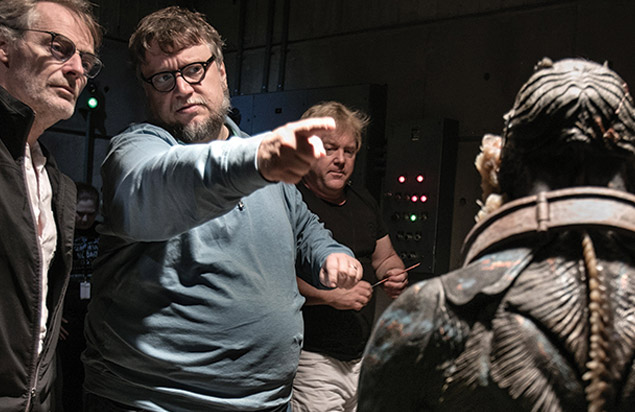 Will win:
Guillermo del Toro, The Shape of Water (Ryan, Anthony, Lawrence)
Christopher Nolan, Dunkirk (Addy)
Should win:
del Toro (Anthony, Lawrence)
Nolan (Addy)
Greta Gerwig, Lady Bird (Ryan)
Lawrence: del Toro has managed to present to us a haunting masterpiece that is a throwback to old school Hollywood and Universal horror movies. It's his time to win.
Anthony: del Toro's heart is all over The Shape of Water. He shows that despite his love for creatures and violence, he's also a big softie. And the finished product is simply beautiful.
Addy: I love how much story Nolan packed into an hour and a half.
Ryan: Hands down the best field for this category since the FBAC opened in 2011. All of these directors are deserving of recognition and there's not a single outcome that would be disappointing to me. But Greta Gerwig is an American treasure so she should win.
ALSO:
BEST ORIGINAL SONG
(via Anthony)
Will win:
"This is Me", The Greatest Showman
The song is inspiring and uplifting and will be a guaranteed showstopper at the Academy Awards.
Should win:
"Remember Me", Coco
This song is wisely used as a plot device; as the film progresses, you cry harder and harder every time you hear it. And if a simple song like "Remember Me" can get that sort of reaction out of you, it deserves the win.
BEST FILM EDITING
(via Lawrence)
Will/Should win:
Baby Driver
The best thing about Baby Driver was the incredible and on-the-edge editing.
ORIGINAL SCREENPLAY
(via Ryan)
Will win:
Martin McDonagh, Three Billboards
Should win:
Emily V. Gordon & Kumail Nanjiani, The Big Sick
or
Jordan Peele, Get Out
THERE ARE TWO COMEDIANS NOMINATED FOR BEST ORIGINAL SCREENPLAY OSCARS THAT IS THE BESTTTTTTT [posts Meryl Streep clapping GIF yet again]