Mary Chapin Carpenter, Gordon Lightfoot, Tonic & Vertical Horizon and More Coming to SteelStacks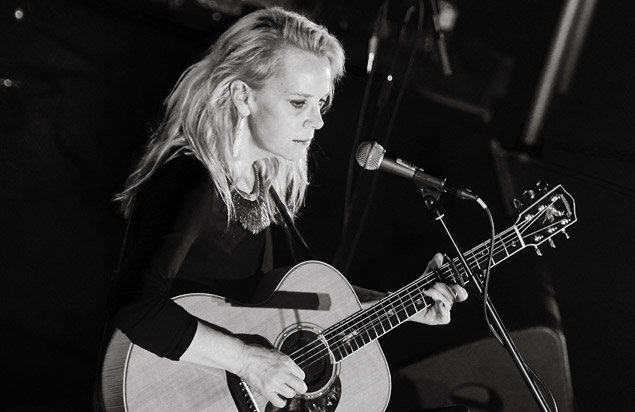 Photo: Jonathan Stewart
BETHLEHEM, PA—Five-time GRAMMY Award winner Mary Chapin Carpenter and legendary folk musician Gordon Lightfoot are among the four new performances announced for the ArtsQuest Center at SteelStacks. Tickets for the performances go on sale April 10, noon, to ArtsQuest Members and April 13, 10 a.m., to the public at www.steelstacks.org and 610-332-3378.
On June 20, 8 p.m., legendary folk singer-songwriter Gordon Lightfoot takes the stage at the Musikfest Café presented by Yuengling. Recording more than 20 albums over 50 years, Lightfoot helped define the folk-pop sound of the 1960s and 1970s with hits like "Early Morning Rain," "If You Could Read My Mind," "Carefree Highway," "Beautiful," "Song for a Winter's Night," "Rainy Day People" and more. In 2012, he was inducted into the Songwriters Hall Of Fame joining the ranks of John Fogerty, Bob Dylan, Isaac Hayes, Carole King, Paul Simon and Leonard Cohen. This year, Lightfoot will tour cross-country for "Gordon Lightfoot in Concert: The Legend Lives On". The shows will feature his well-known hits as well as some deep album cuts for his die-hard fanatics, all of which are woven together with some of Lightfoot's own behind the scenes stories and personal anecdotes about his musical career. Tickets for his show are $49-$59.
Mega-rockers Tonic and Vertical Horizon come together for an unforgettable night of nostalgia July 26, 8 p.m., in the Musikfest Café. Best known for singles like "If You Could Only See," "You Wanted More" and "Open up Your Eyes," Tonic was a musical powerhouse, merging the raw honesty of rock to unabashed melody. Now the band is back in the studio after a two-year break, working on a follow up to its last album, Grammy-nominated Head On Straight. In 1999, Vertical Horizon released its breakout album, Everything You Want, which went on to sell more than two million copies. The second single off the CD, the title track "Everything You Want," captured the number one spot on Billboard's Hot 100 and Adult Top 40 charts, and became Billboard's Most Played Single of 2000. Having carved out a page in the annals of music history, the band garnered further radio attention with "You're a God" and "Best I Ever Had (Grey Sky Morning)." Tickets for the show are $25-$35.
On July 27, 8 p.m., the Musikfest Café welcomes singer-songwriter Mary Chapin Carpenter. Over the course of her acclaimed career, Carpenter has sold more than 14 million records. With hits like "Passionate Kisses" and "He Thinks He'll Keep Her," she has won five GRAMMY Awards, two CMA awards, two Academy of Country Music awards and is one of only 15 female members of the Nashville Songwriters Hall of Fame. Her latest album, Sometimes Just The Sky, was released in March. Tickets for her show are $47-$57.
The complete list of newly announced shows is:
Gordon Lightfoot
Musikfest Café presented by Yuengling
June 20, 8 p.m.
Tickets: $49-$59
Banditos
Fowler Blast Furnace Room
July 12, 8 p.m.
Tickets: $10 advance, $12 day of show
Tonic and Vertical Horizon
Musikfest Café presented by Yuengling
July 26, 8 p.m.
Tickets: $25-$35
Mary Chapin Carpenter
Musikfest Café presented by Yuengling
July 27, 8 p.m.
Tickets: $47-$57
The ArtsQuest Center at SteelStacks is located at 101 Founders Way, Bethlehem. For more information, CLICK HERE.