Comedian Kyle Kinane, The Wood Brothers & Jam Band Tribute Featuring Michael Falzarano of Hot Tuna Coming to SteelStacks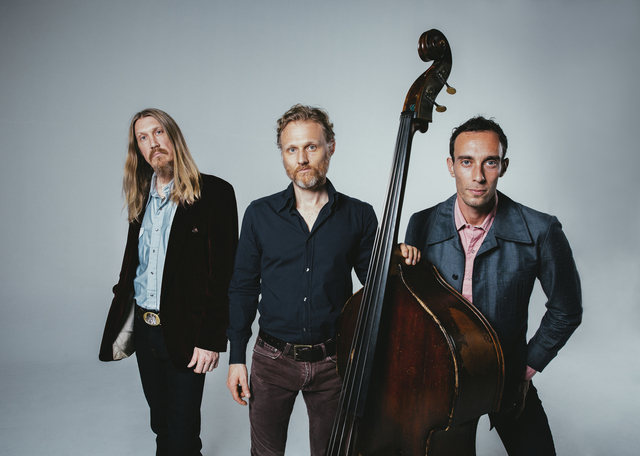 Chart-topping Nashville-based folk band The Wood Brothers, stand-up comedian Kyle Kinane and jam band tribute The Englishtown Project, featuring Michael Falzarano of Hot Tuna, are among the four new performances announced for the ArtsQuest Center at SteelStacks. Tickets for the performances go on sale Wed., June 13, 10 a.m., to ArtsQuest Members and Fri., June 15, 10 a.m., to the public at www.steelstacks.org and 610-332-3378.
On Aug. 21, 8 p.m., actor and comedian Kyle Kinane takes the stage at the Musikfest Café presented by Yuengling. Best known for his stand-up, Kinane is an internationally touring comedian who has appeared on "Drunk History", "@Midnight," "The Tonight Show with Jimmy Fallon," "Conan," "Workaholics," "This Is Not Happening," "Not Safe with Nikki Glaser" and "Comedy Bang! Bang!" He is featured in season two of Netflix's "The Standups" released in February 2018 and is a recurring character on Netflix's "Love" created by Judd Apatow. He has released three Comedy Central specials: "Kyle Kinane: Loose in Chicago," "I Liked His Old Stuff Better" and "Whiskey Icarus". Tickets for his show are $23-$26 in advance and $26-$29 day of show.
Honoring the legacy of the Grateful Dead, the Fowler Blast Furnace Room welcomes The Englishtown Project, Sept. 27, 8:30 p.m. On Sept. 3, 1977, the Grateful Dead headlined one of the largest and most musically successful concerts of all time at Raceway Park in Englishtown, N.J. In addition to the Dead, which had just completed its legendary 1977 tour featuring a batch of new material from Terrapin Station, the show also included New Riders of the Purple Sage and the good-time, southern rock Marshall Tucker Band. Featuring Rob Wolfson of Dead Sage, Michael Falzarano of Hot Tuna, Klyph Black of Zen Tricksters, Scott Guberman of Phil and Friends, Dave Diamond of Assembly of Dust, Tom Circosta of Dead On Live and Joanne Lediger of Stir Fried, this tribute extravaganza features healthy "doses" of selections from each band's sets that day with a relaxed, festival style program. Tickets for this show are $15 advance and $20 day of show.
On Nov. 4, 7 p.m., the Musikfest Café presents The Wood Brothers. A roots music trio featuring brothers Chris (upright bass, vocals) and Oliver Wood (guitars, vocals) along with multi-instrumentalist Jano Rix, The Wood Brothers bring a distinctive flair to their union of folk, blues, gospel and jazz. Growing up in Boulder, Colo., Chris and Oliver were exposed to American roots music at a young age by their parents and eventually started their own individual music careers, with Chris finding widespread success in the '90s as one-third of the adventurous jazz trio Medeski, Martin, & Wood and Oliver fronting the Atlanta-based funky roots combo King Johnson. In the mid-2000s, the two brothers' musical paths intertwined, and they formed the Wood Brothers with Rix, signing to Blue Note Records and releasing their 2006 debut, Ways Not to Lose. In 2015, the album Paradise hit number one on Billboard's Heatseekers chart, followed by the group's sixth recording, One Drop of Truth, released earlier this year. Tickets for the show are $30-$35.
The complete list of newly announced shows is:
Kyle Kinane
Aug. 21, 8 p.m.
Musikfest Café presented by Yuengling
Tickets: $23-$26 advance, $26-$29 day of show
The Englishtown Project
Sept. 27, 8:30 p.m.
Fowler Blast Furnace Room
Tickets: $15 advance, $20 day of show
The Music of Simon and Garfunkel Performed by Swearingen and Kelli
presented with Turning Point of Lehigh Valley
Oct. 17, 7:30 p.m.
Musikfest Café presented by Yuengling
Tickets: $25
The Wood Brothers
Nov. 4, 7 p.m.
Musikfest Café presented by Yuengling
Tickets: $30-$35
The ArtsQuest Center at SteelStacks is located at 101 Founders Way, Bethlehem. For more information on these and all ArtsQuest Center shows, visit www.steelstacks.org.