STEELSTACKS HOSTING NEW STEAM FESTIVAL IN 2019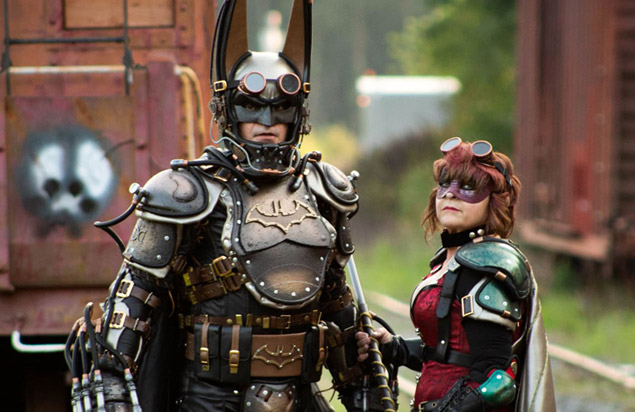 Free Steampunk-themed Event Aug. 31 to Feature Family Educational Attractions, Cosplay, Video Games & More
BETHLEHEM, PA–STEAM-based education meets Steampunk when SteelStacks hosts the inaugural PA S.T.E.A.M. Fest Aug. 31, 2019. The free festival, presented by WeDiscoverGeeks and IMAGINE Event Concepts, will feature science, engineering and technology-based attractions; maker programs and activities; video game workshops; cosplay and more, all based around a Steampunk theme.
With its focus on Science, Technology, Engineering, Art and Makers (STEAM), the PA S.T.E.A.M. Fest will include a variety of hands-on workshops, seminars, educational panels and demonstrations for educators, businesses and entrepreneurs. While many Steampunk events focus on older ages, the PA S.T.E.A.M. Fest will have a strong family component, with children's workshops, art activities and more included in the mix.
"I've been in the STEAM education and video game industry for more than 20 years and I have always found STEM (Science, Technology, Engineering, Math) to be intimidating," says WeDiscoverGeeks Owner and PA S.T.E.A.M. Fest Founding Partner Kat Mahoney, "But then we moved from STEM to STEAM education to include Art, which simply made sense because Art is a valuable part of STEM careers. I wanted our version of STEAM to focus more on Art & Makers because Math is already in all those fields, so there was no need to include Math and exclude those who many not be comfortable with it."
Among the confirmed PA S.T.E.A.M. Fest attractions so far are the New Jersey-based Jason Hettel and Rose Liquori, who play a Steampunked Batman & Robin duo that are a hit at Steampunk events across the country; live music by Metamorph; dance performances by the Coveilance Dance Project; DJ music by General T. Osnofla; STEAM & 3D Printing discussions by Scott Shaw; and presentations by Game Design & Development of Wilmington University.
The festival will also include mystery theater actors, magicians, video game lessons, artists, authors, maker workshops and a cosplay contest. While PA S.T.E.A.M. Fest will be free to attend, some of the events such as the speakers' panel and cosplay area will require a free ticket to enter.
Individuals or groups looking to exhibit, speak, perform or sponsor PA S.T.E.A.M. Fest should contact Mahoney at kat@wediscovergeeks.com. The event lineup will be announced in early 2019. For more information, visit www.pasteamfest.com/ or like PA S.T.E.A.M. Fest on Facebook.