Top Songs of 2018:
ArtsQuest Staff Picks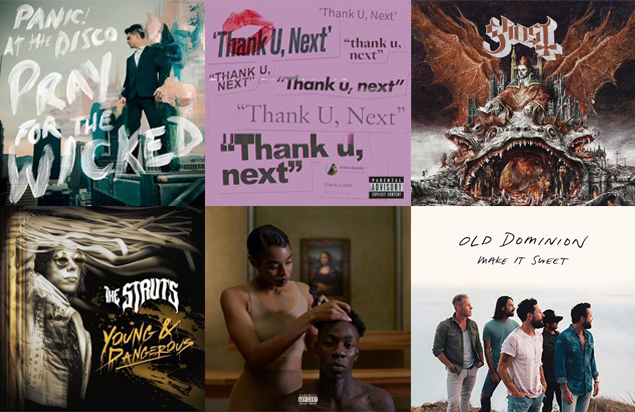 None of the ArtsQuest staff would work here if they didn't live for music and the arts. To share our passion, we put together a list of top song choices from 2018. We hope you'll enjoy our eclectic mix of musical tastes and discover some great new tunes!
EDITOR'S NOTE: Since he's in charge of booking our major acts throughout the year, we let Patrick pick his Top 5 and gave him top billing. The rest of our staff picked their favorite song and they're listed in order of when the pick was submitted (slackers are at the bottom).
CLICK HERE FOR OUR SPOTIFY PLAYLIST
Patrick Brogan – Chief Programming Officer & Manager of the ArtsQuest Center
I'm just going to say my truth right up front: 2018 wasn't a great year for new music for me. As someone who consumes a lot of it, looking back on my spotify year confirmed: I wasn't relistening to a lot of this year's releases. The year opened with a disappointing Justin Timberlake album (which pains me to say as a fan of his pop vibes) and while I found a rare-by-my-tastes favorite in modern rap thanks to my son who turned me onto Lucis Dreams by Juice WRLD, I wasn't as wild about the Drake/Gambino/Post Malone albums this year as the critics were and certainly didn't find the same level of brilliance in Cardi B's music that the media and GRAMMY voters have (though I very much respect her ability to stay in the center of the spotlight and collaborate with serious players). But I was a fan of these 5 and a handful of others this year:
5. The Score – "Glory"
If you're looking for a lesser known Imagine Dragons-sounding group, The Score is a great find on their way up. A few years back I was hooked on their "Oh My Love" and this year in the gym I was listening to "Glory" quite a bit.

4. Panic! At the Disco – "High Hopes"
This is a group whose last two albums have delivered some major hits and High Hopes tops my list off their November release for its triumphant melody.

3. The Carters – "APESHIT"
The Carters finally made an album together and while I like a number of songs ("NICE," "FRIENDS"), "APESHIT" is my favorite for the jabs that Jay Z takes at the GRAMMYs snub of any awards after his highest amount of nominations.

2. Ariana Grande – "thank you, next"
I loved this song by the tenth second the first time I heard it and likely have listened to it more times than any other 2018 single in the short month or so it has been out. In a year of women delivering big across the industry, Ariana's positive self-first message amidst a wild 18 months of events in her life is my pick as the best amongst peers. And this video? Brilliant top to bottom.

1. The Struts ft. Kesha – "Body Talks"
I've been a fan of everything these guys do since the first time I saw him on stage in 2016, but their 2018 album tops my thoughts on this year's releases. And then they take the fun and danceable "Body Talks" and collab with Kesha!? What more can I ask for? It's an instant favorite.

Ben Youngerman – Marketing Manager
Ghost – "Rats"
Ghost's hard-rocking plague is spreading. The lead single from the Swedish band's fourth full-length album Prequelle features "new" frontman Cardinal Copia (it's the same singer, with a new character at the helm) and the Nameless Ghouls welcoming the return of the Black Death. Combining award-winning musicality (this song & album nominated for GRAMMY Awards this year) with unique theatrics and storytelling, Ghost's small cult following has grown into festival headlining gigs and their first arena shows. "Rats" is the anthem that ushered them into a new era. Hail Ghost! \m/ (*>*) \m/
Lisa Harms – Director of Education & Outreach
Cardi B ft. SZA – "I Do"
Whether you're having your best day or your worst day, this song makes you feel triumphant and empowered.
Cory Stevens – Volunteer & Internship Coordinator
Chvrches – "Graffiti"
While there's no shortage of Certified Bangers™ on Chvrches' 2018 album Love Is Dead, my mind would routinely go back to the first song: "Graffiti." Lauren Mayberry's incredible voice leads us through a poppy rollercoaster of nostalgia, taking us back to a time when everything felt important and eternal. While the subject matter isn't groundbreaking this track gripped me right when I was in throes of my own self-reflective journey, wondering if I was going to leave a lasting impression on anything or anyone after all. It became my anthem for 2018 and the soundtrack to my older memories as well, despite it being a new release.
Ryan Hill – Programming Director
Snail Mail – "Pristine"
Beautifully and simply produced, Pristine takes me back to discovering Sonic Youth and Juliana Hatfield in my early teens. It also reminds me what my early teens felt like, but only the cool parts.
Alexis Grant – Graphic Design Assistant
Nathaniel Rateliff & the Night Sweats – "A Little Honey"
It's an upbeat, sweet sounding song that never fails to put me in a good mood. It's all about love and the video gives the message that love has no limits. Their music is soulful, meaningful and I enjoy the fun and happiness in the video. I'd LOVE to see them live one day. I love love and this band.
Emily Cummins – Public Relations Coordinator
Ariana Grande – "thank u, next"
Listen, I should probably pick a song that came out earlier this year that I still really dig (shout out to Soccer Mommy's "Cool"), but in reality I've fallen hard for "thank u, next." Not only is it the best breakup song since "You Oughta Know," but instead of being venomous and vindictive, this is a song about living your life, making mistakes and moving on. Like Kelli says on "Insecure," that's growth. We all know that "one taught me love, one taught me patience, one taught me pain" was meme'd as soon as it came out, but there's some real inspiration to be drawn from lines like "I've loved and I've lost, but that's not what I see. 'Cause look what I've found, ain't no need for searching." Pair all of this with her signature delicate pop sound and a spectacular music video that features BDE, Kris Jenner and parodies of some of my favorite movies and you get a smash.
Alicia Rohrbach – Senior Marketing & Sponsorship Coordinator
Old Dominion – "Make It Sweet"
For someone who has a new favorite song literally every week – trying to pick a top song of 2018 is a tough order. To no one's surprise I picked my favorite band – Old Dominion. This song snuck in toward the end of 2018, the first time I heard the song was live at a show in late August and the single was released in October. It's fun, upbeat, catchy and has a positive message – what more could you want? This song will certainly be getting me through the gloomy days of winter as I look forward to the release of the bands third album.
Helen Smith – Talent Buyer
Thom Yorke – "Suspirium"
Anything Thom Yorke mesmerizes me. So when I learned that he'd be scoring the new Suspiria film I was excited! The title track from the film, "Suspirium" is a piano waltz with the most delicate sounding flute dancing in and out of the melody. It's hauntingly beautiful.
Coryna Barberis – Volunteer Programs Assistant
AJR – "Burn the House Down"
The talented group of 3 brothers first came on my radar early in 2018 with "Sober Up" featuring one of my faves Weezer's Rivers Cuomo but this song took things to another level. I went from really liking the band to becoming a fan! This was the song that made me roll the windows down and turn my volume up during the summer heat even though they were trying to "keep it cool".
Matt Gotzon – Partnership Activation Specialist
Meek Mill ft. Drake – "Going Bad"
Just in time to be included in 2018 Meek Mill drops a new album titled CHAMPIONSHIPS. The cover art is a head shot of Meek with white and green confetti dropping around him (shouts to the Birds). Many of the songs discuss the topic of systematic oppression and the issues he's dealt with since his incarceration and how his probation has hindered him. I suggest looking at the legal problems he has had to work through to have a better appreciation for the album. Philadelphia has had one heck of a year, starting with a Super Bowl win, making this the perfect way to bookmark a championship 2018. Meek and Drake collaborating on another track just feels right and that's why I'm featuring their song "Going Bad". I know it's the obvious choice, but it puts a smile on my face and it just slaps.
Amber Galdamez – Communications Coordinator
Benny Blanco, Halsey & Khalid – "Eastside"
When I first heard this collaboration I did what I always do when I love a song at first listen—I put it on repeat for about 2 weeks straight (much to the dismay of all who spend time with me). Normally after a heavy session of obnoxious over-playing, I move on. But not with Eastside. I still love it as much as I did the first time I heard it! Lyrically it's like a modern take on Tracy Chapman's "Fast Car" and musically it's the perfect blend of synth, pop and R&B—genres that have coincidentally been mastered by Blanco, Halsey and Khalid in their solo projects.
Kimberly Koehler – Partnership Activation Specialist
Panic! At the Disco – "Hey Look Ma, I Made It"
Pray For the Wicked came out earlier this year and I haven't been able to stop listening to the album especially "Hey Look Ma I Made It!"! The track begins with a somber tone before bursting into a celebratory chorus with an infectious beat. The entire song is very tongue-in-cheek reflection of the burdens of success and the struggles to get there all while being able to stay true to who you are. After celebrating my one year work anniversary with ArtsQuest, I can truly say I have finally made it and I couldn't be happier!
Juliann Masenheimer – Lead Creative
Weezer – "Africa"
This year's surprise Weezer release cover of Toto's song Africa not only is it just a good song, but because in 2018 the social media story that brought it to life. I have been a Weezer fan since Buddy Holly was actually a video on MTV. So I find it fascinating that what started with a social media request from a 15-year-old Cleveland Weezer fan named Mary Clem, who heard "Africa" on the Netflix hit show Stranger Things and began a Twitter campaign under the handle @weezerafrica, urging her favorite band to cover the 1981 Toto tune. AND THEY DID!!!! It's a fan girls dream for a band to acknowledge them but then to actually fill the request is awesome! Front man Rivers Cuomo, steered the direction of the song to a triumphant bursting of music history meets modern day 2018.
Alexa Gerstenberg – Box Office Assistant
Dan + Shay – "Tequila"
Dan + Shay are my absolute, new favorite country artists to listen to. Out of all of their hits like "Speechless" and "Keeping Score", "Tequila" definitely takes my pick for number one. Vocally and lyrically, this song stands out and is one that you'll want to replay over and over.
Linda Colonna – Accounts Payable Specialist
Lauren Daigle – "Look Up Child"
Peaking at #3 on the Billboard 200 charts, this album has not gotten old for me and each song repeatedly stirs up some deep feels. Not to mention her voice is phenomenal! I'm going to pick the first song on the album "Still Rolling Stones", though I hope whoever reads this takes the time to listen through the album in its entirety. It's truly beautiful.
Cindy Karchner – Vice President of Human Resources
First Aid Kit – "Fireworks"
I first heard First Aid Kit, 2 sisters from Sweden, on a British show called Later…with Jools Holland performing "My Sliver Lining" from 2014. I loved their harmonies, their style, their voices and their look. And then I saw them again this year perform "Fireworks" from their new album Ruins on The Late Show with Stephen Colbert in September. They blew me away…again! I just love their sound and they also have some funky, quirky and creative videos too.
Jason Merola – Manager of Experiential Programming
Lil Wayne ft. Kendrick Lamar – "Big Smoke"
The long-awaited album that was delayed for more then 4 years and took divorcing from his once looked at father figure and mentor, Birdman, Tha Carter V was finally release in 2018. It was put out there to remind everyone that Lil Wayne never went anywhere, he is still one of the best rappers in the world. While it is tough to pick just one song off this album, "Mona Lisa" ft. Kendrick Lamar told a story between two of the best rappers alive that was truly captivating and had you hanging on to every verse.
Michelle Veresink Richmond – Membership Manager
Matt Nathanson – "Used to Be"
This song is off Matt Nathanson's album Sings His Sad Heart that came out this year. I love it because of its chill and relaxed sound paired with an absolute reminiscent quality. I like how he is looking back on a snapshot in time with past relationships and friendships. That line "a Ph.D. in the way it used to be" stays stuck in my head for days!
Anne Sturm – Sr. Talent Buyer and Executive Director of Levitt SteelStacks
Tash Sultana – "Big Smoke"
Choosing a favorite song of the year was nearly impossible for me, so I tried to help myself choose by thinking of a particular artist I wanted to highlight first. "Big Smoke" by Tash Sultana is on her 2018 album Flow State. Tash Sultana's music is filled with melodic flavor while also mellow, pleasantly scattered, and layered with intricacy. I am looking forward to seeing more from Tash Sultana in coming years.
Alyssa Ascher – Visual Arts Customer Assistant
Son Lux – "Dream State"
Son Lux has produced some fantastic music in 2018. "Dream State" is one of my favorite tracks released this year. The song draws on the innocence of being young and the harshness of growing older. The final lyric "How do we feel in that photograph and how do we feel it again?" sums up the emotion this song brings about well.
Kassie Hilgert – President & CEO
Death Cab for Cutie – "Gold Rush"
The song grabbed me immediately. It reminds me of that often unremarkable moment when you one day realize that you have grown up. There is no fanfare or ceremony of that instant, just a realization that what was familiar is no longer. Listening to this song for some reason makes me feel comfortable with the cycles of life.
BONUS PLAYLIST!
Listen to all of these 2018 tunes in one awesome playlist…