Live Music, Jameson Samplings & Irish-Inspired Menu Highlight St. Patrick's Day Weekend at SteelStacks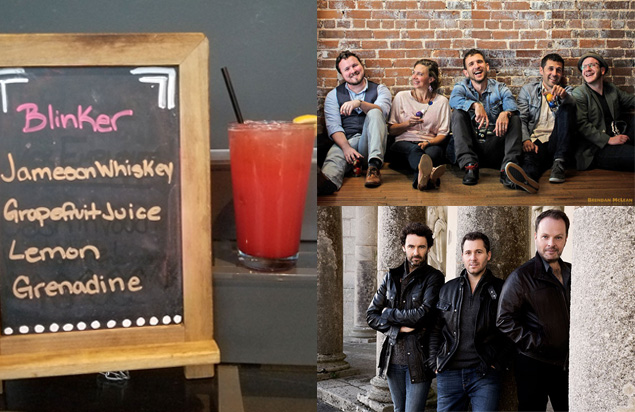 The Musikfest Café presented by Yuengling welcomes Scythian March 15 & The Celtic Tenors March 16
BETHLEHEM, PA—From top-notch Celtic music to great Irish food and festive drink specials, SteelStacks is the place to be for a shamrockin' St. Patrick's Day celebration. Concerts, presented by Jameson Caskmates Irish Whiskey and Jameson Black Barrel, include high-energy band Scythian March 15, 7:30 p.m., and world-class Irish trio The Celtic Tenors March 16, 7:30 p.m., in the Musikfest Café presented by Yuengling. Both shows are highlighted by a delicious Irish-inspired menu and complimentary Jameson samplings. Tickets for the performances are on sale now at www.steelstacks.org and 610-332-3378.
Named after Ukrainian nomads, Scythian plays roots music from Celtic, Eastern European and Appalachian traditions with thunderous energy, technical prowess and storytelling songwriting, beckoning crowds into a barn-dance, rock concert experience. Opening for Scythian is Shane Hennessy, a virtuoso fingerstyle guitarist and songwriter from Ireland. Tickets for the show are $20-$28.
The only Irish tenor group with a truly global audience, The Celtic Tenors make every performance a night to remember. Whether playing a neighborhood cathedral or major concert halls in international cities like New York, Amsterdam or Shanghai, audiences are assured of a professional, sparkling and most of all, good-humored performance. Tickets for the show are $30-$40.
Before each show, from 6 p.m-7:30 p.m., concertgoers will be invited to sample the Cask Series and Black Barrel Series by Jameson Irish Whiskey including the richly charred Jameson Black Barrel with notes of vanilla and butterscotch; Jameson Caskmates IPA Edition with a grapefruit nose and barley finish; and Jameson Caskmates Stout Edition, complemented by the subtle touch of hops and cocoa beans.
Food specials available for purchase include:
• Dill and onion potato pancakes
• Corned beef and cabbage
• Flounder fish and chips with malt vinegar remoulade
• Corned beef eggrolls
• Smoked salmon dip and house-made soda bread
• Jameson Caskmates Stout beef stew
• Bangers and mash with mushy peas
• Smoked salmon flatbread with capers, olive oil, dill and pickled onions
• Apple tart with Jameson caramel
• Chocolate chip bread pudding with vanilla ice cream
• Irish coffee blondie sundae
Drink specials include:
• Whiskey Buck" featuring Jameson Black Barrel with lime juice, ginger beer and bitter
• The "Brewdriver" with Jameson Caskmates IPA whiskey, orange juice, Dogfish Dogfish Head 60 Minute IPA and an orange slice
• "IPA Shandy" with Jameson Caskmates IPA whiskey, lemonade, club soda and lemon juice
• "Dublin Duo" with Jameson Caskmates Stout whiskey, Kahlua and Yuengling Porter
• The "Blinker" featuring Jameson Irish Whiskey with grapefruit juice, lemon juice and grenadine
For more information, visit www.steelstacks.org