Mascot Dash, Easter Brunch and Performance by We Kids Rock Highlight Easter Weekend Activities at SteelStacks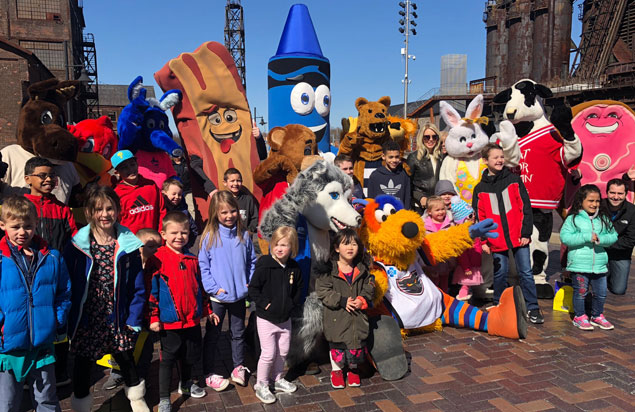 BETHLEHEM, PA—Hop on down to SteelStacks this Easter weekend to enjoy a kid-friendly mascot dash, breakfast and entertainment by We Kids Rock on April 20 and ArtsQuest's annual Easter Brunch on April 21.
Join local favorites like MeLVin, Chris P. Bacon & Hambone, Tip the Crayon and more April 20, 10:30 a.m., at the SteelStacks Mascot Dash & Dine, where famous mascots from the Lehigh Valley and beyond are on hand to participate in a 50-yard dash with children of all ages. The dash is followed by a meet and greet breakfast in the ArtsQuest Center's Musikfest Café at SteelStacks, with a performance by kids' group We Kids Rock. Tickets, which are $15 for children ages 13 and under and $20 for adults, are on sale at www.steelstacks.org and 610-332-3378.
The following morning, families can continue the holiday celebration at SteelStacks' annual Easter Brunch April 21, 10 a.m.-noon or 12:45-2:45 p.m. in the Musikfest Café presented by Yuengling. Among the many delicious options from which to choose are Belgian waffles with blueberry compote and maple syrup; frittata with mushroom, bell pepper and red onion; smoked salmon with capers, hard boiled eggs, tomato, red onion and cream cheese, as well as an assortment of other breakfast favorites including fresh fruit, berries and pastries, bacon, sausage, home fries, scrambled eggs and more.
Easter Brunch reservations must be made in advance by calling 610-332-3378. Prices are $34.95 for ages 13 and older, $13.95 for ages 6-12, and free for children ages 5 and under. Entertainment during brunch will be provided by the jazzy Dan Wilkins Duo.
For more information, please visit www.steelstacks.org or follow us on Facebook at www.facebook.com/steelstacks.