Seven Sirens Focus of 1st Local Brewery Dinner Showcase Series Event at SteelStacks June 1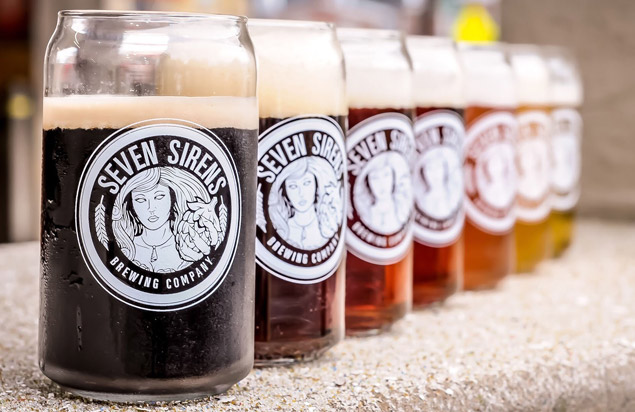 New culinary experience will feature specialty beverages from area breweries and delicious dinner pairings
BETHLEHEM, PA—Enjoy an evening of savory and sweet dishes paired with a wide range of locally brewed beers from an IPA to a Saison at the brand-new Local Brewery Dinner Showcase Series coming to SteelStacks. The first event takes place June 1, 6:30 p.m., in the Fowler Blast Furnace Room of the ArtsQuest Center at SteelStacks, 101 Founders Way, Bethlehem, and features Bethlehem brewery Seven Sirens Brewing Company—a local favorite known for its seven unique flagship beers and more.
Tickets for the Seven Sirens event are $46 for ArtsQuest Members and $50 for the public. They go on sale at noon today and can be purchased by CLICKING HERE or by calling 610-332-3378.
The Seven Sirens dinner is a four-course meal that includes one appetizer, two main dishes and a dessert, each with a complementary beer pairing. A representative from Seven Sirens Brewing Company and ArtsQuest's in-house chef will guide guests through each delectable course and pairing in detail. The menu includes:
Thai Shrimp Salad appetizer paired with white beer brewed with orange peel and coriander fermented on Mangosteens.
Hamachi Crudo with thinly sliced Hamachi, micro mizuna and celery, shaved serrano chiles, a lacto-fermented sweet and sour habanero sauce and paired with West Coast IPA.
Massaman Braised Boneless Beef Short Rib with Okinawa yam spring roll, baby bok choy paired with Saison brewed with ginger, lemongrass and peppercorn.
Red Velvet Crème Brûlée paired with Russian Imperial Stout with hints of coffee.
The Local Brewery Showcase will be an ongoing feature at SteelStacks. Each unique dining experience will feature a specially crafted menu from ArtsQuest's food and beverage partner Levy, as well as the handcrafted beers of a local brewery. The next Local Brewery Showcase is scheduled for July 5 and will feature SouthSide Bethlehem brewery Bonn Place Brewing Company. Additional details on upcoming beer pairing dinners will be announced soon.