Marianas Trench, Melanie, Gary Hoey & More Coming to Musikfest Café at SteelStacks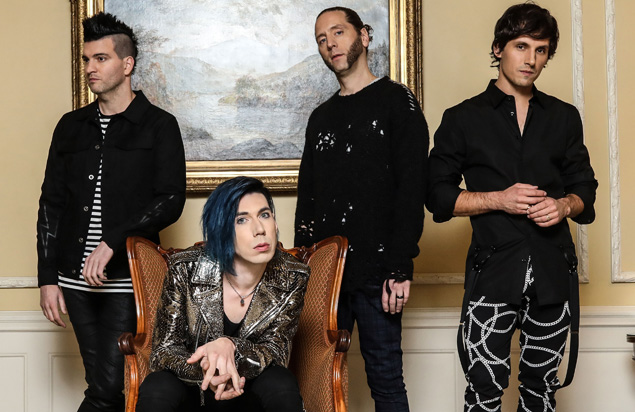 BETHLEHEM, PA—Multi-platinum selling band Marianas Trench, Woodstock veteran Melanie and rock and blues guitarist Gary Hoey are among the six new shows coming to the ArtsQuest Center's Musikfest Café presented by Yuengling, 101 Founders Way, Bethlehem. Tickets for most performances go on sale June 4, 10 a.m., to ArtsQuest Members and June 7, 10 a.m., to the public at www.steelstacks.org and 610-332-3378. Tickets for Marianas Trench go on sale May 29, 10 a.m., to ArtsQuest Members and May 31, 10 a.m., to the public.
Formed in Vancouver in 2001, progressive pop band Marianas Trench is known for hits like "Haven't Had Enough," "All to Myself," "One to Love" and "Fallout." On its Suspending Gravity Tour, the band is focusing on venues like the Musikfest Café that give fans an up-close-and personal live experience. The shows will feature the quartet's signature high-energy performance, while showcasing material from the group's new studio album, "Phantoms," as well as the hits from previous recordings. Marianas Trench's show at the Musikfest Café presented by Yuengling is set for Sept. 8 at 8 p.m.
On Aug. 24, 8 p.m., the Musikfest Café presented by Yuengling welcomes Gary Hoey. With a collection of 21 albums, it's no wonder Hoey is listed as one of the top 100 guitarists of all time. The world renowned rock guitarist's first break came in 1987 when Ozzy Osbourne liked Hoey's tape enough to fly him to Los Angeles for an audition and encouraged him to move to the West Coast.
In 1990 Hoey was signed to Reprise Records with a band called Heavy Bones. He followed that up in 1993 with the solo album Animal Instinct, which included a cover of Focus' "Hocus Pocus," which rocketed into Billboard's Top 5 Rock Tracks. Hoey went on to score the successful Endless Summer II soundtrack for New Line Cinema and in 1995 started a trilogy of "Ho!Ho!Hoey," a collection of instrumental Christmas classics that continues each year in his rockin' holiday shows.
One of the few solo female artists who performed at the Woodstock Music & Arts Festival in 1969, Melanie achieved international fame with her hit "Lay Down (Candles in the Rain)," which sold more than one million copies in 1970 and prompted Billboard, Melody Maker, Record World and Bravo to anoint her as female vocalist of the year. Her single "Brand New Key," an infectious romp about freedom and roller skates, then topped the charts in 1971. In 1989, Melanie also won an Emmy Award for writing the lyrics to "The First Time I Loved Forever," the theme song for the TV series Beauty and the Beast. Tickets for her Musikfest Café show, set for Oct. 3, 7:30 p.m., are $22-$27
The complete list of newly announced shows is:
Vertical Horizon
Aug. 23, 8 p.m.
Tickets: $18-$24
Gary Hoey
Aug. 24, 8 p.m.
Tickets: $25-$29
Marianas Trench (PUBLIC TICKETS ON SALE MAY 31, 10 A.M.)
Sept. 8, 8 p.m.
Tickets: $20-$25 in advance; $23-$28 day of show
Melanie
Oct. 3, 7:30 p.m.
Tickets: $22-$27
The Aardvarks & The Sofa Kings
Nov. 23, 7:30 p.m.
Tickets: $10-$25
Start Making Sense – Tribute to Talking Heads
Nov. 27, 7:30 p.m.
Tickets: $20-$30