ArtsQuest Announces Food Truck Lineup for TacoFest June 9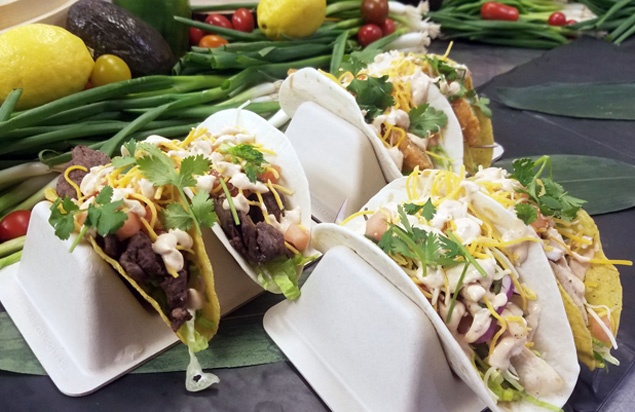 Tickets for event's VIP Sessions, featuring unlimited tacos, as well as margaritas from over a dozen vendors, are still available
BETHLEHEM, PA—Whether you're more of a classic person when it comes to your tacos or you like to experiment and try something out of your league, ArtsQuest's new TacoFest on June 9 puts one of America's favorite street foods in the spotlight this weekend. From classic favorites like steak and fish tacos by Take a Taco, to more adventurous items like Korean tacos, jalapeño coleslaw and pork belly nachos by Grumpy's BBQ Roadhouse, there are delicious options for every palate.
The complete list of just announced 2019 TacoFest participants is:
The Bayou- Bethlehem, PA
Bob-B-Q Sliders & Sides Truck- Lehigh Valley, PA
Calle Del Sabor- Philadelphia, PA
Clubhouse Grille- Bethlehem, PA
Cool Treats- Nazareth, PA
Fiesta Ole Mexican Restaurant- Emmaus, PA
Flying V- Bethlehem, PA
Food on the Hill
Fud Truck– Bethlehem, PA
Grumpy's Bar-B-Que Roadhouse- Allentown, PA
Happy Hour Dive Cart- Philadelphia, PA
Mr. Bills- Allentown, PA
Taco Shelly's- Glenshaw, PA
Take a Taco- Allentown, PA
Taqueria Comalli- Wyomissing, PA
Admission to TacoFest is free, but patrons must have one of the 'free admission' tickets made available by ArtsQuest in advance. Although all the free tickets were claimed as of last Saturday, patrons interested in attending the festival can still do so by purchasing tickets to one of the two TacoFest VIP Sessions from 12:30-2:30 p.m. or 3:30-5:30 p.m.
VIP access includes unlimited margaritas made by area restaurants, as well as unlimited steak, fish and vegan tacos; rice and beans; chips and salsa served up by the ArtsQuest Culinary Team at SteelStacks. Among the 10 restaurants taking part in the VIP Sessions are Urbano, Mixology Masters, Copperhead Grill and Torre. Purchasing access to a VIP Session also includes access to all of the food trucks at TacoFest. VIP tickets are $49.99 advance in advance and $59.99 day of the event; they can be purchased at steelstacks.org.
Patrons who do not have a 'free admission' ticket can also join the stand-by line at SteelStacks on the day of the event. This line will be located at the TacoFest Main Entrance on First Street adjacent to the Visitor Center.
ArtsQuest anticipates it will be able to allow a limited number of stand-by line patrons into the event, with individuals admitted on a first-come, first-serve basis as TacoFest patrons exit the festival. For more information on TacoFest, visit www.steelstacks.org.
TacoFest Hours:
Sun., June 9
VIP Sessions
12:30-2:30 p.m. or 3:30-5:30 p.m.
Regular Admission
1-7 p.m.