ArtsQuest Adds Screening of Iconic Grateful Dead Concert to Musikfest Preview Night Aug. 1 at SteelStacks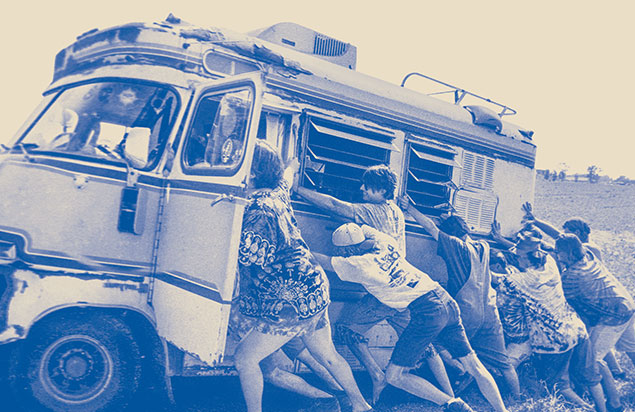 Tickets for the 9th Annual Grateful Dead Meet-Up at the Movies on sale today
BETHLEHEM, PA–Grateful Dead fans are uniting in our neighborhood and cities across the world to relive and celebrate one of the band's greatest performances. The 9th Annual Grateful Dead Meet-Up at the Movies hits Frank Banko Alehouse Cinemas at SteelStacks for one night only Aug. 1, 7 p.m., as part of Musikfest Preview Night and Grateful Dead founding member Jerry Garcia's birthday.
Tickets are available by clicking here or the ArtsQuest Center Box Office, 610-332-3378. Cost is $12 for regular tickets, $10 for students & seniors and $9.50 for ArtsQuest Members. Due to Musikfest Preview Night, ArtsQuest recommends tickets be purchased in advance. Patrons will be asked to show proof of purchase via printed ticket or on their phones in order to access the parking lots on First Street adjacent to the ArtsQuest Center.
As the first Meet-Up to go global, the 2019 event features the previously unreleased complete June 17, 1991 concert from Giants Stadium in New Jersey. Widely considered one of the greatest shows of the band's final decade of performing, the concert also sounds unlike any you've ever heard as it was one of only two recorded on 48-track.
Mixed by Jeffrey Norman in glorious surround sound with video from the multi-camera live edit, this will be the first time the Bruce Hornsby and Vince Welnick line-up has ever appeared on the big screen. As a special treat, this extraordinary screening will also feature a reveal of the Grateful Dead's 2019 boxed set, featuring the Dead's legacy manager, archivist and producer David Lemieux.
Opening with a shocking "Eyes Of The World," the Dead were firing on all cylinders from the opening notes of the show, mixing beloved classics like "Truckin'" and "Uncle John's Band" with rarities including "Saint Of Circumstance," "Might As Well," "New Speedway Boogie" and "China Doll." But the real standout was the recurrence of "Dark Star," which wove in and out of the setlist, making no less than six distinct appearances and teases during the show.
In addition to the Grateful Dead Meet-Up, rock fans can also come together Aug. 21, 7:30 p.m. at Frank Banko Alehouse Cinemas for RUSH: Cinema Strangiato 2019. Cost for the film is $12 for regular tickets, $10 for students & seniors and $9.50 for ArtsQuest Members. Featuring performances from R40 Live, exclusive interviews and unreleased backstage footage, audiences will get a special look into the band's 40th anniversary tour for one night only. Frank Banko Alehouse Cinemas are located in the ArtsQuest Center at SteelStacks, 101 Founders Way, Bethlehem. For more information, visit www.steelstacks.org.