Arrival of New Yuengling Hershey's Chocolate Porter Highlights Oktoberfest Brewers' Village Oct. 11-12 at SteelStacks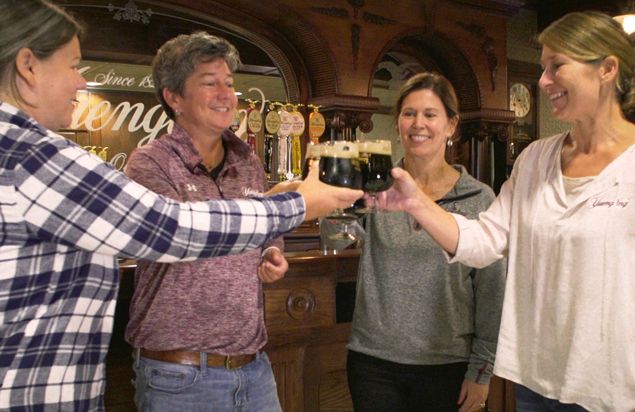 Tickets for the tasting sessions, which feature 19 different breweries, are on sale now!
BETHLEHEM, PA—Can't wait to try the new Yuengling Hershey's Chocolate Porter?
The Oktoberfest Brewers' Village presented by Wegmans on Oct. 11 and 12 is one of the first places in the state the public can taste the brand-new offering from D.G. Yuengling & Son, as well as other limited-edition and seasonal beers from Pennsylvania's award-winning craft breweries. The limited-edition porter is a fresh take on Yuengling's 200-year-old Dark Brewed Porter, and marks Hershey's first licensed beer partnership and Yuengling's first collaborative beer in its 190-year history.
Seven Sirens Brewing Company will also be sampling a limited-edition Altbier brewed just for Oktoberfest Brewers' Village. "Forged for Fest" is a light bodied golden ale with a smooth, clean taste and refreshing malt. The Altbier is an easy drinking, traditional German-style beer that can only be found at Oktoberfest Brewers' Village!
Tickets for the tasting sessions are $20 for ArtsQuest Members and $25 for the public in advance, or $25 for ArtsQuest Members and $30 for the public day of. They are available for purchase at www.steelstacks.org/oktoberfest and 610-332-3378.
Tasting sessions take place Friday, Oct. 11, 7 p.m., and Sat., Oct. 12, 1 and 4 p.m. inside the ArtsQuest Center's Musikfest Café presented by Yuengling. All attendees receive a sampling mug and can meet the breweries' staff and brewers, as well as enjoy delicious food, fun and games of Oktoberfest, now in its ninth year. Designated driver tickets are also available for $10.
Oktoberfest, presented by Lehigh Valley International Airport, is a free-admission festival that features German food, beer and live music, as well as attractions such as the popular dachshund races, stein hoisting competitions and more. Remaining festival dates are Oct. 11-13. Hour are Fridays, 6-10 p.m.; Saturdays, noon-10 p.m.; and Sundays, noon-6 p.m. Proceeds from the Brewers' Village go to support the free programming at the event. For more information, visit www.steelstacks.org/oktoberfest.