Lehigh Valley Vegan & ArtsQuest Partner for 3rd Vegan s'Mac Down Nov. 17 at SteelStacks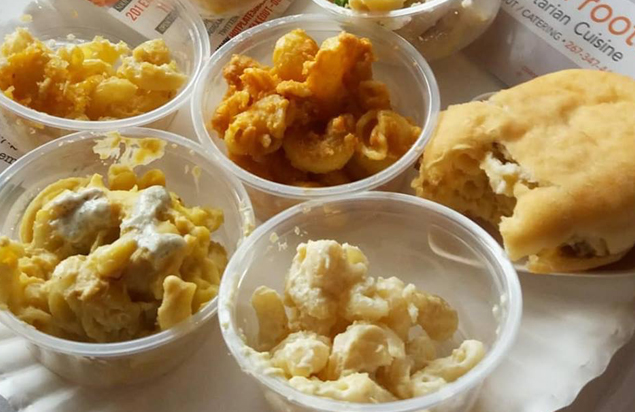 Save up to 25% on tickets Nov 1. for World Vegan Day
BETHLEHEM, PA—From classic dishes like Roasted's baked mac and cheese with bread crumb topping to unique takes on the dish like Levy's "baked chickpea mac n cheese," the 3rd Annual Lehigh Valley Vegan s'Mac Down Nov. 17 will feature a variety of vegan "mac and cheeze" recipes from restaurants throughout the region. The event, which features two tasting sessions, will take place in the ArtsQuest Center's Musikfest Café presented by Yuengling, 101 Founders Way, Bethlehem.
To recognize World Vegan Day, the Vegan s'Mac Down will offer an exclusive $5 promo code, LVVEGAN, good for 24 hours only on World Vegan Day, Nov. 1. To redeem, purchase tickets HERE.
Some of the popular restaurants and caterers coming to the Vegan s'Mac Down include:
● Danielle's Cafeteria, Bethlehem
● Levy Restaurants & the ArtsQuest Center Culinary Team, Bethlehem
● Roasted with Vegout, Bethlehem
● Santoro's Franks & Chili, Bethlehem
● The Clubhouse Grille, Bethlehem
● The Flying Egg, Bethlehem
● The Hummus House, Allentown
● The Vegan Butcher, Allentown
● Umami Gorilla, Wilkes-Barre
New this year, the Vegan s'Mac Down will offer vegan cocktails at the bar. The event will also include vegan vendors like Batter and Crumbs, a vegan cafe and bakery, as well as Warbler Garb, a vegan, eco-friendly clothing shop. Plus, the family-friendly area presented by More Than Music, LLC will offer pasta crafts, temporary tattoos, animal stickers and sensory bins to enjoy!
At the s'Mac Down attendees can taste all the delicious "mac and cheeze" presented by restaurants and caterers from throughout the region. After sampling each delectable dish, attendees will vote for their favorites. The s'Mac Down Champion will be awarded a custom-blown trophy from the ArtsQuest Glass Studio at the Banana Factory.
Vegan s'Mac Down Tickets and Times:
Session 1 VIP: 12-1 p.m.
Session 1 General Admission: 1-2:30 p.m.
Session 2 VIP: 3:30-4:30 p.m.
Session 2 General Admission: 4:30-6 p.m.
Tickets:
$20 – regular admission
$29 – VIP admission (includes retractable metal straw and early entrance for first chance to taste the macs and meet chefs)
www.steelstacks.org/event/9187/lehigh-valley-vegan-smac-down/
610-332-3378