Ring in the New Year with PEEPSFEST® & the Drop of 400-Pound PEEPS® Chick at SteelStacks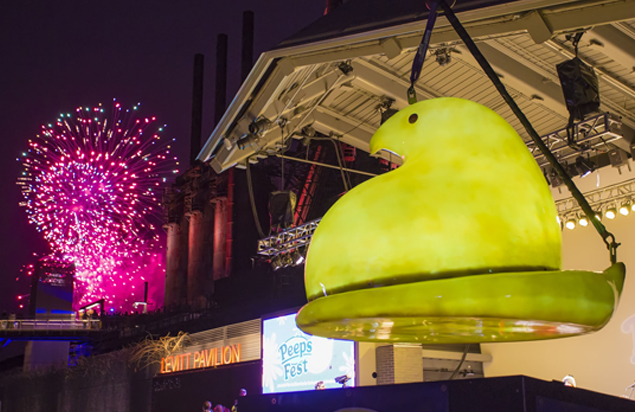 Just Born Quality Confections and ArtsQuest celebrate event's 11th anniversary Dec. 30-31 with two fireworks displays
BETHLEHEM, PA–Get ready for the nation's sweetest New Year's Eve celebration as Just Born Quality Confections and ArtsQuest drop a 400-pound PEEPS® Chick to ring in 2020 at PEEPSFEST® at SteelStacks Dec. 30-31.
The 11th anniversary of this PEEPS-tastic, two-day festival is highlighted on its first day, Dec. 30, by a firework display during the PEEPS® Chick Rising Ceremony at 5:15 p.m. The family fun also includes the Family Disco Lounge featuring live music by Jason Didner & the Jungle Gym Jam Dec. 30 and Rolie Polie Guacamole Dec. 31. The massive PEEPS® Chick, weighing in at 400 pounds and standing 4 feet and 9 inches tall, will then descend for the countdown to the New Year Dec. 31 at 5:15 p.m., followed by a stunning display of fireworks.
Dedicated to providing inclusive family fun for all, Just Born Quality Confections and ArtsQuest will also host a performance by "We Kids Rock" at 4:30 p.m. just before celebrating with the PEEPS® Chick Rising Ceremony Dec. 30 at 5:15 p.m. The rising ceremony encourages families to come out to enjoy the fireworks and festivities without the massive crowds of more traditional New Year's Eve celebrations.
"PEEPSFEST® is an event that we look forward to each year, as it allows the community to come together and celebrate in such a fun and unique way," says Meg Dowd, Corporate Affairs Manager at Just Born Quality Confections. "The PEEPS® Chick drop has become synonymous with New Year's Eve in our area, and each year we meet more and more fans who travel from all over the country to join in the fun!"
Along with the popular Chick Drop, this year's PEEPSFEST® has several other exciting events for the entire family:
• Learn the exciting side of chemical reactions as DaVinci Science Center presents Mixing Matters, through engaging experiments such as exploding soap monsters and have fun with liquid nitrogen, Dec. 30, at 11:30 a.m. & 1 p.m.
• Join ArtsQuest Center chefs in the Cooking with PEEPS® Demos at PBS39. These 20-minute presentations showcase creative ways to have fun in the kitchen with PEEPS®, Dec. 30-31 at noon, 2 and 4 p.m.
• Watch the Mascot Dash and participate in the Kids Fun Run Dec. 30, 12 p.m.
• Get crafty at the Creativity Table with the Banana Factory Arts Center Dec. 30-31
• Enjoy Live Animal Presentations by the Wildlands Conservancy Dec. 31, 2:30 & 4 p.m.
PEEPSFEST® is presented by Just Born Quality Confections and the nonprofit ArtsQuest. Festival hours are Dec. 30-31, 10 a.m.-5:30 p.m. Admission is free, although a few select activities, such as the Family Disco Lounge and PEEPSFEST® 5K, require an admission ticket or additional charge.
For more information on this annual celebration, please visit www.steelstacks.org/peepsfest.