Coco Lazaridis to Receive Lehigh Valley Music Awards' Community Youth Award March 1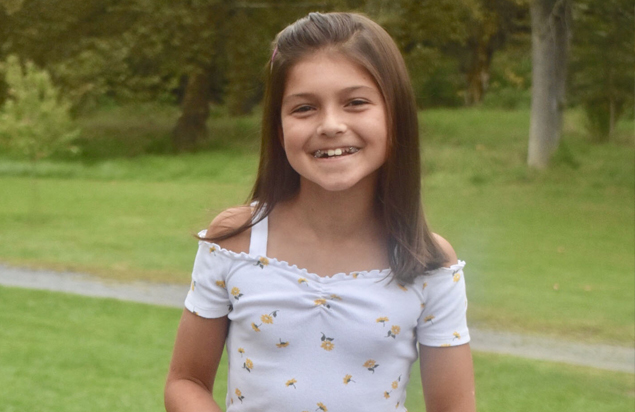 BETHLEHEM, PA—At five months old, chemotherapy was considered normal for Coco Lazaridis, who was diagnosed with an extremely rare childhood leukemia called juvenile myelomonocytic leukemia (JMML) when she was only three months old. (JMML affects only one in a million children each year).
Lazaridis, however, had support from her family and then the Coco Foundation, which was founded by her mother in 2010 to help those impacted by pediatric cancer. Now almost 10 years in remission, Lazaridis will be honored with the Community Youth Award for her and her family's role in supporting pediatric cancer awareness during the 21st annual Lehigh Valley Music Awards, March 1, 4 p.m., at the ArtsQuest Center at SteelStacks in Bethlehem.
Lazaridis began treatment in February 2010 and refused to let JMML get in her way. The toddler crawled around and played every day while waiting for a bone marrow donor. She spent almost five months in the hospital and dealt with complications after receiving the transplant. Knowing firsthand the hardships of hospital stays and treatments, Lazaridis and her family remained committed over the past decade to providing financial support through the Coco Foundation for families and their children going through similar situations.
The Coco Foundation works with The Children's Hospital of Philadelphia Cancer Center to help fight against pediatric cancer. Every year, board members serve dinner at the Ronald McDonald House in Philadelphia, where Lazaridis' parents stayed when Coco was in eating therapy classes. For the annual Coco Foundation Holiday Toy Drive, Lazaridis helps bring toys to children in hospitals. She also participates in other fundraising events throughout the Lehigh Valley like the Tee Time for Coco Golf Tournaments and raffles.
The 10-year-old continues to show her strength and resilience in gymnastics. Now known as one of the best gymnasts in the country, she works out every day at Parkettes Gymnastics in Allentown. She has dreams of going to the Olympics and has already been recruited by Penn State.
"We are so honored to be able to bring awareness to Coco and the Coco Foundation," says Gloria Domina, co-director of the Lehigh Valley Music Awards. "Coco's spirit lights up the room and makes you feel grateful that her journey has turned into something so positive."
Each year, the LVMAs honor one youth in the community with their Community Youth Award to help spread awareness of local children who are battling diseases such as autism, multiple sclerosis, muscular dystrophy and pediatric cancer. Come March, the organization hopes the community will attend the music awards to meet and support one very amazing young woman, Coco Lazaridis, who continues to look for ways to make a difference in the lives of others.
Tickets for LVMA21 are $20 and on sale now HERE and 610-332-3378. For more information on the awards, visit www.lehighvalleymusicawards.org.