STEELSTACKS OPENS FOR OUTDOOR DINING THIS WEEKEND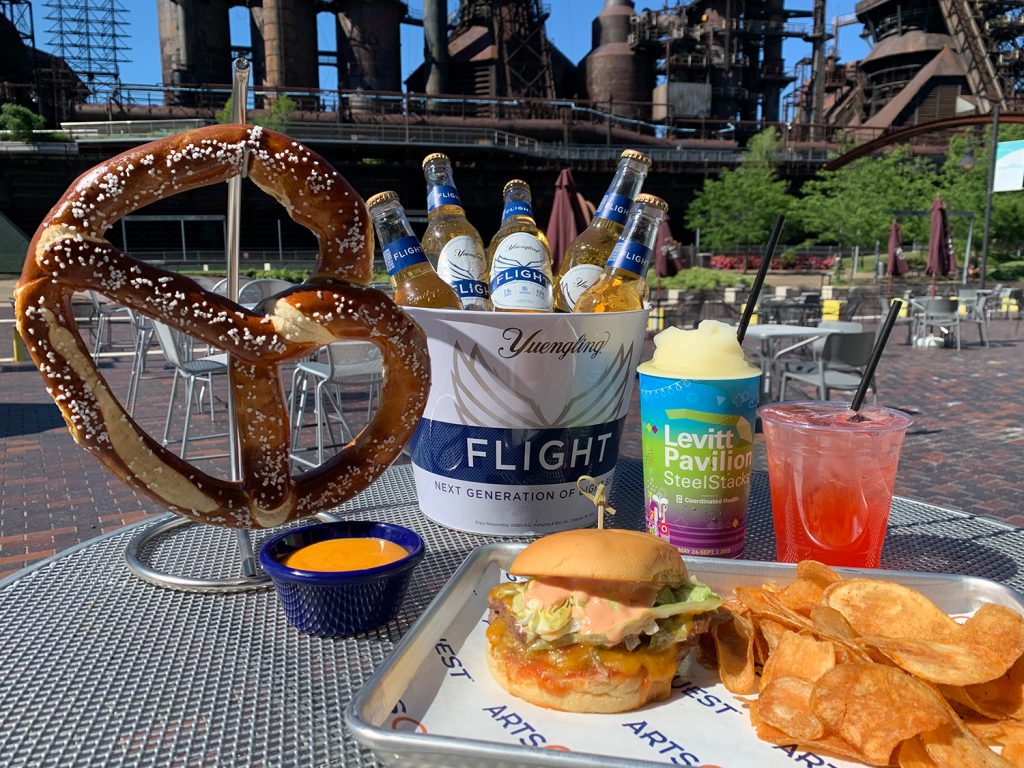 All-new Menu Being Offered on ArtsQuest Center Town Square
BETHLEHEM, PA–Starting this weekend, SteelStacks joins the list of outdoor dining options for Lehigh Valley residents when the ArtsQuest Center's new kitchen opens to the public. Outdoor dining will be available Fridays-Saturdays, 5-9 p.m., on the Air Products Town Square by reservation. Guests should check in at the outdoor host station at the ArtsQuest Center, 101 Founders Way, when they arrive and the host will seat them for dinner on the Town Square adjacent to the iconic Bethlehem Steel blast furnaces.
Among the menu items are appetizers like succulent smoked chicken wings; pierogis with caramelized onions, scallions and sour cream; and Bavarian pretzels with hot beer cheese dipping sauce, as well a summer Berry Spring Green Salad, featuring romaine and field greens lettuce blend, crumbled goat cheese, seasonal berries, candied walnuts and a raspberry vinaigrette.
A variety of gourmet flatbreads, sandwiches and hand-helds are available for all tastes. Not to be missed is the signature SteelStacks Smash Burger, featuring two beef patties, special Stacks Sauce, hickory smoked cheddar cheese, tomato jam and lettuce on a toasted potato roll, served with house-made kettle chips. Other offerings include Smoked Chicken Tinga Street Tacos, Cubanos, Yuengling Black & Tan Braised Bratwurst Sandwiches and more. Diverse beverage options, including Buckets of Yuengling FLIGHT and Yuengling beers on draft, as well as frozen cocktails are also available. SteelStacks is one of the first locations in the region to have on draft Yuengling FLIGHT, the next generation of light beer.
Reservations for outdoor dining at SteelStacks are free can be made at www.steelstacks.org/eat. Proceeds from outdoor dining benefit ArtsQuest, which has been closed since mid-March due to the COVID-19 related shutdowns.
Menu is subject to change; additional menu items will be added in the coming weeks. For more information, CLICK HERE.