Top Songs of 2020:
ArtsQuest Staff Picks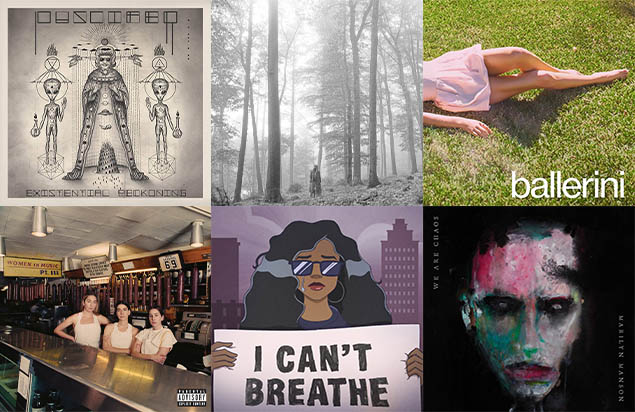 2020 sucked, but the year's new songs didn't!
To brighten your spirits and share our staff's passion for music, we put together a list of top song choices from the-year-that-shall-not-be-named. We hope you'll enjoy our eclectic mix of musical tastes and discover some great new tunes!
EDITOR'S NOTE: Since he's in charge of booking our major acts, we let Patrick pick his Top 5 and gave him top billing. The rest of our staff picked their favorite song and they're listed in order of when the pick was submitted (slackers are at the bottom).
CLICK HERE FOR OUR SPOTIFY PLAYLIST
Patrick Brogan – Chief Programming Officer & Manager of the ArtsQuest Center
In a very weird year for music inside a very difficult year for the entire world I still see a lot to be celebrated. My top five singles are below but I'd like to also give some honorable mentions. Big names had new music out and Lady Gaga's "Rain On Me" reigns supreme though The Weeknd's "Blinding Lights" and really the whole album is excellent. Ritt Momney breathed creative new life into what was already a phenomenal Corinne Bailey Rae song in his remix to "Put Your Records On." I thoroughly enjoy French singer/songwriter Christine and the Queens' "People, I've Been Sad" as well as new music earlier in the year from The 1975 ("If You're Too Shy" is my favorite but I give a loving mention to "Me & You Together Song"). Also a fan of much of Grimes new album including the art mix of "My Name Is Dark" and "Delete Forever."
Here are my top five singles of the year, this year I have not listed in any particular order:
Megan Thee Stallion ft. Beyonce – "Savage Remix"
My choice to win Best New Artist at the GRAMMY's this spring combines with the Queen who I love to hear rap in songs like this when she offers.
Hinds – "Good Bad Times"
A fun rhythm with some relationship-heavy lyrics, the women of this power pop group even float seamlessly between English & Spanish language beautifully throughout the chorus.
Soccer Mommy – "yellow is the color of her eyes"
My haunting singer-songwriter / rock entry from Swiss-born and Nashville-based Sophia Regina Allen's sophomore album.
Taylor Swift – "the last great american dynasty"
I find music I love on every Taylor Swift album and this one is no different telling the tale of Holiday House and a ruined relationship in catchy pop fashion.
Rina Sawayama – "XS"
I don't know how this fun banger hasn't broken on the US charts & pop radio but it's a statement off a great debut studio album Sawayama from Japanese/British pop songwriter Rina Sawayama.
Ben Youngerman – Marketing Manager
Marilyn Manson – "WE ARE CHAOS"
As the resident metalhead at ArtsQuest, I typically choose a song that absolutely shreds. But this melancholy year was best summed up by the title track of Marilyn Manson's latest album WE ARE CHAOS. Co-written with country artist Shooter Jennings, the whole album is a brilliant new direction for the shock rocker (and dare I say "Bowie-esque"?). \m/ (*>*) \m/
Cory Stevens – Volunteer & Internship Programs Manager
Glass Animals – "Space Ghost Coast to Coast"
I've loved the music of Glass Animals for years! Their sounds are all at once dreamy, dramatic, and primal, and when their new album Dreamland dropped truly in the midst of Virtual Musikfest it became the perfect soundtrack to keep me going through this awful year. "Space Ghost Coast to Coast" is my favorite song off this album because of its infectious beat and narrative lyrics.
Nicole Gencarelli – Visual Arts Specialist
Taylor Swift ft. Bon Iver – "exile"
I just really enjoyed the collab for this song, both musicians gave such great performances and it's been playing in my Spotify a lot!
Gabriela Laracca – Public Relations Coordinator
System of a Down – "Protect the Land"
As the great granddaughter of Armenian Genocide survivor Virginia Sarkisian De Hamalian and an avid System Of A Down fan, this song, their first release in 15 years on Nov. 5, means the world to me. It discusses the corrupt, genocidal actions of Ilham Aliyev (President of Azerbaijan) and Recep Tayyip Erdogan (President of Turkey), leaving Armenians in a very similar situation to what my abuelita went through about 100 years ago. Both this song and their other new release, "Genocidal Humanoidz," are available for purchase now with all proceeds going to the Armenia Fund and the Aid for Artsakh Campaign.
Michelle Veresink Richmond – Sr. Manager of Membership
Luke Combs – "Six Feet Apart"
What a year! This song just really speaks to how difficult this year has been, how much we have had to adapt, but that there is hope and that we will get past this pandemic. It's all the feelings and story-telling wrapped up in a way that can only be done in a country song!
Jason Frisch – Director of Event Services
Phish – "Everything's Right"
Phish released their first studio album, Junta, in 1989 and launched themselves to the top of the Jam Band scene where they have remained. 30 years later they are still doing it with the release of Sigma Oasis in 2020. Phish kills it with "Everything's Right". It is quintessential Phish with an epic dance groove into an epic jam. There's not many bands who can still release great new music after 30 years.
Elena Ostock – Visual Arts Manager
Mac Miller – "Good News"
I really didn't listen to Mac Miller before this year, when his final, post-humous album Circles was released in January. Somehow, some algorithm connected me with this song, and I am glad. For me this song encapsulates a lot of my mood for 2020: Sleepy, a little bit sad, and totally unsure of what day it is.
Anne Sturm – Sr. Talent Buyer
Phoebe Bridgers – "Garden Song"
Talk about a song to get lost in during a late night drive. This song is darkly beautiful as it transports me to a nostalgic world with my younger self.
Alexis Grant – Graphic Designer
HAIM – "The Steps"
Love this album! I've been listening to it on repeat since its release over the summer. It's hard to pick just one song, but "The Steps" is at the top for me.
Brooke Novotnak – Partnership Activation Specialist
Taylor Swift – "the 1"
• This was the first track on a surprise album drop that came right as my pandemic depression was kicking in. Being a long-time Taylor Swift fan, hearing her sing, as the very first line on her album, "I'm doing good, I'm on some new sh*t", made me devolve into tears. Maybe it was the emotions of 2020, maybe it was an amazing first track, all I know is that Folklore was exactly what I needed this year.
Teena Renfrow – Box Office Manager
Eric Church – "Stick That in Your Country Song"
A lot of country songs are about trucks, beer, God and country and it's an easy formula to get to #1. 2020 has highlighted a lot of the underbelly of our country and Eric Church isn't afraid to call it out and sing about weightier issues in this crazy, rockin' powerful song. One of the few songs he sings but didn't write, he still makes it his own.
Kimberly Koehler – Partnership Activation Specialist
BLACKPINK – "How You Like That"
There is something about "How You Like That" by BLACKPINK that has a special place in my heart. The pre-album single introduced me to the phenomenal superstar K-pop girl group. (Shout out to Made For You playlists!). "How You Like That" is the exact anthem everyone needs to hear in 2020: No matter the obstacle, you can always overcome them and come back stronger. Not to mention, this song's beat can get you on your feet and dancing which would make anyone happy! Bonus Points, if you learn the moves from the music video 😉. I highly recommend giving BLACKPINK a listen!
Ryan Hill – Programming Director
H.E.R. – "I Can't Breathe"
THE song of 2020 from one of the most electrifying performers and writers out there (check her SNL performance from earlier this year out if you haven't yet – BOTH songs).
Alli Poczak – Performing Arts Assistant
BTS – "Dynamite"
2020 was the year of disco-pop with many of this year's chart topping favorites featuring funky synth and rhythm guitar you can't help but dance to. "Dynamite" was no different. Featuring the seven-member, South Korean, K-Pop Boy Band, BTS, also known as the Bangtan Boys. The song is light and fun which matches the pastel dreamland they've created in their video as BTS dances and sings about a night out with your friends. This is the first all-English song released by BTS and it follows last year's hit, "Boys with Luv" featuring Halsey, which is a mix of Korean and English. Overall, "Dynamite" always lifts my mood and puts a smile on my face. To sum up my general feelings about music in 2020, I'll close with a quote from this song: "Disco overload, I'm into that, I'm good to go."
Shayna Super – Performing Arts Specialist
Fleet Foxes – "Can I Believe You"
Fleet Foxes dropping a new album on the first day of Fall was the most autumnal thing that could have happened. "Can I Believe You" is my current favorite from this album, it sounds familiar to classic Fleet Foxes but without being tired or overdone – you can sense their evolution as musicians in this album. The songwriting in this song is poignant and reflective and the sound of the music just washes over you as you listen. The title of the album is "Shore" and I think that's a pretty accurate name for the feelings evoked.
Amanda Celestina – Operations Specialist
Puscifer – "Apocalyptical"
Puscifer is my favorite band. They have a great way of dropping societal garbage into their music. With this year being the dumpster fire it was, this song alludes to some of the nonsense. And the video just makes me chuckle.
Juliann Masenheimer – Lead Creative
Kelsea Ballerini – "hole in the bottle"
Quirky, sarcastic and definitely not afraid to poke fun at itself, Ballerini's song may be the perfect drinking song for 2020. From working from home with kids, social distancing and trying to stay sane during this pandemic I feel like we have all had that moment of thinking we were only going to have one drink to unwind.
Nick Michael – Business Development Manager
Spiders Dressed in Red – "Valentine's Bought Your Lover"
Selfish selection, as this is my son's band. This is my favorite song of a very ambitious 6 track album that the boys released earlier this year. Very smooth and melodic. Check them out on Spotify!!!!
Jacob Rivera – IT Computer Systems Analyst
The Weeknd – "In Your Eyes"
This song has so many great elements to it. Not only does it make me want to put on my dancing shoes, but it also makes me feel like I took a DeLorean back to the '80s. The fact that The Weeknd took an upbeat instrumental and meshed it with sad and vulnerable lyrics was simply beautiful!!!
BONUS PLAYLIST!

Listen to all of these 2020 tunes in one awesome playlist…
Previous end-of-year staff picks: