Pepperwine: ArtsQuest Discovery Series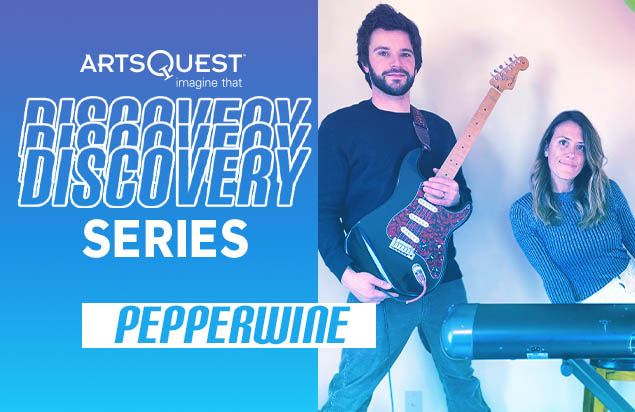 By Kellie & Breece of Pepperwine & ArtsQuest Staff | Published 3/19/21
Congrats, you've found your way to the ArtsQuest Discovery Series! Our organization prides itself on introducing your ears to new bands and artists. So while the music touring industry is mostly on hold because of the pandemic, we're giving some of our musician friends the chance to share what music they're hyped about. A mix of up-and-comers, artists that inspire their craft, deep cuts, the classics…oh, and their own tunes!
In this edition, get to know the musical tastes of Pepperwine! The Musikfest veterans use voice, piano, synthesizer, guitar, bass, and percussion to create hip shaking-rhythms and head-nodding tunes. Their catalog of music effortlessly blends elements of soul, pop, R&B, funk, and rock with Leading Lady Kellie offering a powerful yet sultry vocal.
"Try" is an uplifting electric feel-good song with chill undertones featuring vocals, piano, synth, guitar, bass, and drums. The theme of this song is "just trying to get by – keeping our souls up high"… one day at a time. This song was released on March 1, 2021.
Discover Pepperwine: Website | Facebook | Instagram | Spotify | YouTube
Now that you're in the groove, keep scrolling to discover these other rad musicians & bands, as chosen by Pepperwine!
Yebba
Yebba has power in her voice but it is also extremely smooth. Her songwriting is unique and different. She also has an ability to move about her range in a way that is very beautiful and skillful. Her song "Evergreen" caught me the first time I heard it.
Electric Kif
We have played with Electric Kif a few times in Asbury Park, NJ and they are ridiculously good at their craft and very nice guys. Their music varies and can be upbeat but also super powerful and dramatic.
Camille Trust
I first found Camille Trust through a cover she was doing of another vocalist's song. Her music and style varies but one thing is consistent is and that is her beautiful and strong voice. She has also done some hilarious/thoughtfully planned live streams throughout our quarantine time. She is a new age pop soul star.
Dynamo
One time at a gig in NYC we were put on a bill with Dynamo. We were blown away by them and how many members they could fit on the tiny stage provided. It's hard to pick a favorite song but something about "Something's Gotta Give" is so good.
Cory Wong
Cory Wong deserves to be on our list simply for the sheer amount of fantastic musical content he has released since 2020 (not to mention the equally amazing music before). "Lilypad" is one of those newer songs, appearing on The Striped Album from 2020.
Jungle
Really enjoy these guys' vibe and airy vocal flow. Jungle has several singers but somehow still sound like one voice. Their beats are uplifting and dancey and their music is good for many occasions… driving, working out, dancing, cooking whatever!
Octave Cat
Octave Cat is comprised of members of Lotus and Dopapod. They are instrumental electric synthy goodness. Their song "Metropolis" has so much energy and a gradual dynamic build that I've found myself punching the air by the time the song is over! I particularly enjoy this live version…
Hambone Relay
We couldn't not include our friends in Hambone Relay! We met these guys about three years ago when we played Millennium Music Conference in Harrisburg. They played before us and my jaw was on the floor. Since we have created a friendship and done some collaborations. Their instrumental discography is funky and so good. They are incredible musicians and really nice guys. Here is their song "Star Climber"…
Rett Madison
I discovered Rett Madison when she did a cover with the Scary Pockets, and then discovered her discography. She has an eclectic mix of music but there's something about "Fleas" I especially love the build and vocal melody. Also, the irony of lyrics is great too.
Huntertones
I recently found Huntertones on a Spotify playlist. They were doing a cover with a vocalist. I thought "that instrumentation is really cool" and that led to my finding the song "Togo"…
Lemon City Trio
Lemon City Trio is an amazing instrumental trio. Their sound varies and they have a track for every mood. They recently put out some new music and one of the songs I enjoy most is "New Moon". It is really relaxing and has multiple sections that cohesively flow really nicely.
Madwoman
Madwoman is a band out of Florida. I discovered them through the "original music" hashtag on instagram. Their music isn't the easiest to find online but they post very frequently on Instagram. They are a bluesy soulful trio and the singer has a beautiful and interesting voice. I particularly like the clip of this song.
Listen to Pepperwine's Music!
Follow Pepperwine on Social Media!
Click here to follow Pepperwine on FACEBOOK!
Click here to follow Pepperwine on INSTAGRAM!
Explore other ArtsQuest Discovery Series Entries!
Slingshot Dakota: ArtsQuest Discovery Series
Ruby Dear: ArtsQuest Discovery Series
Kendal Conrad: ArtsQuest Discovery Series
Seth Witcher: ArtsQuest Discovery Series