Get Your Spoons Ready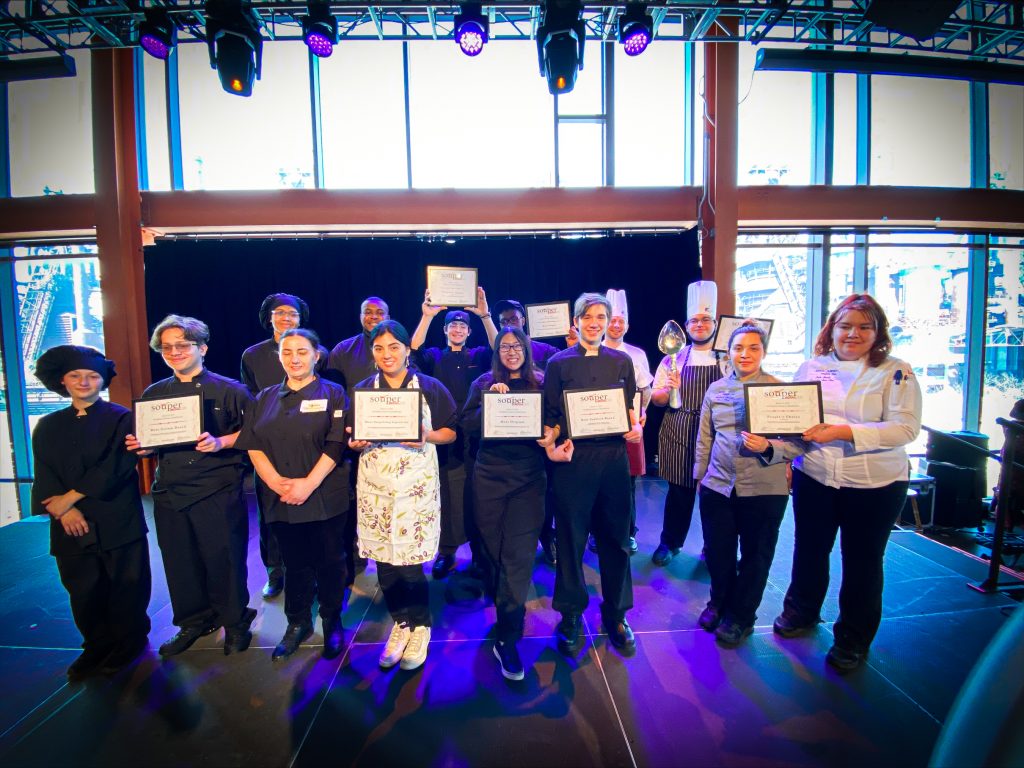 Souper Bowl XIII returning to the Lehigh Valley this February
BETHLEHEM, Pa.— Grab your spoons and get ready to sample from some of the Lehigh Valley's top restaurants, caterers and culinary students at ArtsQuest's Souper Bowl XIII inside the Musikfest Café presented by Yuengling Sunday, Feb. 5, from noon to 3 p.m.
Savory selections for sampling will include cream-based, seafood-based, meat-based and vegan soups. Attendees will also nominate their favorite contender for the Souper Bowl's "People's Choice" champion award. The winner will be presented with a glass trophy styled after the Lombardi Trophy and created by the ArtsQuest Glass Studio, featuring a soup bowl at its top instead of a football. A panel of experts and celebrities will judge each category and raise their ladles to award the best creation.
In addition to the above-mentioned-categories, Behind the Grill, Bethlehem Area Vocational-Technical School, Buzzwell Catering LLC, Daisy Hill Kitchen and Grill, HOEM Kitchen, Jenny's Kuali, Lemon Tree Kitchen, Molly's Irish Grille & Sports Bar, Palette & Pour, Passanante's Home Food Service, Roasted, Strange Brew Tavern and others will also battle for top billing in the categories of "Most Original" and "Most Surprising Ingredient."
Bethlehem AVTS triumphed during Souper Bowl XII, with three nods for "Best Cream-Based," "Best Seafood" and "Most Original," wins AVTS instructor Scott Ferry says his team of culinary students hope to repeat. "For me," said Ferry, "I love seeing the students shine. Winning a few things also doesn't hurt."
According to Ferry, students look forward to participating in the Souper Bowl each year, sharing that this year's team will consist of four or five Bethlehem AVTS students. "The students have a blast trying out recipes they come up with, and change them until they're perfect," he said. "With each year we have a new group of students competing, so everything is completely new each year."
"We love being out in the community," Ferry added. "When people try and enjoy the student creations, they're shocked that high school students can compete at this level. Win or lose, this is a chance to be seen (and sampled) by hundreds of people."
All of that aside, Ferry added "ultimately the Souper Bowl is all about having fun."
Looking to be among the first to sample the taste-tempting soups offered at Souper Bowl XII? Consider a VIP admission, which allows entry at 11 a.m., and includes a free drink ticket good for any Yuengling beer, Franklin Hills wine or soft drink. In addition to –samples of soup and entry into a raffle to win gift cards from participating restaurants, VIPs are also entered into a special VIP-only raffle for a variety of ArtsQuest tickets. VIP tickets are discounted at $54 through Sunday, Jan. 29, and can be purchased here.
General admission tickets for ArtsQuest members are available for $29 each, with tickets at $34 for the public through Jan. 29. The price increases $5 for all ticket types from Jan. 30 to the event start. For more information, or to purchase tickets, visit steelstacks.org or call the ArtsQuest Box Office at 610-332-1300.
Souper Bowl XII winners:
People's Choice: Saucon Valley Country Club's Braised Beef Short Rib
Best Cream-Based: Bethlehem AVTS's Smokey Chicken Corn Chowder
Best Meat-Based: Saucon Valley Country Club's Braised Beef Short Rib
Best Seafood: Bethlehem AVTS's Paella Soup
Most Original: Bethlehem AVTS's Chilled Strawberry Coconut Bourbon Soup
Most Surprising Ingredient: The Pomegranate Molasses in Forks Mediterranean Deli's Mediterranean Vegetarian Soup