Gear Up and Fuel Your Engines at Cars & Coffee 2023
Join us at SteelStacks Campus as we explore the diverse car community!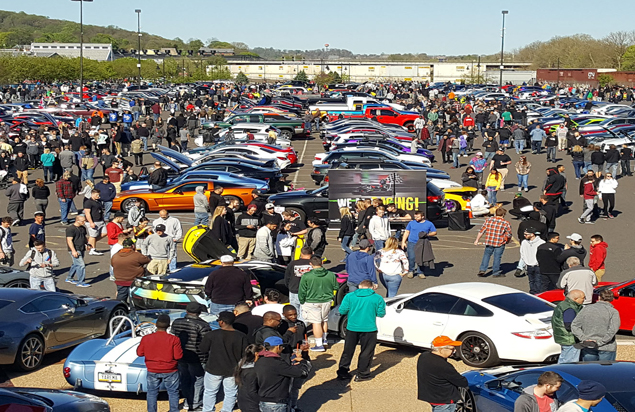 BETHLEHEM, Pa., March 17, 2023 — The sun will be shining, the engines will be revving, and the coffee will be brewing as we approach the eighth annual spring and summer Cars & Coffee series in the Lehigh Valley, presented by Koch Automotive Group. A free event for the community, Cars & Coffee, encourages car enthusiasts from throughout the region to come together for a fun-filled morning featuring a variety of vehicles of all makes and models. The series typically draws more than 20,000 visitors to SteelStacks throughout the year. Opening day is scheduled for Sunday, April 16 from 9 a.m. to noon. 

"We are excited for the eighth annual Cars & Coffee series on the SteelStacks campus," event co-creator Dan Kendra said. "We value our partnership with Koch Automotive Group for this event and look forward to welcoming car enthusiasts from throughout the community." 

Cars & Coffee features a variety of unique, exotic and classic cars from the Lehigh Valley and beyond. The Mack Truck Stop at the Levitt Pavilion will serve coffee, breakfast sandwiches and muffins, all available for purchase during the event.  

Cars & Coffee will be presented one Sunday each month from April through September with the diverse themes of American Muscle, European and Japanese vehicles. The 2023 dates are confirmed to be April 16 – Opening Day, May 21 – All Makes, June 4 – European Theme, July 16 – American Muscle, August 27 – Japanese Theme, and the Grand Finale on Sept. 17. All events will be held from 9 a.m. to noon.

The first ever Cars & Coffee event was presented in 2013 by Dan Kendra and Dr. Johnny Chung whose goals were to bring car collectors together to showcase their prized vehicles in a fun, relaxed environment. Their vision has become a phenomenon to the car world of Lehigh Valley with no plans for stopping in the future, as it creates a strong bond within the community like no other.  

Being able to see the car and truck community come together to show their dedication and passion for their vehicles is one of the many reasons the SteelStacks Campus continues to flourish. Some of the generous vendors for this event include Koch Automotive Group, Beadz Auto Detailing, The Clean Garage, Lehigh Valley Motors, America on Wheels and Shine Techs. For more information regarding Cars and Coffee, visit http://www.steelstacks.org/carsandcoffee.  

About ArtsQuest
ArtsQuest's mission is to provide access to exceptional artistic, cultural and educational experiences using arts and culture as key elements of economic development for our urban communities. ArtsQuest™ supports this mission via the presentation of performing and visual arts, film, arts education classes and outreach, youth programming and cultural events. 
Through festivals such as its flagship event, Musikfest; the Banana Factory Arts Center; and the ArtsQuest Center at SteelStacks arts and cultural campus, ArtsQuest's programming reaches more than 1.9 million people annually. The organization's programs and events, over 50 percent of which are free to attend, have a combined economic impact of more than $136 million annually in the region.  
—  
Media Contact
Jennifer LoConte 
Director of Communications 
jloconte@artsquest.org