ArtsQuest Announces Return of ONE EARTH REGGAEFEST
This free festival, presented by Promise Neighborhoods of the Lehigh Valley, will be held outdoors at SteelStacks on Saturday, July 1, 2023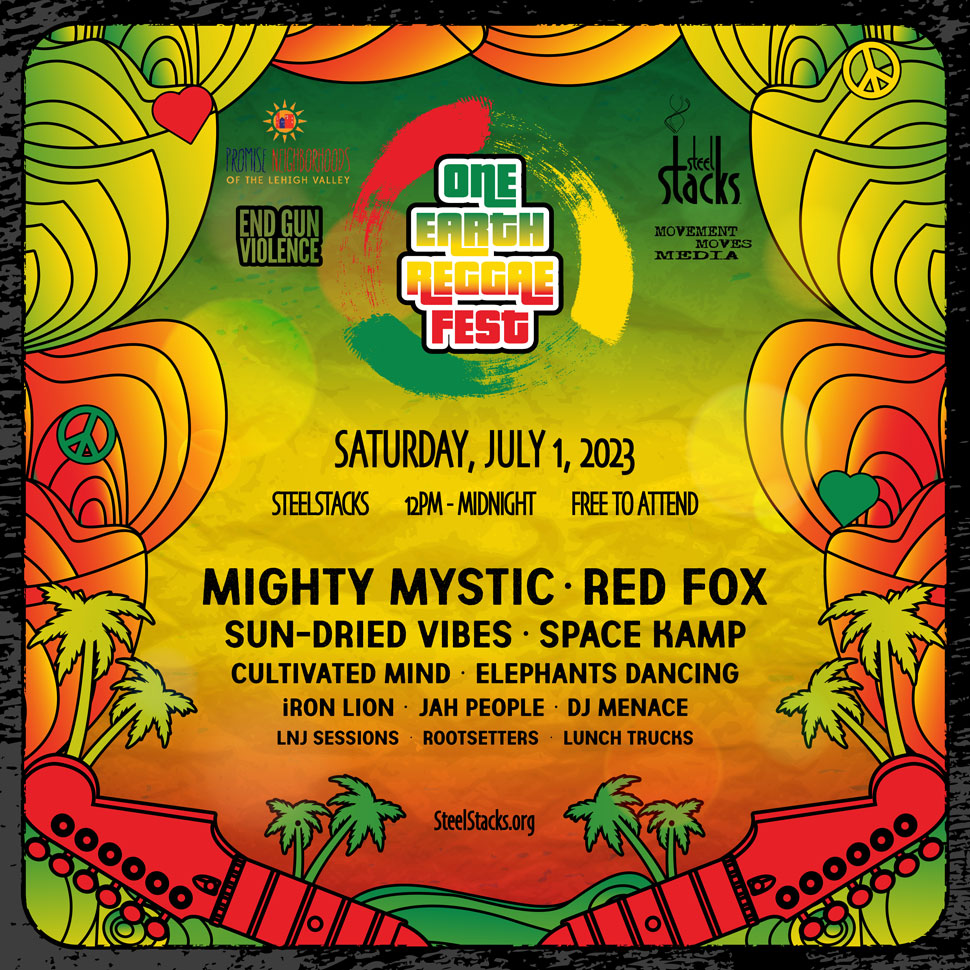 BETHLEHEM, Pa., March 20, 2023— ArtsQuest is proud to announce the second annual One Earth ReggaeFest, a free festival celebrating reggae music on Saturday, July 1. One Earth ReggaeFest, presented by Promise Neighborhoods of the Lehigh Valley, is an all-ages event celebrating a fusion of Cali reggae, classic reggae, hip hop and funk music with live performances from both nationally touring and local bands.
"We are excited to once again host this amazing celebration of culture this summer," Chief Programming Officer Patrick Brogan said. "Reggae is more than a genre of music, it's an energy and vibe that we are excited to share throughout our community. We're also grateful to once again partner with Movement Moves Media along with our co-sponsors and media partner."
Mighty Mystic, headlining the festival, is considered one of the leaders in the U.S. Reggae scene and labeled by many as one of the more prolific artists to develop outside of Jamaica. Mighty Mystic has turned himself into one of the more sought after U.S. based Reggae artists on today's scene. His brand of "HARD ROOTS" with his high energy stage performance has been a magnet for the young enthusiastic reggae fan base with his Jamaican roots, while adding elements of Hip Hop & Rock, giving Mystic a more unique sound. He has released three albums which all debuted in the top 10 on iTunes and Billboard reggae charts, "Wake up the World", "Concrete World" and "The Art of Balance."
Guests can also enjoy performances from Red Fox, Sun-Dried Vibes, Space Kamp, Cultivated Mind, Trouble City All-Stars, iRon Lion, Jah People, DJ Menace, LNJ Sessions, RootSetters and Lunch Trucks.
"One Earth Festival is extremely close to our hearts, we're extremely thankful that ArtsQuest believed in and gave it a chance," commented members of Space Kamp. "The energy last year was amazing. We look forward to this year and watching it grow every year moving forward. The reggae rock community is extremely tight knit and it is wonderful to have a home in the Lehigh Valley for this amazing community to come together."

Presenting Sponsor of the event is Promise Neighborhoods of the Lehigh Valley, along with co-sponsor Sweetwater Brewing Company and media partner WDIY/88.1.
Bring the whole family to this free day-long festival featuring eclectic vendors, authentic Jamaican food and fun under the sun. Tickets aren't needed, but good vibes will be collected at the gate! The hours will be 12 p.m. to midnight. Visit steelstacks.org for more information.
Want to be part of the festival? Vendor spots are still available. Click here or contact vendors@artsquest.org to apply. This event is produced by ArtsQuest and Movement Moves Media as part of the Levitt Pavilion SteelStacks free concert series, presented by Lehigh Valley Health Network. The much-anticipated lineup for the summer will be announced at the beginning of May.
About Levitt Foundation
Levitt Pavilion SteelStacks is part of a national network of outdoor Levitt music venues and Levitt AMP concert sites dedicated to strengthening the social fabric of communities in America through free, live music in public spaces. Presenting high-caliber talent and a broad array of music genres and cultural programming, Levitt venues are welcoming, inclusive destinations where families, friends and neighbors of all ages and backgrounds come together. Learn more at Levitt Foundation: levitt.org
About ArtsQuest
ArtsQuest's mission is to provide access to exceptional artistic, cultural and educational experiences using arts and culture as key elements of economic development for our urban communities. ArtsQuest™ supports this mission via the presentation of performing and visual arts, film, arts education classes and outreach, youth programming and cultural events.
Through festivals such as its flagship event, Musikfest; the Banana Factory Arts Center; and the ArtsQuest Center at SteelStacks arts and cultural campus, ArtsQuest's programming reaches more than 1.9 million people annually. The organization's programs and events, over 50 percent of which are free to attend, have a combined economic impact of more than $136 million annually in the region. ArtsQuest is a proud member of NIVA, the National Independent Venue Association and NATO, the National Association of Theatre Owners.