About Oktoberfest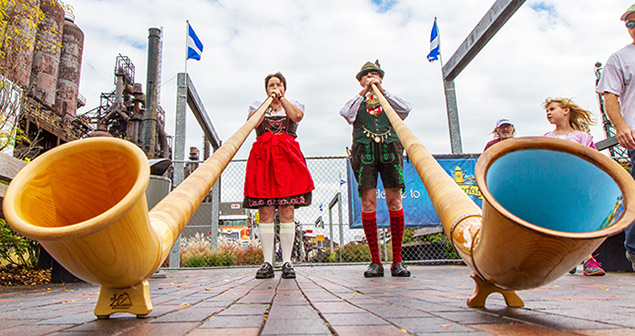 October 5-7 & 12-14
Now in its 8th year, Oktoberfest presented by Lehigh Valley International Airport (ABE) is a free festival that features brew samples, authentic German food and beer, live music and schuhplattlers, as well as attractions like the exciting Beer-Lympics competition, the popular dachshund races, Yuengling Oktoberfest 5k, local artisans and more!
Hours
Fridays | 5-10 PM
Saturdays | 12-10 PM
Sundays | 12-6 PM
Map & Venues
PNC Plaza
645 E. First Street,
Bethlehem, PA 18015
Venues
Oktoberfest Biergartens
Biergartens feature beers by D.G. Yuengling & Son, Sam Adams Brewery, Weyerbacher Brewing Company and more. Each biergarten features its own unique theme and entertainment, with guests greeted by the welcoming sounds of the Oktoberfest Oompah House Band or fun games like bean bags and masskrugstemmen.
Yuengling Biergarten on PNC Plaza
Yuengling Biergarten on Air Products Town Square
Weyerbacher & Samuel Adams Biergarten
Hofbräu Biergarten
Oktoberfest Arena
The place to gather for all the action is the Oktoberfest Arena, featuring bleacher seating and packed with fun family shows and entertaining attractions including the Wiener Dog Races, the Hasselhoff-Off, Beer-Tag and more.
Brewers' Village
Presented by Weis Markets
Musikfest Cafe presented by Yuengling
Sample a diverse array of beers crafted by Pennsylvania's award-winning breweries!
Künstler Markt
Shop for unique gifts, German-themed merchandise and collectibles, and watch live glassblowing demonstrations as ArtsQuest glass studio artists create wonderful works of art.
Kinderland
Treat the kids to an afternoon of crafts, Imagination Blocks and more!
Spielplatz
It's fun and games galore as we host barrel rolling competitions, beer stein races and more.