Step Outdoors Lehigh Valley
Events and Activities
The activities listed below are available both days of Step Outdoors, unless otherwise noted.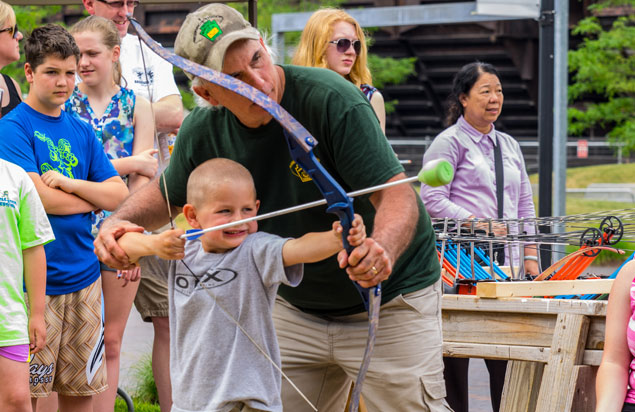 All About Elk
Presented by Keystone Elk Country Alliance
Learn all about elk and discover some interesting facts about the Keystone State's only wild elk herd.
Archery Balloon Shot & Hoverball
Presented by United Bowhunters of Pennsylvania
Discover the fun of archery with instructors from United Bowhunters. Kids will be able to shoot Mathews Genesis bows at balloon targets and Nerf-tipped arrows at Hoverballs.
NEW! Axe Throwing
Presented by Throwhouse
Experience the thrill of launching an axe at a wooden target and hitting the bullseye!
Bike Test Rides
Presented by Cutters Bike Shop
Test ride Cannondale bikes and learn more about the City of Bethlehem's free bike share program.
Bird Walk and Peregrine Falcon Watch (Saturday only)
Presented by Lehigh Valley Audubon Society
LVAS will lead a bird walk from the SteelStacks campus to the Sands property near the site of a Peregrine Falcon nest. On the walk we will observe whatever birds we find along the way and if the falcons are nearby, we will spend several minutes observing before returning to campus. Binoculars are available to borrow with ID or participants can bring their own. Advance registration is requested, as space is limited. Sign up today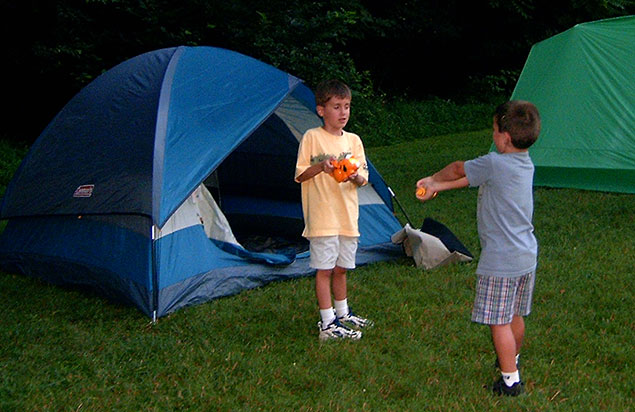 Camping 101
Presented by Wildlands Conservancy
Get ready for camping season by taking part in hands-on activities such as tent setup, mock fire building, s'more roasting and more!
Camping Essentials
Presented by Girl Scouts of Eastern Pennsylvania
Learn how to tie knots and make a healthy snack for hikes!
Disc Golf (Sunday only)
Presented by Lehigh Valley Disc Club
Disc golf is a fun outdoor activity for the whole family. Plays like golf on designated courses (more than 10 courses within one hour), throw the disc (or Frisbee) along the designed hole and count your throws from tee to target or basket.
The History of the Delaware & Lehigh Canal (Saturday only)
Presented by Delaware & Lehigh National Heritage Corridor
Learn about the history of the Delaware & Lehigh Canal with hands-on experiences like blowing a conch shell and dressing up as a canal boat captain! Visitors can also take photos with the D&L mascot Della the Mule at 11 a.m. and 1 p.m.
Hunting, Fishing, Trapping & Environmental Education
Presented by Northampton County Federation of Sportsmen's Clubs
A presentation that includes handout information on clubs and their activities and covers
everything you need to know about the outdoors including hunting, fishing, trapping and environmental education.
Indicators of Stream Health
Presented by Sierra Club Pennsylvania Chapter
Did you know aquatic insects that live in your local creek can tell you about the water's health? Would you like to see these "bugs" up close? Using simple magnifying lenses, you will have a chance to examine these amazing critters and learn how they help scientists understand water quality.
Kemerer Museum Coloring Book and Colonial Toys
Presented by Historic Bethlehem Museums & Sites
Stop in to try an assortment of colonial-era toys available for visitors. Guests can also learn about the importance of style and design as shown through many of the objects on display at the Kemerer Museum of Decorative Arts and color in their own mini coloring book.
Keystone DockDogs®
"Fetch" might be the oldest trick in the book, but when you add a 40 foot pool of water and a few courageous canines, it becomes a dynamic day of nonstop entertainment. On June 2-3, they'll offer a competition filled with leaping dogs including events focusing on Big Air Dogs®, Extreme Vertical® and Speed Retrieve.®
Kids Craft Table
Presented by The Banana Factory Arts Center
Come as a family to the visual arts tent from 11 a.m.-3 p.m. during Step Outdoors and get creative with nature inspired crafts and projects taught by teaching artists from the Banana Factory Arts Center! Great for kids of all ages and levels, you'll be sure to leave here with something special. Projects include Colorful Bird Feeders and mini 3D Woven Turtles!
Laser Shot
Presented by Lehigh Valley Sporting Clays
A fun video simulation of sporting clays shooting.
Master Gardener and Master Watershed Steward Display
Presented by Penn State Extension Master Watershed Stewards
Take part in this informative presentation highlighting Penn State Extension's Master Gardener and Master Watershed Steward program, which include educational workshops, services and volunteer opportunities.
Operation Game Thief
Presented by Pennsylvania Game Commission
The Pennsylvania Game Commission will be on site showcasing PA's wildlife and how the PGC protects and enforces all laws related to our wildlife and wildlife resources. The display includes wildlife mounts, skins, brochures, pictures and more.
The Nature School at Camel's Hump Farm on the Johnston Estate
Presented by Friends of Johnston, Inc.
This presentation is intended to familiarize the public with the Nature School and all of the resources available on the estate of the first mayor of Bethlehem, Archibald Johnston.
Activities include making a pinecone bird feeder, planting sunflower seeds and playing bird identification games!
Pennsylvania Longrifle Exhibit & Arts and Crafts
Presented by Jacobsburg Historical Society
Come see living history and interact with Jacobsburg's Henry Museum staff as they display their art and crafts. Exhibits and activities include a longrifle display, an early american craft demonstration, coloring books and hands-on-crafts where kids can create a bead necklace and/or a small leather bag.
Raptor Demonstrations
Falconers Sean and Margaret Young will fly the red-tailed hawk during short raptor demonstrations. These presentations will include information about the art of falconry while also giving watchers the opportunity to ask questions and take pictures of the birds as they fly high across the lawn in front the Levitt Pavilion stage.
Recreational Boating Safety
Presented by U.S. Coast Guard Auxiliary, Flotilla 21-01
Presenting tips and information on safe boating, fishing and water sports. The Coast Guard encourages and educates enthusiasts in the use of personal flotation devices, safe boating skills and courtesy vessel safety inspections.
Ruffed Grouse Habitat Improvement
Presented by Ruffed Grouse Society
The RGS will provide an educational presentation on the importance of providing new successional habitat forests for the Ruffed Grouse, Pennsylvania's state bird.
Safety Pin Fly Tying
Presented by Monocacy Chapter TU
Try your hand at tying your first Woolly Bugger with Monocacy TU. Flies are tied on safety pins so they can be proudly displayed.
Urban Hiking
Presented by Appalachian Mountain Club
Stop by this informational table to learn more about the Appalachian Mountain Club, as well as hiking throughout the region. On Saturday and Sunday, the AMC will lead two hikes on the South Bethlehem Greenway. Times are 10 a.m. Saturday and noon on Sunday.
What's Happening at Minsi Lake: What's That Critter?
Presented by Friends of Minsi Lake
Macroinvertebrate ID – participants will be able to observe and identify 10 live aquatic critters such as mayfly nymph, dragonfly nymph, caddis larva, crayfish and so forth.