Buy Chicken, Help ArtsQuest

Welcome to our new Curbside Pick-up Pop-up Kitchen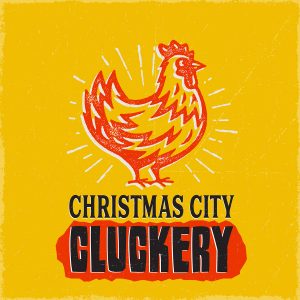 What can we say? 2020 is a big ol' dumb-dumb of a year. The years start coming and they don't stop comin'… but we all still have to eat, isn't that right, Smash Mouth?!
In an effort to help the organization weather the ongoing COVID-19 storm, here at ArtsQuest we've once again adapted to the shutdown of indoor dining and entertainment venues and are excited to introduce you to the Christmas City Cluckery curbside pick-up pop-up kitchen.
How it Works
The kitchen is only open on select days (see below).
Come to this page to place your orders in advance.
Then swing by the ArtsQuest Center at SteelStacks on the day/time you selected to pick up your order.
Presumably then you'll take it home to eat it, but having tried it, we can't guarantee that you won't want to stop in a parking lot on the way home to eat it. It's really, really good chicken. Like Kramer-obsessing-over-Kenny-Rogers'-Roasters good.
The Pick-up Schedule
The Christmas City Cluckery kitchen is open on Sundays, 1-5pm, in February
The Menu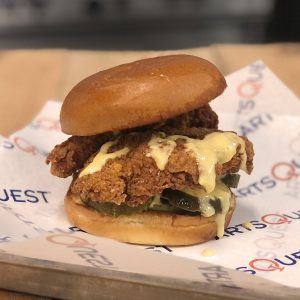 Southern Fried Chicken Tender Sandwich – $6.75
Brined and fried chicken tenders, served on a brioche bun with pickles and horseradish honey mustard
add Cheese $0.50
Add Fries for $3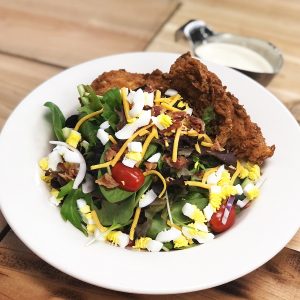 Fried Chicken Salad – $12.00
Greens salad topped with brined and fried chicken tenders, tossed with hard boiled eggs, shredded cheddar cheese, crumbled bacon, tomatoes and cucumber served with a side of buttermilk ranch dressing.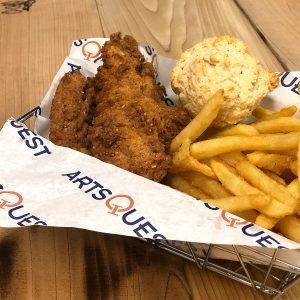 Southern Fried Chicken Finger Basket (3) – $9.00
Served with fries, a buttermilk biscuit, and your choice of 1 dipping sauce: Honey Mustard, BBQ or Mango Habanero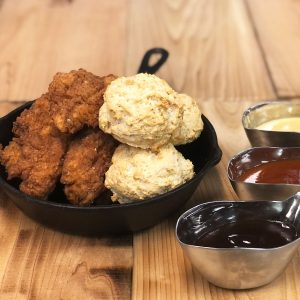 Southern Fried Chicken (half dozen) and Buttermilk Biscuits (3) – $15.00
Six of our perfect tenders served with a side of 3 buttermilk biscuits and your choice of 3 dipping sauces: Honey Mustard, BBQ or Mango Habanero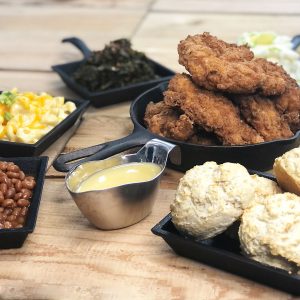 Fried Chicken Meal – $40.00
One Dozen (12) of our heavenly chicken tenders, served with chicken gravy, four buttermilk biscuits, and choice of 2 family sides:
Mashed potatoes, 5-cheese macaroni cheese, collard greens or baked beans
Side Dishes – $3 single serving, $9 family size
Mashed potatoes and gravy
5-cheese macaroni and cheese
Baked beans
Collard greens
French fries
Desserts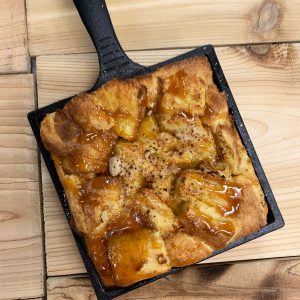 Maple Brown Sugar Bread Pudding with Caramel Sauce – $6.00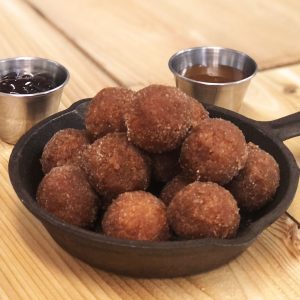 Donut Holes with Caramel and Chocolate Dipping Sauces $9.00
Beverages – 1 for $3 or 4 for $10
20oz bottles of Coca-Cola, Diet Coke, Sprite, and Dasani