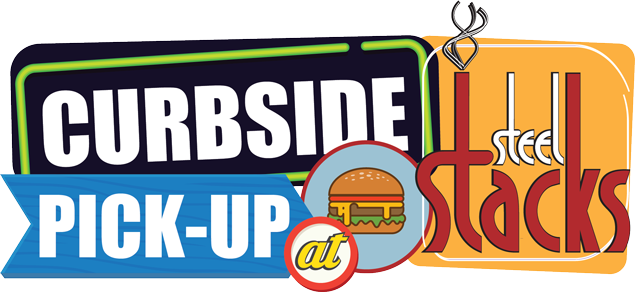 SteelStacks Curbside Pickup for Saturday, June 6 and Sunday, June 7
Featuring Island Noodles, Van Pelt Hot Dog Company, The Bull & The Bear, The Fud Truck and The Mack Truck Stop.
How to Order:
PLEASE BE SURE TO SELECT YOU PICK UP TIME AND/OR DAY (SATURDAY OR SUNDAY) IN STEP 2 or 3. DATES AVAILABLE – SATURDAY, JUNE 6 or SUNDAY, JUNE 7.
𝟭. 𝗢𝗿𝗱𝗲𝗿𝗶𝗻𝗴: All orders must be placed on this website. Sorry, there's no walk-up ordering at this time.
𝟮. 𝗠𝗲𝗻𝘂: Review the items for the weekend below. During the order process, you will have the opportunity to modify your item, if modifications are available.
𝟯. 𝗣𝗮𝘆𝗺𝗲𝗻𝘁: We are only accepting debit and credit cards. You will be prompted for this information during checkout.
𝟰. 𝗣𝗶𝗰𝗸 𝗨𝗽 𝗧𝗶𝗺𝗲: Schedule the time you would like to pick up on Saturday, June 6 or Sunday, June 7.. If your desired time slot is filled, the website will show you the time slots that are available. If you do not select a time, your pickup will be automatically set to the first available time slot. Your order will be hot and ready at that time.
𝟱. 𝗩𝗲𝗵𝗶𝗰𝗹𝗲 𝗗𝗲𝘀𝗰𝗿𝗶𝗽𝘁𝗶𝗼𝗻: On the last page of ordering, under notes, provide the make and color of your vehicle so our team can get you your order.
𝟲. 𝗣𝗶𝗰𝗸 𝗨𝗽: Once you receive a notification (text or email) that your order is "READY" please drive to the staff member on-site and show them the "READY" confirmation. They will allow you to proceed to the pick up tent. You will not be able to proceed without the "READY" notification being shown. Do not leave your car – we'll bring your food to you.
CLICK HERE TO PLACE AN ORDER FOR JUNE 6 or 7
OFFICIAL PRESS RELEASE
ArtsQuest Joins with Local Small Businesses to Serve up Favorite Musikfest Foods to Area Residents Starting May 30
Starting next weekend, the Lehigh Valley community will be able to enjoy some of its favorite foods from Musikfest and other ArtsQuest festivals, while at the same time helping to support small businesses impacted by the COVID-19 crisis, by taking advantage of the new curbside pickup program at SteelStacks.
Launching May 30-31, "SteelStacks Curbside Pickup" will feature a rotating cast of three or more area vendors and food trucks, coupled with the opportunity to purchase a variety of nonalcoholic beverages from ABARTA Coca-Cola, as well as ArtsQuest & Musikfest merchandise. SteelStacks Curbside Pickup will take place Saturdays-Sundays, 11 a.m.-6 p.m., while the Lehigh Valley is in the red and yellow phases of the state's three-phase COVID-19 mitigation plan.
The inaugural SteelStacks Curbside Pickup weekend will feature Take a Taco, one of the most popular food vendors at Musikfest; The Flying V and its Canadian favorites like poutine; and the delicious flatbreads offered by Levy at SteelStacks. In addition, patrons can package their food orders will popular ArtsQuest items such as the Musikfest 2020 mug, hoodie or long-sleeved t-shirt, as well as the Bethlehem Steel bandana. Other food vendors that will take part in SteelStacks Curbside Pickup over the coming weeks include Lehigh University's FUD Truck, Heaven on a Bun, Simply Skewered and Bull and Bear.
"As a community-focused nonprofit, ArtsQuest annually provides opportunities for more than 100 local and regional restaurants, food trucks and other eateries to support their livelihood via our festivals and events," says ArtsQuest Sr. Vice President of Operations Ray Neeb. "The new curbside service is a way we can continue that tradition, even while we are unable to get together in person. It's also an excellent opportunity for people who miss events like TacoFest and Levitt Pavilion summer concerts to get a little 'taste' of their favorite vendors, whether it be tacos, gyros or poutine. Most importantly, every purchase helps to support independent businesses and ArtsQuest, both of which have been impacted substantially by the COVID-19 crisis and related closures."
SteelStacks Curbside food and merchandise orders can be placed at www.steelstacks.org/curbside. ArtsQuest will alert patrons when their orders are ready for pick up, and people can drive up to PNC Plaza at SteelStacks, 645 E. First St., Bethlehem, and ArtsQuest staff will deliver the order and merch items to their vehicles. All current social distancing and health and safety guidelines established by the city and state will be observed as part of the Curbside Pickup program.
ArtsQuest is looking to increase the number of participating curbside service vendors as summer goes on. For more information on SteelStacks Curbside Pickup, visit www.steelstacks.org/curbside.