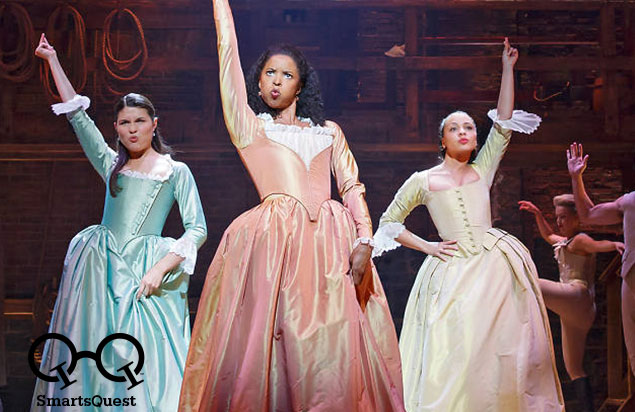 ArtsQuest @ Home: SmartsQuest - Hamilton Trivia with Alessandra Fanelli
Tuesday, October 20 · view days & times
Price: $10 | $9 ArtsQuest Member
Only one person from each team needs to register
Looking for a fun way to showcase your musical knowledge? Take a Break and join us in the Zoom Where it Happens for HAMILTON Trivia! Lin-Manuel Miranda's hit sung-and-rapped-through Broadway musical inspired by the life of American Secretary of Treasury and Founding Father Alexander Hamilton has Blown Us All Away, and we want to see how well you Know this show...and If You Don't Know, Then You'll Know. Host Alessandra Fanelli joined by Quizmaster Steven Bost are Looking for Minds at Work to quiz on music, characters, and the background of HAMILTON. Don't Throw Away Your Shot to fan a spark into flame and drop knowledge. Look Around for some Hamilfans and join us! We can't Wait for It!
Alessandra Fanelli
Alessandra Fanelli (she/her/hers) is an Arts Administrator and Digital Content Creator. In addition to serving non-profit theaters in the Lehigh Valley, she has also performed on stage in community theatre productions. She is currently the Development Chair for The Pennsylvania Playhouse and was previously the Box Office and Film Manager for Civic Theatre of Allentown. Alessandra graduated from West Chester University in 2016 with a Bachelor's Degree in Communication Studies, with a Minor in Italian and Concentration in Video Production. Alessandra spends her free time eating bagels and playing with her cat and dog, who are often mistaken for Gremlins.
We'll have a grand prize of a $25 gift card to either Molly's Irish Grille & Sports Pub or McCarthy's Red Stag Pub and Whiskey Bar, two great Bethlehem businesses currently offering curbside pickup!
This special edition of SmartsQuest will be produced via Zoom meeting; participants must register via the EventBrite link above to get the meeting link e-mailed to them approximately 10-15 minutes prior to the start of the event. Only one person from each team needs to register; the meeting link can be shared to other team members. Regular SmartsQuest players should note that this game will have a slightly altered format.
SmartsQuest is written and hosted by Steven Bost, the writer/host of several trivia nights throughout the Lehigh Valley.
Schedule