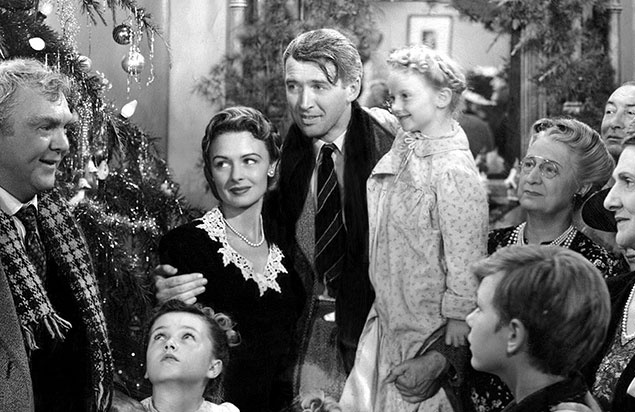 It's a Wonderful Life
December 16 – December 18, 2021 · view days & times
Price: $10 | $8 student & senior* | $7.50 ArtsQuest Member
Venue: Frank Banko Alehouse Cinemas
Health and Safety Guidelines
The health and safety of our patrons, vendors, volunteers, staff, and everyone attending our campus, buildings, and events is of the utmost importance to ArtsQuest and we have established a number of best practices and procedures based on guidelines from the CDC, City of Bethlehem and the Commonwealth of Pennsylvania. Please visit artsquest.org/safety to view our current health and safety guidelines.
*Student & senior discounts apply at the box office only.
1946 | Rated PG | 2 hr 10 min
Directed by Frank Capra
Starring: James Stewart, Donna Reed, Lionel Barrymore
George Bailey is a small-town man whose life seems so desperate he contemplates suicide. He had always wanted to leave Bedford Falls to see the world, but circumstances and his own good heart have led him to stay. He sacrificed his education for his brother's, kept the family-run savings and loan afloat, protected the town from the avarice of the greedy banker Mr. Potter, and married his childhood sweetheart. As he prepares to jump from a bridge, his guardian angel intercedes, showing him what life would have become for the residents of Bedford Falls is he had never lived.
Voted the #1 most inspiring film of all time by AFI's 100 Years… 100 Cheers, It's a Wonderful Life has had just that. With the endearing message that "no one is a failure who has friends," Frank Capra's heartwarming masterpiece continues to endure, and after over 60 years this beloved classic still remains as powerful and moving as the day it was made.
Thursday, December 16
12:00 p.m.
Friday, December 17
12:00 p.m.
Saturday, December 18
12:00 p.m.
Schedule
Venue Information
Frank Banko Alehouse Cinemas
ArtsQuest Center
101 Founders Way
Bethlehem, PA 18015
610-297-7100
map & directions