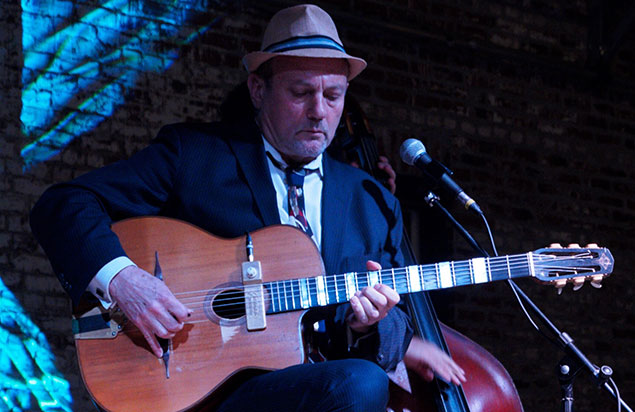 The Hot Club of Philadelphia
Wednesday, December 8 · view days & times
Venue: Palette & Pour

FREE
Health and Safety Guidelines
The health and safety of our patrons, vendors, volunteers, staff, and everyone attending our campus, buildings, and events is of the utmost importance to ArtsQuest and we have established a number of best practices and procedures based on guidelines from the CDC, City of Bethlehem and the Commonwealth of Pennsylvania. Please visit artsquest.org/safety to view our current health and safety guidelines.
Enjoy indoor dining at the Capital BlueCross Creativity Commons with live music performed on the Williams Brew Stage
The Hot Club of Philadelphia
The Hot Club of Philadelphia was started in 2001 by guitarist Barry Wahrhaftig, [War-hof-tig]. They are an acoustic ensemble, dedicated to playing 'Gypsy Jazz.' That's the term used to describe the music pioneered by the legendary original 'Hot Club of France Quintet,' which was led by guitarist Django Reinhardt and Violinist Stephane Grappelli. Django and Grappelli were attempting to do their own version of American 'Hot Jazz,' as played by artists like Louis Armstrong and Duke Ellington. They used acoustic guitars, bass and violin, rather than horns and drums. Grappelli and Django added some French and Gypsy flavor and created a blend of music that is quite popular and accessible. The HCPhilly mixes the original style of the HCOF, along with their own modern influences.
Their current release 'Gypsy – Americana' was chosen as WRTI Jazz Radio's Album of the Week, January 2021; https://www.wrti.org/post/jazz-album-week-hot-club-philadelphia-plays-gypsy-jazz-and-beyond. The CD can be sampled or downloaded here; https://thehotclubofphiladelphia.bandcamp.com/album/gypsy-americana
Music from 7-10 p.m.
Menu
View the Menu
Schedule
Venue Information
Palette & Pour
ArtsQuest Center
101 Founders Way
Bethlehem, PA 18015
610-297-7100
map & directions