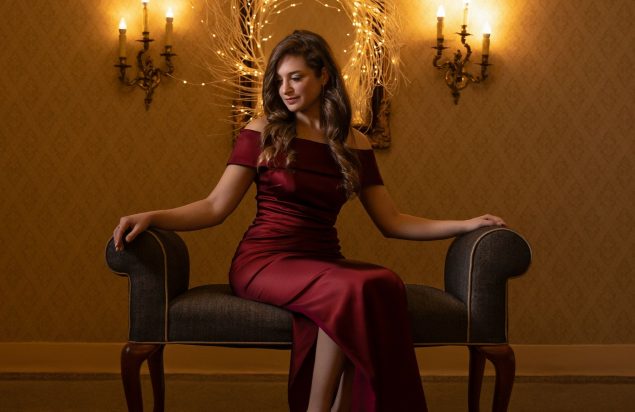 Corinne Mammana's "In The Christmas City" CD Release Concert
Sunday, December 18 · view days & times
Price: $15
Venue: Fowler Blast Furnace Room

Buy Tickets
Celebrate the release of jazz singer Corinne Mammana's debut Christmas EP album, In the Christmas City! The EP commemorates the Christmas season in her hometown of Bethlehem. Enjoy reimagined Christmas favorites and originals performed by Corinne and her band.
Praised by JazzTimes for "superb technique" and All About Jazz for her "sheer genius" arrangements, American jazz singer, songwriter, arranger, recording artist and bandleader Corinne Mammana is passionate about preserving the music of the past while placing her own personal spin on the American Songbook, Christmas songs, and popular tunes from the past few decades. With creative arrangements sung in a sophisticated and soothing style, fans have described Mammana's voice as a cross between Norah Jones, Julie London and Stacey Kent. She has released two albums— "Under an August Moon" (2016 EP) and "Yes, No, Next" (2020) which both received international praise. Mammana's upcoming Christmas album "In the Christmas City" will be released in November 2022.
In August 2022, Mammana was invited to headline the Northwest Jazz Festival alongside jazz icons Stacey Kent and Emmet Cohen. In April 2022 she brought her popular Disney Songbook Concert to the Sellersville Theater. In 2019 Mammana opened for Grammy nominated jazz singer Cyrille Aimée (Musikfest Café). In New York City, Mammana has performed at Birdland Jazz Club (Jim Caruso's Cast Party), the Metropolitan Room and the Duplex Cabaret Theatre. She has also performed at Philadelphia?s Chris? Jazz Cafe, the legendary Deer Head Inn, JazzForum's Summer Concert Series (NY), Musikfest and countless other clubs and concert halls on the East Coast.
Schedule
Venue Information
Fowler Blast Furnace Room
ArtsQuest Center
101 Founders Way
Bethlehem, PA 18015
610-297-7100
map & directions