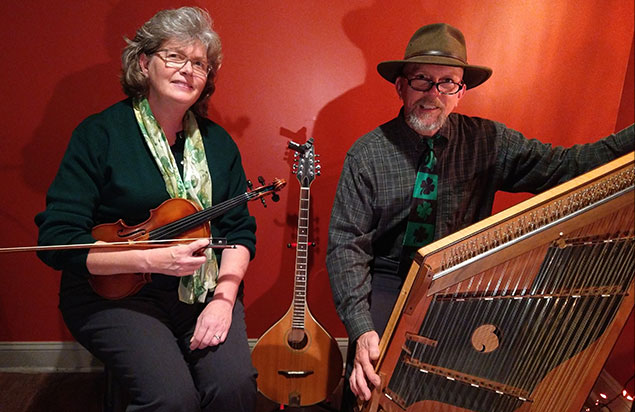 99 Stringz
Friday, March 17 · view days & times
Venue: Fowler Blast Furnace Room
Regina Mohr learned to play music as a young girl in New York, her parents buying her a violin on a trip to Bavaria. She continued her classical training until college, but then set her violin aside as she and her husband worked and raised their family in the Lehigh Valley. In 2010, Regi dusted off her violin to play with a community orchestra, soon branching out to play Celtic and bluegrass music. Besides playing in 99Stringz, Regi performs in a bluegrass band, Last Small Town.
Dave Reber grew up outside Reading, PA. He played drums and percussion since high school. He attended college in the Lehigh Valley and has lived here ever since. As a teenager, he heard hammered dulcimer music for the first time at a country gift shop, where he bought the album The Strayaway Child, a hammered dulcimer classic. Traveling to numerous dulcimer and music stores throughout the country, looking for that "right" dulcimer, he waited nearly a decade before he purchased a James Jones hammered dulcimer in Bedford, VA. Dave played Celtic tunes from the start, and he attended HD workshops and festivals throughout the eastern US to improve his technique.
Regi and Dave met in 2014 at a local farm during an open house with area folk musicians. In spring of 2015, 99 Stringz was born as a trio with guitarist Bill Schachter. After several years playing events and festivals in the Lehigh Valley, Bill left the group for health reasons, and 99 Stringz became a duo. Although Regi focused on playing fiddle in different styles, Dave branched out to play Irish bouzouki, bodhran, and foot percussion in addition to the hammered dulcimer. They also accompany each other singing harmonies on popular traditional songs. Besides performing, Regi and Dave also provide musical instruction.
We strive to perform lovely and lively melodies to mesmerize and inspire the audience to clap, sing, and dance. Please follow us at Facebook.com/99stringz for future events.
Schedule
Venue Information
Fowler Blast Furnace Room
ArtsQuest Center
101 Founders Way
Bethlehem, PA 18015
610-297-7100
map & directions