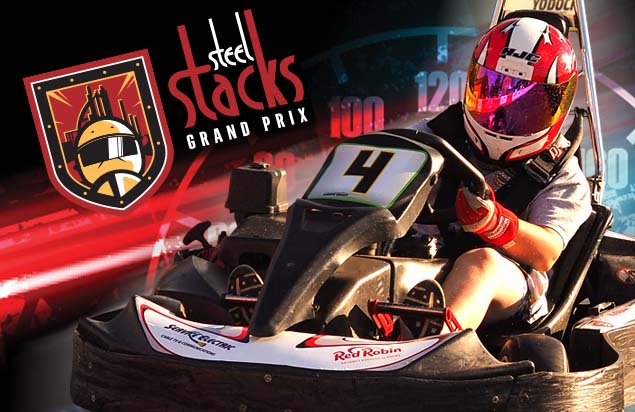 SteelStacks Grand Prix
presented by Lehigh Valley Grand Prix
June 14 – June 16, 2019 · view days & times
Venue: PNC Plaza
Taking place on a temporary, half-mile track constructed by Lehigh Valley Grand Prix exclusively for the event, the SteelStacks Grand Prix brings together a Who's Who of the Lehigh Valley's corporate community for a day of action-packed go-kart racing on the Saturday, June 15, of Father's Day Weekend. The public can also get in on the action by watching the event from the trackside grandstands, as well as taking part in the public racing sessions June 14 and 16. Over the past two years, the event has generated more than $30,000 to support ArtsQuest's free music and arts education programming for the region.
The SteelStacks Grand Prix is presented by Lehigh Valley Grand Prix and Barry Bartakovits, Jim "The Judge" Stocklas and Anna Anthanasiou, along with media partner Service Electric Cable TV & Communications. Among the businesses already confirmed to take part in the Corporate Racing Challenge are Adams Outdoor Advertising of the Lehigh Valley, Bazella Group, BELFOR, Boyle Construction, Chevy 21, L & L Construction, Levan Associates, Inc. and The Bayou Boys Hospitality Group. Proceeds from the event support ArtsQuest's free festivals for the region including Musikfest, as well as the nonprofit's arts education programming at the Banana Factory and SteelStacks, which now reaches more than 6,000 students annually.
Experience the Thrill of Competitive Go-karting – Sign Up for the SteelStacks Grand Prix!
Local businesses and corporations that want to participate in the Corporate Racing Challenge can contact ArtsQuest Sr. Director of Business Development Nicole Dotta at ndotta@artsquest.org or 610-332-1334. Every business that sponsors a car receives a five-person team in the event, as well as a variety of other great benefits:
Friday night kickoff party
Fully-catered lunch on race day
Team photos
Team t-shirts
Signage surrounding the track
Tickets for family and friends for the public racing session June 16
SteelStacks Grand Prix Public Racing
June 14 & 16
Price: $25
Members of the public are invited to jump behind the wheel of a high-speed go-kart and test their driving skills as they reach speeds of up to 40 miles per hour.
This year, the public is invited to open public racing sessions on June 14, 7-10 p.m., and June 16, 10:30 a.m.-1 p.m. and 3-8 p.m. Cost for public racing is $25 per person and includes a safety briefing, helmet and eight minutes of track time; proceeds will go to support ArtsQuest and its arts education programming for the community.
Frequently Asked Questions
Q: How old do you have to be to race?
A: Ages 8-14 are juniors and 15 + is an adult. 8 is the youngest age that can race.
Q: Can adults and juniors race together?
A: No they cannot. Due to the difference in speeds of the karts we split the 2 age groups. Ages 8-14 years old race together and 15 + race at different time.
Q: Is there a weight limit?
A: Weight limit for our go karts is 300 pounds.
Q: Do you need to have a drivers license to race?
A: No, you do not need a driver's license to drive.
Q: How long is a race?
A: Each race is 8 minutes long.
Q: Do you need prior experience to race?
A: No prior experience is required to race. All drivers will be briefed on track safety, rules, flag and sign meanings and kart operation prior to their first race.
Q: Is karting safe?
A: While racing has its inherent risks, Lehigh Valley Grand Prix takes every measure possible to ensure all customers enjoy an authentic racing experience in a safe environment.
Q: Do I need my own helmet?
A: No, a helmet will be provided for you to use for your race. Which is included in the price of your race.
Q: Can I wear my own helmet?
A: Yes, you can wear your own helmet. It must have a full-face cover and equipped with a visor or goggles.
Q: What should I wear to race?
A: All drivers must wear closed-toe shoes. Any other open-toe shoes are not permitted on track and you will not be able to race. Loose-flowing garments such as dresses should not be worn. We recommend dressing casually in a shirt with jeans/shorts.
Q: What time should I show up for my reservation?
A: 30 mins prior to your scheduled time.
Q: What happens if I miss my reservation?
A: We will move you to an open race if it is available. If there is no availability you will forfeit your purchase. (Please arrive 30 mins prior to your reservation.)
Q: What happens if it rains?
A: The karts can operate in moderate to light rain, so we consider the races "rain or shine." There are no refunds or exchanges unless it is down-pouring or there is lightening and thunder in the area and the races cannot go on as scheduled.
Schedule
Venue Information
PNC Plaza
645 E. First Street
Bethlehem, PA 18015
610-332-1300
map & directions