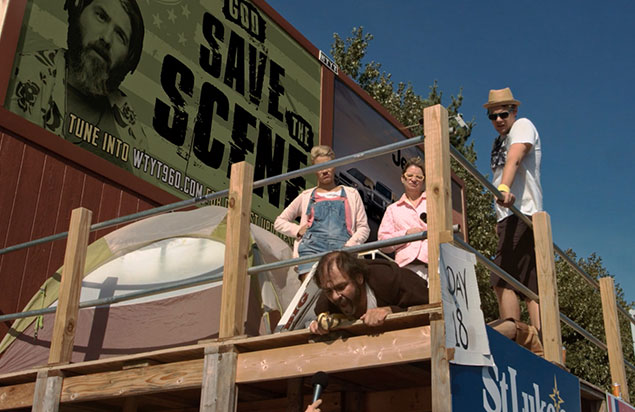 Billboard
April 5 – April 11, 2019 · view days & times
Price: $10.00 regular | $8.00 student & senior | $7.50 ArtsQuest Member
Venue: Frank Banko Alehouse Cinemas
Student & senior discounts apply at the box office only
Casey Lindeweiler inherits the last remaining independent radio station in town, only to find the station is in financial shambles and in the ratings basement. To right the sinking ship, Casey pulls out one of the oldest tricks in radio the wacky contest. His idea is to host a billboard sitting contest where four people will live on a catwalk in front of a billboard in hopes of winning "nine-sixty" thousand dollars and a mobile home. All they have to do is be the last one living on the billboard. Unprepared for the spotlight, Casey attempts to rise to the challenge of running a business, as he worries about his contestants, the competition, the local authorities, the media's interpretation of his contest, and mother nature.
John Robinson (Elephant, Lords of Dogtown), Leo Fitzpatrick (Kids, Gotham), Independent Spirit Award winner Heather Matarazzo (Welcome to the Dollhouse, Princess Diaries) and Academy Awards nominee and Independent Spirit Award winner Eric Roberts (Cable Guy, Dark Knight) star in this truly independent movie, about a maverick entrepreneur who attempts to overcome hurdle after hurdle as he fights to save his independence. Yet his success is in the hands of the media whose reporting of events, affects the public's perception of his intentions and ultimately his fate.
Written, produced, & directed by Zeke Zelker
John Robinson, Leo Fitzpatrick, Heather Matarazzo, Eric Roberts & Alice Wills
*The screening on Friday, April 5 at 7:15 p.m. will have Talkback/Q&A with writer, producer and director Zeke Zelker.
Friday, April 5
· ·
Saturday, April 6
Sunday, April 7
·
Monday, April 8
·
Tuesday, April 9
· ·
Wednesday, April 10
·
Thursday, April 11
·
Schedule
Venue Information
Frank Banko Alehouse Cinemas
ArtsQuest Center
101 Founders Way
Bethlehem, PA 18015
610-297-7100
map & directions