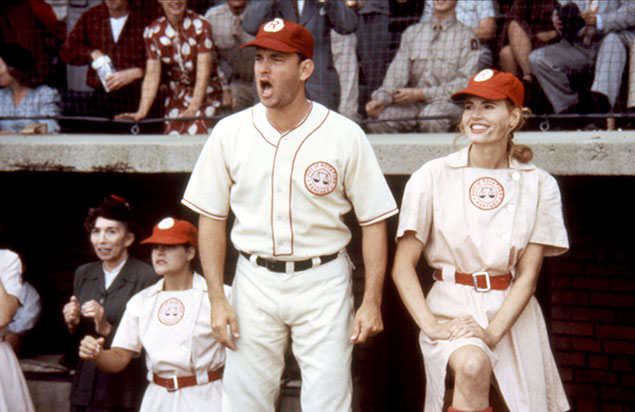 A League Of Their Own
Wednesday, July 17 · view days & times
Price: $10.00 regular | $8.00 student & senior* | $7.50 ArtsQuest Member
Venue: Frank Banko Alehouse Cinemas
1992 | PG | Run time: 2 hr 8 min
Directed by: Penny Marshall
Starring: Geena Davis, Tom Hanks, Lori Petty, Madonna
Tom Hanks, Geena Davis, and Madonna star in this major-league comedy from the team that brought you Big. Hanks stars as Jimmy Dugan, a washed-up ballplayer whose big league days are over. Hired to coach in the All-American Girls Baseball League of 1943, while the male pros are at war, Dugan finds himself drawn back into the game by the heart and heroics of his all-girl team. Jon Lovitz adds a scene-stealing cameo as the sarcastic scout who recruits Dottie Hinson (Geena Davis), the baseball dolly with a Babe Ruth swing. Teammates Madonna, Lori Petty and Rosie O'Donnell round out the roster, taking the team to the World Series. Based on the true story of the pioneering women who blazed the trail, on the fields and off, for generations of athletes.
*Student & senior discounts apply at the box office only
Price: $20 | $15 Student & Senior* | $7.50 ArtsQuest Member
Director and Actress Penny Marshall, publicly and privately it seemed marched to the beat of her own drum. Before the screening of League of their Own, there will be a film appreciation seminar which will take a deeper dive and highlight, share and discuss this fan favorite and talented actor/director's life on and off the screen. This will also include a talkback after the film.
Carole Penny Marshall (October 15, 1943 – December 17, 2018) was an American actress, director and producer. She came to be noticed in the 1970s for her role as Laverne DeFazio on the television sitcom Laverne & Shirley (1976–1983), receiving three nominations for the Golden Globe Award for Best Actress – Television Series Musical or Comedy for her portrayal. Marshall made her directorial debut with Jumpin' Jack Flash (1986) before directing Big (1988), which became the first film directed by a woman to gross more than $100 million at the U.S. box office.
Schedule
Venue Information
Frank Banko Alehouse Cinemas
ArtsQuest Center
101 Founders Way
Bethlehem, PA 18015
610-297-7100
map & directions