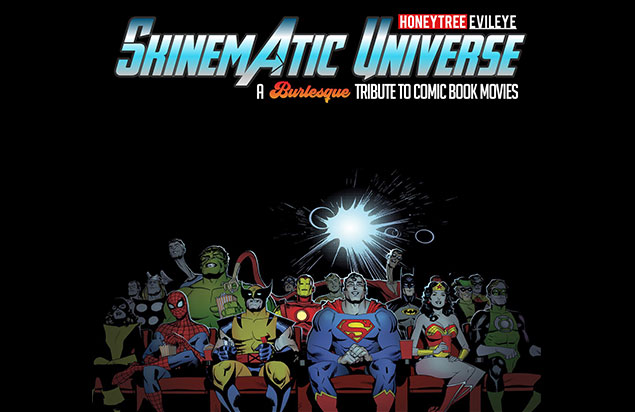 Skinematic Universe: A Burlesque Tribute to Comic Book Movies
Saturday, June 22 · view days & times
Price: $12 | $11 student & senior* | $10.50 ArtsQuest Member
Venue: Frank Banko Alehouse Cinemas
First they were on the pages of comic books, then they were brought to life on the big screen. Now your favorite characters are headed to you live- but extra sexy! Enjoy burlesque and video hybrid performances by some of the superstars of the nerdlesque arts.
Directed by HoneyTree EvilEye, one of Philadelphia's most prolific burlesque performers and producers for nearly a decade, she is renowned for her mixture of politics, sultry performance, and silly nonsense.
HoneyTree EvilEye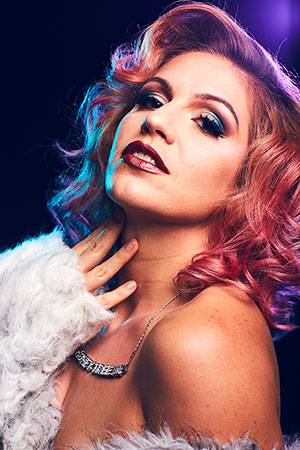 One of Philadelphia's most prolific burlesque performers and producers for nearly a decade, HoneyTree EvilEye is renowned for her mixture of politics, sultry performance and silly nonsense. The producer of Honeygasm, 6SEX6, Agitated, Get You A Girl Who Can Do Both, Take it Off Broadway and a number of other popular shows, she is also the current head instructor of the Philadelphia Burlesque Battle Royale and the founder and co-organizer of the Golden Tassel Jawns, the annual fundraiser awards show for the Philly burlesque community.
She was a part of the burlesque moment for Taylor Mac's 24-hour long History of Music show in Philadelphia and had performed at the AlternaTease and Philadelphia burlesque festivals. She'll be teaching a burlesque workshop earlier on June 22 in the Banana Factory.
Genome Kelly
Genome Kelly has spent a lifetime onstage, with a background in musical theatre and a former career as a professional ballet dancer, and has been delighted to find a home in Philadelphia's thriving nerdlesque scene. Genome made their burlesque debut in 2017, and in 2018 they had the honor of appearing in the International Nerdlesque Festival, the Philadelphia Burlesque Festival, and performing with fiancee Kyla Ren at Alterna-TEASE: The New England Neo-Burlesque Festival.
Kyla Ren
Kyla Ren will awaken your force. Since appearing in season 5 of Philadelphia's Burlesque Battle Royale in 2018, Kyla has gone on to make a splash in Philly's nerdlesque community. Her performance style combines dirty, nerdy choreography with subversive narratives and character-rich concepts. In Philadelphia, she's best known as the co-producer of Dark Side Burlesque, one of Philly's preeminent themed nerdlesque monthlies.
Esmerelda May
Esmerelda May is an award winning Cosplayer and Burlesque performer hailing from NJ. Winner of the Silver Tusk award for Best Sleaze of the Tease. She's classic with a metal twist, she loves to blends her love of all things nerdy and metal with classic bumps and grinds. She's been performing for almost ten years and is main stay member of White Elephant Burlesque, Sister Bear, and the choreographer of Cosplay Burlesque.
Hosted by: Flirt Vonnegut
Flirt Vonnegut is known as the Wet Blanket of Burlesque and is Philadelphia's most beloved emcee. He is the resident host for long-running monthlies like Honeygasm and Dark Side Burlesque and is the Golden Tassel Jawns winner not only for his hosting but also for Best Boylesque Butt. he is also co-producer and host for Get You a Babe Who Can Do Both and Philadelphia Burlesque Battle Royale.
*Student & senior discounts apply at the box office only
Schedule
Venue Information
Frank Banko Alehouse Cinemas
ArtsQuest Center
101 Founders Way
Bethlehem, PA 18015
610-297-7100
map & directions