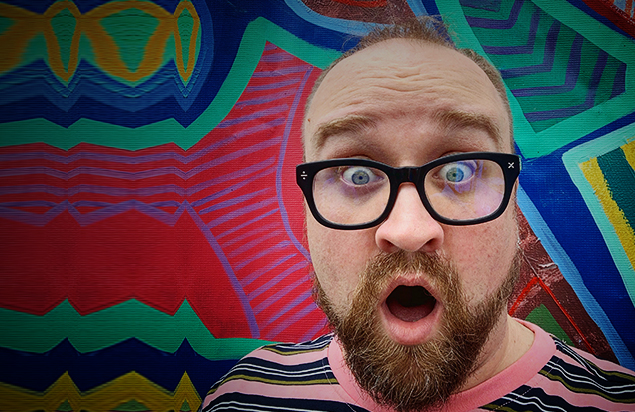 Improv 101 with Jon Lunger
Thursday, September 19 · view days & times
Price: $119 | $105 ArtsQuest Member
Venue: Banko Gallery
Thursdays, September 19 – October 24 | 7-9 p.m.
Grad Show: October 27, 7 p.m., Frank Banko Alehouse Cinemas
*Grad shows are subject to change.
Improv 101 focuses on the 3 core principles of comedic improvisation: agreement, being active, and justification. We designed our classes to create an energetic and supportive environment for play. Whether you never took the stage before, you're a seasoned improviser, or you're simply looking to help yourself in your career and/or life, you'll get a lot from this class.
If you'd like to take this class but do not have the means, we encourage you to apply for an ArtsQuest Comedy Class Scholarship.
Students must be 18 or older by the first day of class. Instructor may change based on availability.
Jon Lunger is a Pennsylvania-based comedian, improviser, and writer who, along with comedian Glen Tickle, is currently re-writing the entirety of Wikipedia via The Improvised Wikipedia Podcast.
Jon has performed at the Baltimore Podcast Festival, Nashville's Third Coast Improv Festival, The Del Close Marathon in NYC and at numerous other comedy festivals across the country. Additionally, Lunger has created, starred-in, written, directed and/or produced a venerable crap-ton of shows at SteelStacks in Bethlehem, PA, including Spoiler Alert: a pseudo-improvised re-creation of blockbuster movies alongside Matt Candio, The Great Old Ones: Horror Comedy Show, and One Star Review: The Comedy Show About Real Product Reviews. From 2012-2017, Jon was ¼ of the improv team ManDudeBro.
Jon studied improv at the Upright Citizen's Brigade Theatre in New York City under the tutelage of Molly Lloyd, Kate Zelensky, Nicole Drespel, Gavin Speiller and more very funny people in other places including Chris Gethard, Giulia Rozzi, Mark Vigeant, and Armando Diaz.
Schedule
Venue Information
Banko Gallery
Banana Factory
25 W Third Street
Bethlehem, PA 18015
610-332-1300
map & directions